Paratha is a bread variety made from leavened wheat flour and is the staple food in northern parts of India. There are so many varieties of parathas like Aloo paratha, Kashmiri paratha, Paneer paratha etc. Today's recipe is one such variety called the Mooli Ka Paratha, a stuffed paratha variety made from Mooli. Mooli is the hindi word for radish. I have heard about Mooli ka paratha before but have never tried it until recently. Thanks to my dear friend for introducing me to this dish.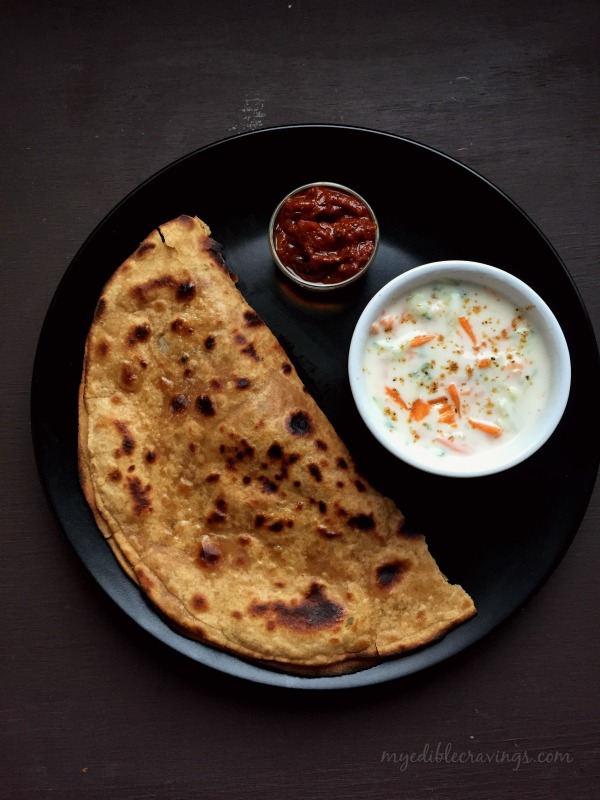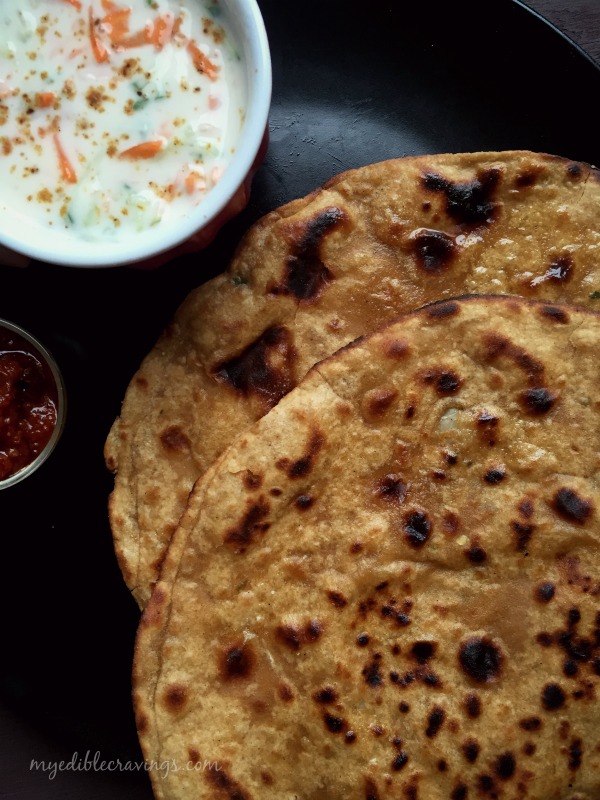 Radish or Mooli is a root vegetable and you must have seen it as an ingredient in another south Indian culinary delight called as the Sambar. Mooli ka paratha, though is a common dish prepared at homes, it is rarely seen in a restaurant menu. As with other stuffed parathas that I had mentioned above, Mooli ka paratha too can be had as is without a side dish and if you really must have something with it then Raita is the one to go for, especially cucumber raita. I have provided the recipe for that as well here 🙂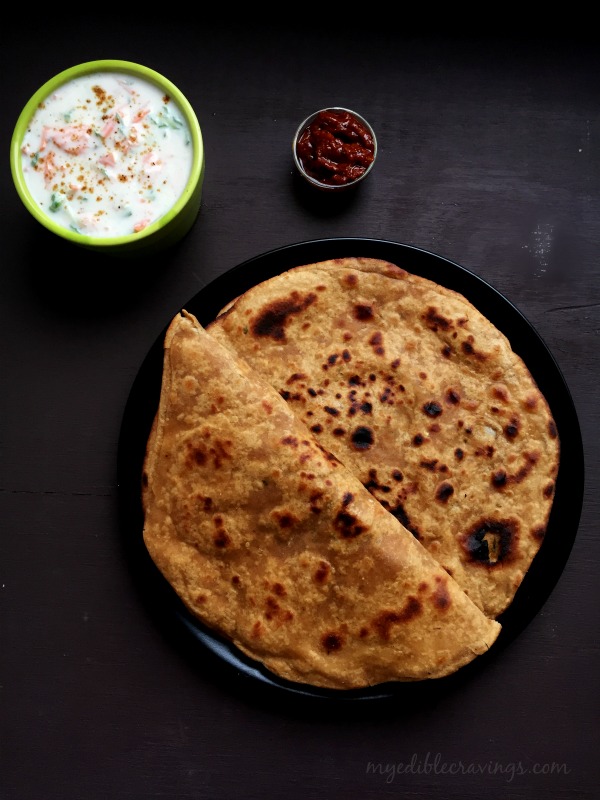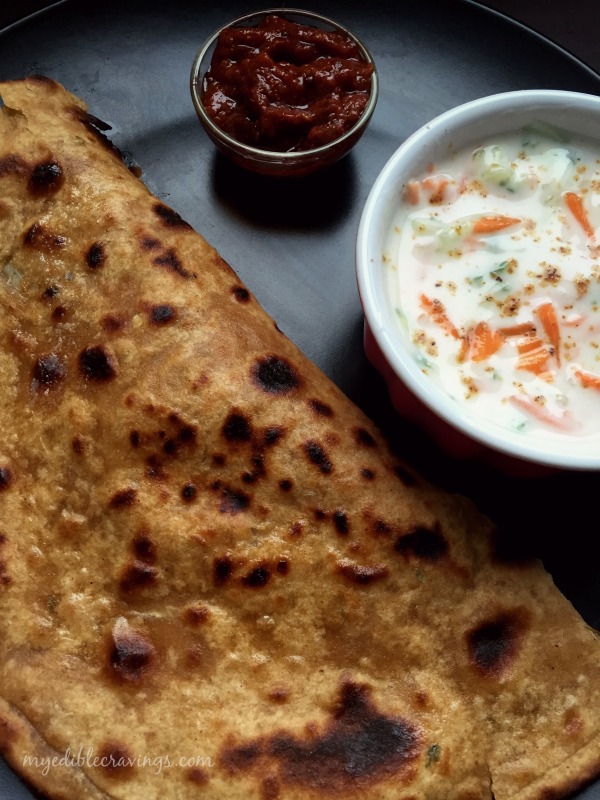 Mooli ka Paratha is a summertime dish because of the rich water content in radish and is healthy as well. For the stuffing, you can either use the radish as is or sauté them and then use it. Either way, it tastes good. The next time you want to have paratha for lunch or dinner, do try this variety and I promise that you will not be disappointed 🙂
Mooli Ka Paratha
Prep time:
Cook time:
Total time:
Ingredients
for the stuffing:
Radish, grated – 4 cups
Ajwain – ¼ tsp
Green chilli, finely chopped – 3 nos
Cilantro, finely chopped – 3 nos
Cumin powder – ½ tsp
Red chilli powder – ½ to ¾ tsp
Garama masala – ¼ tsp
Chat masala – ¼ tsp
Salt
for the dough
Wheat flour – 2 cups
Salt as required
Oil – 2 tsp
for raitha:
Grated persian cucumber, small – 1 no
Grated carrot, small – 1 no
Green chili, finely chopped – 1 no
Salt as required
Yogurt – ½ cup
Chat masala – a generous pinch
Instructions
Grate the radish and transfer to a bowl. Set aside for 30 minutes and squeeze all the juice completely. Finely chop green chilli and cilantro.
Add all the above ingredients to the grated radish and mix well. You can use this as a stuffing.
Or saute them without squeezing the radish juice until raw smell disappears and all the water dries out and use that as a stuffing.
Add oil, salt and squeezed radish juice with enough water (if needed) to the flour and make a dough. Leave it for 15 to 30 minutes.
Divide the dough to equal sized balls.Heat the flat pan to make parathas.
Dust a ball into the dry flour and roll them to circle. Repeat the same and make a equal sized circle.
Place the stuffing in the middle of a rolled dough.
Cover with the another rolled circle.
Now carefully roll the paratha to desired size and repeat the same for the remaining dough.
Cook the paratha on a hot tawa for couple of minutes on one side until brown spots appear.
Flip the paratha, spread ghee on top of cooked side and cook for another couple of minutes until the dark spots appear on other side. Smear enough ghee if needed.
Serve the hot moolika paratha with cucumber raitha and pickle. Enjoy! 🙂
To make cucumber raitha:
Add little water and salt to the yogurt and mix well.
Add the grated cucumber, carrot and green chilli. Mix well and sprinkle chat masala on top before serving.