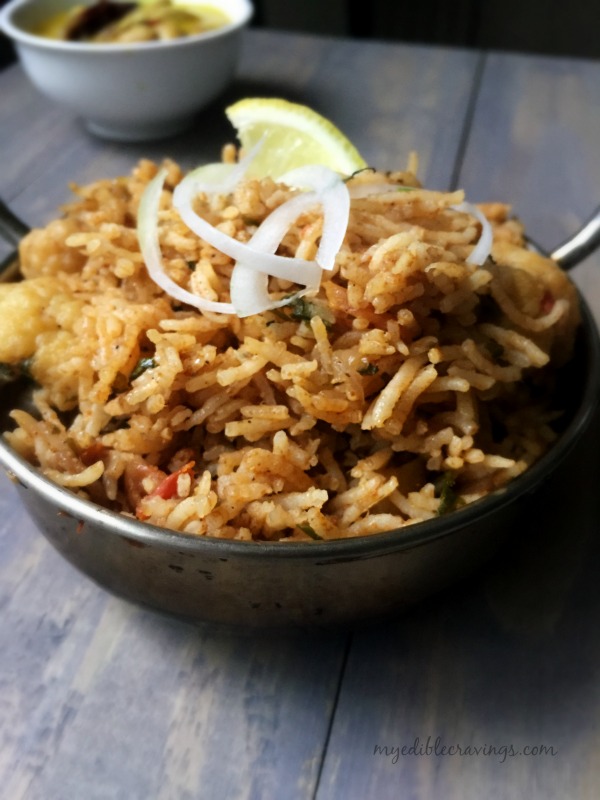 Vegetable Biriyani is the vegetarian counterpart of the more popular Biriyani, which generally refers to the variety with meat. Back home, during family functions like marriages, baby showers etc we don't normally serve meat in the menu. But to mark the grandeur of the function we serve vegetable Biriyani as one the dishes.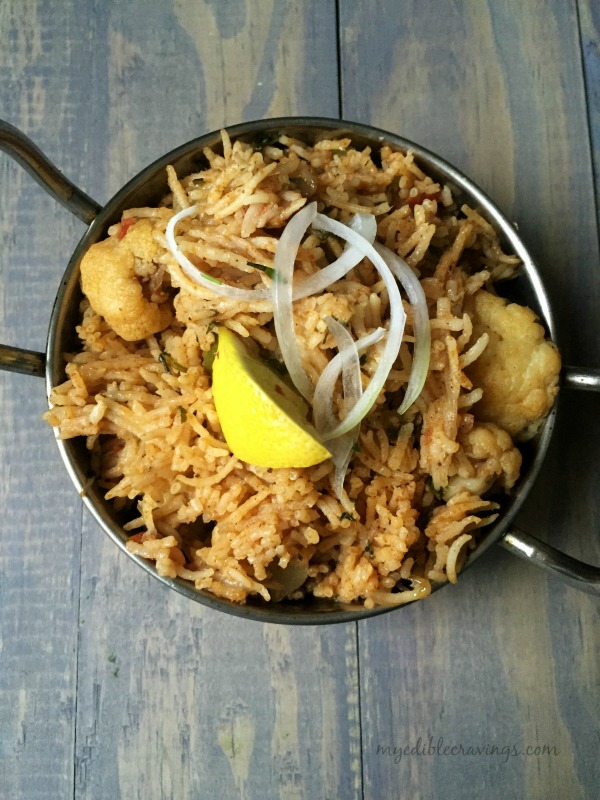 Vegetable Biriyani is popular in my home state, Tamilnadu. Honestly, I have not seen it in any other part of India. I would say it is a healthy dish since you add vegetables (English vegetables like carrot, beans, potatoes, peas etc) in abundance. You can also add fried bread pieces and that tastes good too.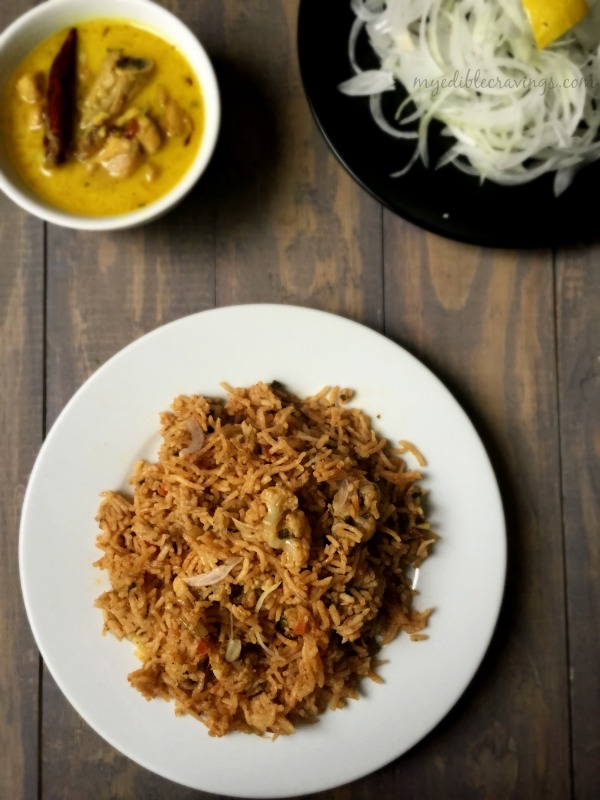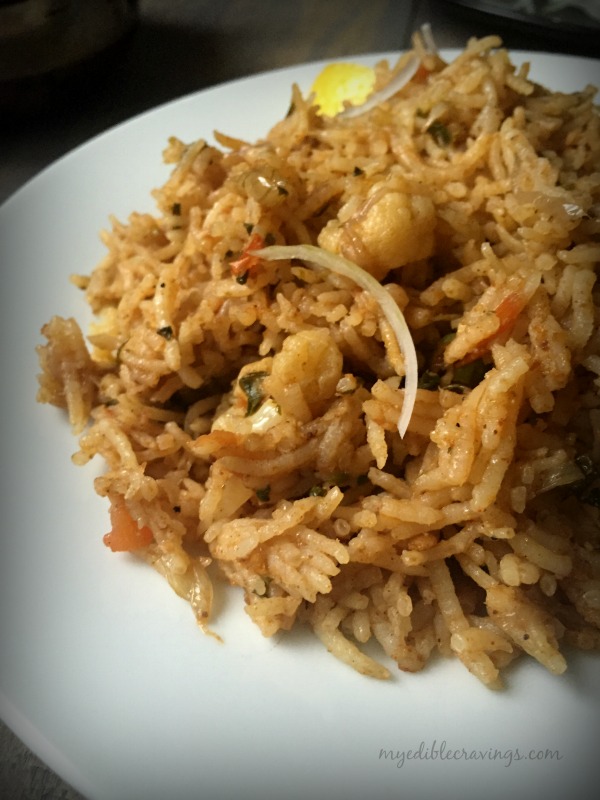 The recipe for Vegetable Biriyani that I have given below does not have coconut milk as one of the ingredients and it tastes just as good as the one with coconut milk added. I have slightly modified Mom's recipe and have presented it here. Try this tasty and rich Vegetable Biriyani in your home and let me know your experience:)
Vegetable Biriyani
Prep time:
Cook time:
Total time:
Ingredients
Ghee + olive oil - 2 tspn + 2 tbsp
Homemade biriyani powder + big bay leaf - 1 tsp + ½
Onions, small – 2 nos
Freshly ground ginger garlic paste - 1 ¼ tbsp (I used organic garlic from trader's joe)
Big ripe tomatoes - 1 ¼ nos
Cauliflower, medium sized potato (cut and soaked in turmeric water) - ½ + ½
Green chilli, long, slits - 9 nos
Chopped mint and coriander leaves - ½ cup
Salt - 1 ¾ spoon
Sakthi biriyani powder - ½ tsp
Coriander powder – 1 ¼ tsp
Homemade sambar powder - ½ spoon
Aachi red chilli powder - ¾ tsp
Garam masala powder - a generous pinch
Water, used to soak rice - 3 cups
Basmati rice - 2 cups
For garnishing:
Chopped mint and cilantro - 1 tbsp
Sakthi biriyani powder - a pinch
Ghee - a tsp
Instructions
Wash and soak basmati rice in water for 45 minutes. Drain and save the water.
Chop the vegetables and soak it in turmeric water.
Cut and chop onions, tomatoes, mint and cilantro.
Heat a pressure cooker with ghee and oil. Add biriyani powder and bay leaf.
Increase the flame to medium and add onions. Sauté until they turn translucent. add ginger garlic paste and sauté until raw smell disappears. Add tomatoes and cook for a couple of minutes. When they turn mushy add in the vegetables. Stir for a minute and add in green chillies, chopped mint and cilantro. Stir well for a couple of minutes and add all the masala powders. Mix well and add water. check for salt and bring it to boil. Add the soaked rice and allow them to boil. When the water is ¾ th observed and when you see the rice on top, garnish with mint, cilantro, sakthi biriyani powder and ghee especially on the sides. Cover the lid and dum cook in low flame for 10 minutes.
After 10 minutes open the lid and check if the rice and vegetables are well cooked and all the water is observed.
Serve hot with any raitha of your choice. Enjoy!!! 
Notes
1.Always use freshly ground ginger garlic paste to reach a good taste.
2.You can substitute olive oil with vegetable oil.
3.I tried using organic garlic for this recipe. You could use the regular one.