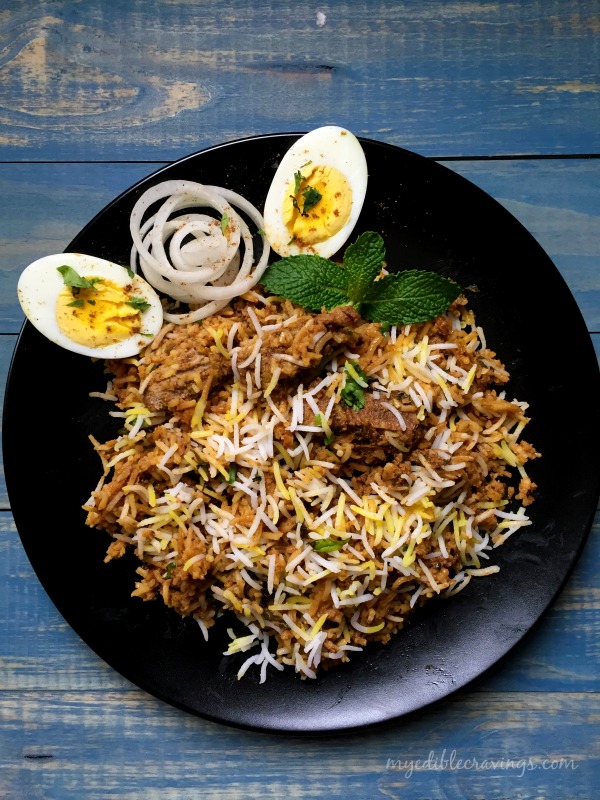 Happy Ramzan! And as with other special occasions and holidays, I wanted to post something new and something that relates to the special occasion. That is when I realized that I have not posted one of my favorite recipes, the Hyderabad Dum Chicken Biriyani. It is one of the most famous varieties of biriyani, not only in India but throughout the world. As the name suggests,Hyderabad Dum Biriyani originated in Hyderabad back when Nizams ruled the princely state. The 'Dum' in the name refers to a special type of cooking using pressure.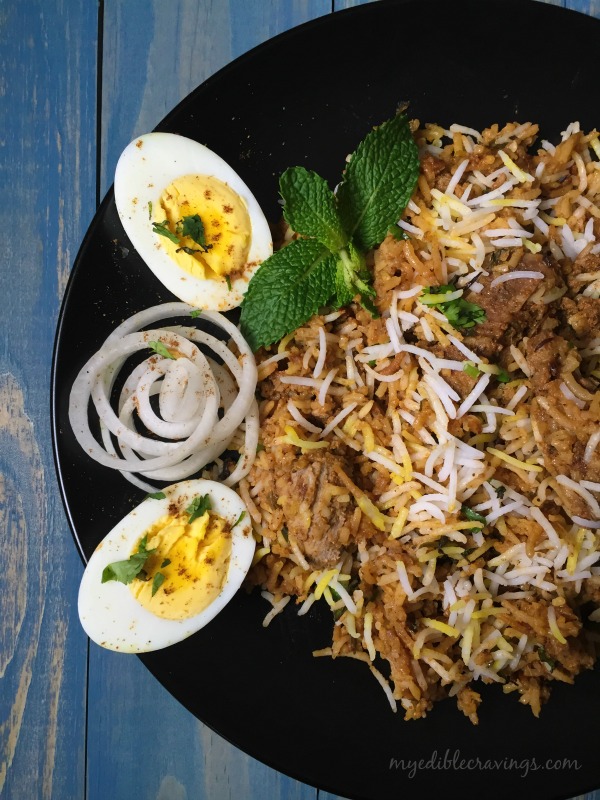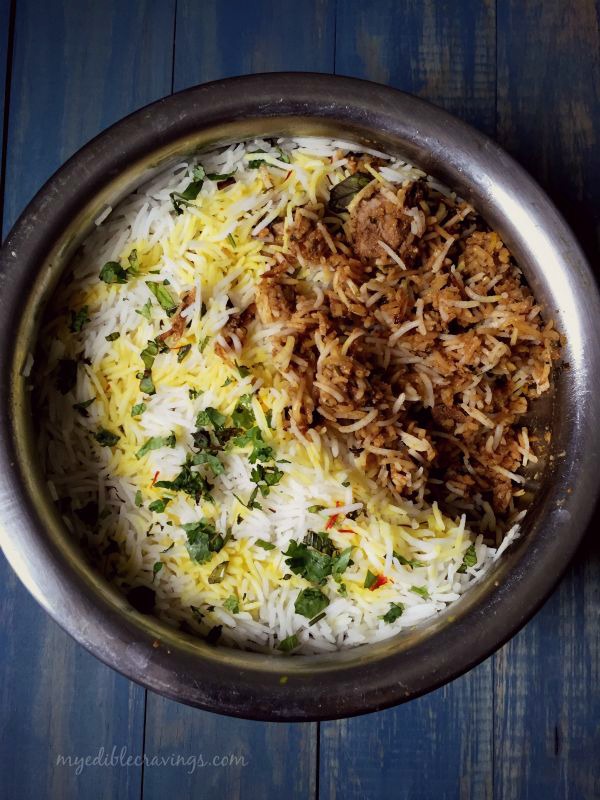 I first had Hyderabad Dum Chicken Biriyani only after coming here. Btw, this is the most popular variety of Biriyani here. In fact, I have had other type of Biriyani only once and that too in New York! Since I like it very much I don't have much to complain about 🙂 Hyderabad Dum Chicken Biriyani differs from other varieties mainly because of the way it is cooked. We do a layering of chicken (or any other meat) and rice in alternate fashion and then 'Dum' cook it. The Biriyani is made using basmati rice and can be had as is or with any chicken/mutton gravy. Either way, It tastes yummy, always 🙂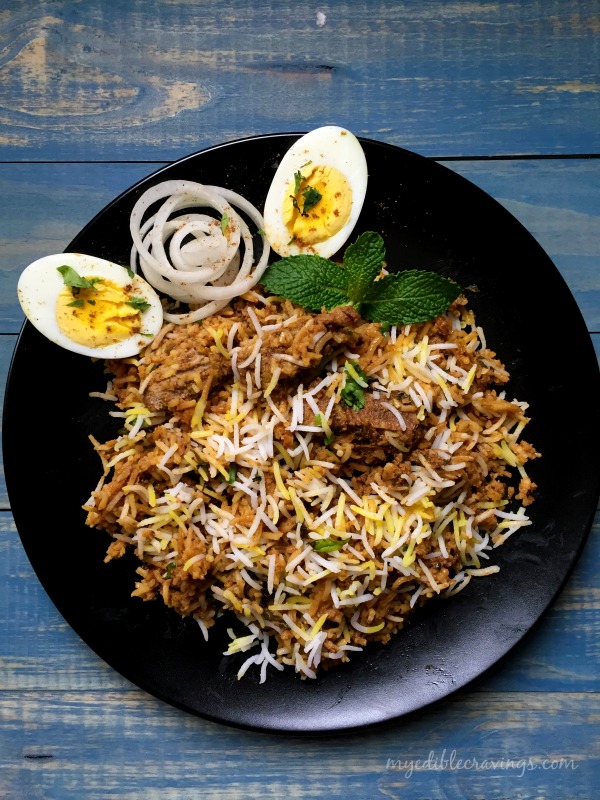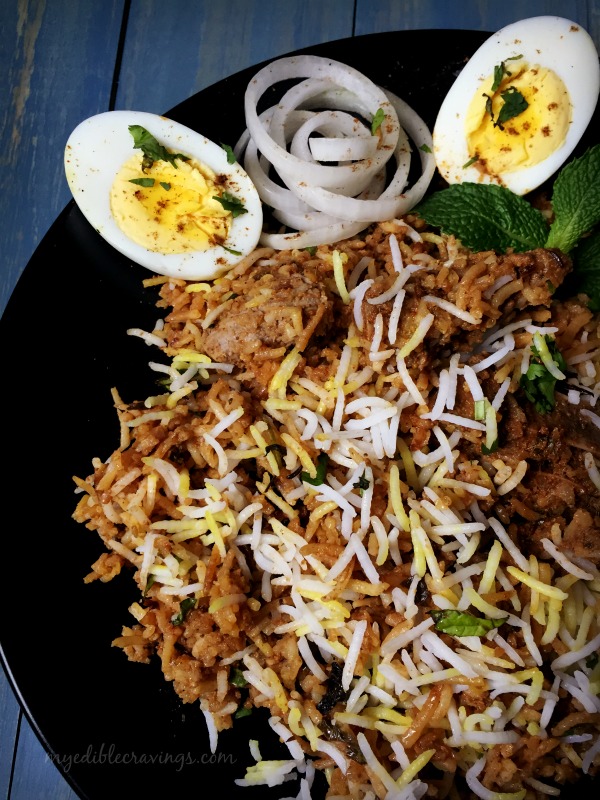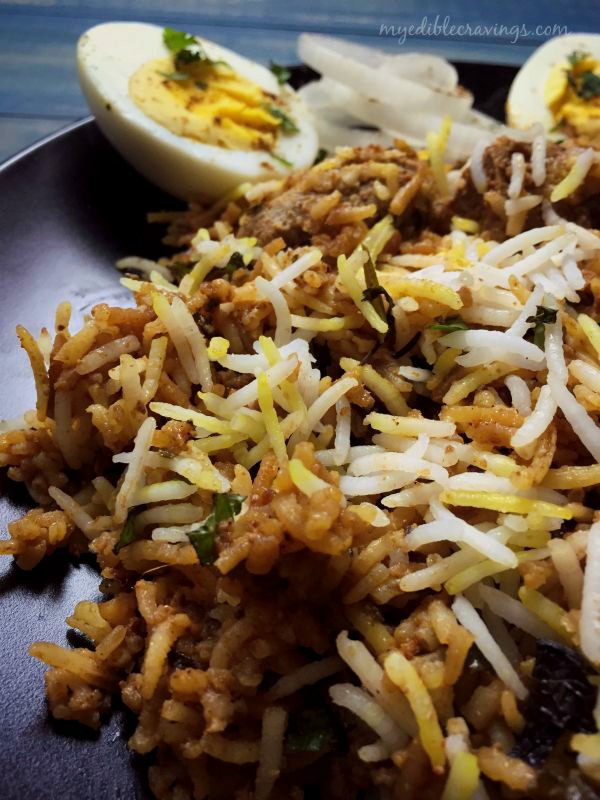 Though I have had Hyderabad Dum Chicken Biriyani here in the US, I really want to try it out in the place of its origin, Hyderabad. It has been one of the things to do in my India checklist for quite sometime now. Here I have posted the recipe using chicken but you can also use lamb or mutton as well. I can keep going on and on about Hyderabad Dum Biriyani but I want you to try this recipe in your home and experience the awesomeness 🙂
Hyderabad Dum Chicken Biriyani
Prep time:
Cook time:
Total time:
Ingredients
For the marinade:
To make powder:
Cinnamon – 3 1" pieces
Cardamom – 5
Cloves – 5
Star anise – ½ to 1
Javetri – ½ to 1
Black pepper – 10 nos
Sea weed – 1 tsp
Bay leaf – 1 2" leaf (small one)
To make a Paste:
Ginger garlic paste – 1 ½ tsp
Green chillies – 5 nos (coarsely blend)
Other ingredients:
Oil – ¼ cup
Yogurt – 3 to 4 tsp
Lemon juice – from half lemon
Powders:
Turmeric powder – ¼ tsp (do not add too much it would change the color of the biriyani)
Chilli powder – 1 tsp (or according to your taste)
Coriander powder – 2 to 2 ½ tsp (used from the box's plastic spoon)
Garam masala – ½ to 1 tsp
Salt – as required ( I added ¾ p.tsp)
Mint & coriander leaves – ½ cup
Fried onions, small – 1
Chicken – 1 to 1⅓ kg
To cook rice:
Good quality Basmati rice – 2 cups ( US measurement)
Water – sufficient amount
Shahi jeera – 3 pinches
Bay leaves, big – 2 nos
Oil – 1 tbsp ( I use the oil that is used to fry onions)
Salt – as required
For garnishing :
Mint & cilantro, finely chopped – ¾ cup
Onion, small to medium, fried – 1 no
Saffron - a generous pinch
Warm milk – ⅓ cup
Ghee – 2 to 3 tsps
Chapathi dough – to dum or aliminium foil
Instructions
Step 1:
First blend the things and keep it ready. Grind the spices coarsely such that sea weed is coarse and others are blend to fine powder. Add them to the mixing bowl. Blend ginger and garlic to a fine paste without adding water. keep it aside. Blend green chillies to a coarse paste.
Make few cross deep slits on the washed chicken pieces. The slits has to touch the bones.
Add the spice powders (turmeric, chilli, coriander, garam masala), enough salt, lemon juice, green chilli paste, ginger garlic paste, ground garam masala spices (if you haven't add already) and yogurt to the mixing bowl. Mix well and check for salt – this is the right time to check salt for your marinade and adjust according to your taste.
Add the chicken, chopped mint and cilantro and oil to the mixing bowl, mix well and refrigerate overnight.
Step 2:
Heat enough oil in a kadai and fry the onions until golden brown – I used 1 ½ small sized onion for the whole biriyani.
Add ⅓ of the fried onions to the marinated chicken. Mix well and keep it aside.
Soak saffron strands in warm milk and keep it aside.
Arrange all the chicken pieces in a biriyani handi or any large thick bottomed sauce pan. Arrange in such a way that all the pieces touch the base of the vessel. This is layer 1.
step 3:
Soak the rice for at least 20 minutes. Boil enough water in a large deep vessel to cook the rice. When the water starts to boil add shahi jeera, bay leaves, oil (used to fry onions) and salt. Check for salt at this time. – adding salt right now is the very important step in making this dum biriyani. The water has to be little salty.
Add the soaked rice to the boiling water. Cook until the rice grains starts to dance on top. That's when you know the rice is 70% cooked. Filter half of the 70% cooked rice, drain all the excess water and layer it on top of the chicken layer. Garnish with some fried onions, chopped cilantro and mint on top. This is Layer 2.
When the rice is 100% cooked, strain all the excess water completely and layer them again on top of layer 2. Garnish with the remaining fried onions, mint and cilantro. Add drops of saffron milk on top to give color and nice aroma to the biriyani. Finally spread few tsps of ghee on top. This is layer 3 - Always stay close while cooking the rice by boiling method. Because rice cooks really quick in this method.
Now fill the rim of the lid with chapathi dough and cover it tightly without leaving any gap or holes. Otherwise if you are using a flat plate (without handle) as a lid, cover the plate and place some weight (fill water in a large vessel or 5 ltr cooker) on top.
step 4:
Place the biriyani handi or vessel on stove top and cook on high flame for 5 minutes (Meanwhile heat a dosa pan in a medium flame in a separate burner) and on low flame for 10 to 15 minutes.
After overall 15 to 20 minutes of cooking on direct flame, take out the handi and place it on top of the hot dosa pan which is still on medium flame. Allow the biriyani to dum for 20 minutes.
Switch off the flame and leave it for 10 minutes.
Open the lid and check if the chicken is well cooked. The chicken texture has to be juicy and well done. The chicken should be completely cooked by now. Enjoy the yummy chicken dum biriyani with onion or mint raitha and salna! 
Notes
Tips:
1.Always use 1 ½ kg of chicken for 1 kg of rice. Here I used 2 cups (1/2 kg) of rice so I used 1 to 1⅓ kg (3 pounds) of chicken (ask for chicken (leg) pieces for biriyani at Indian meat shops).
2.Do not add too much of turmeric powder while marinating the chicken as it would change the color of the biriyani.
3.Always stay close while cooking the rice by boiling method. Because rice cooks very quickly in this method.
4.Do not add too much yogurt while marinating otherwise your biriyani becomes soggy.
5.Fried onion gives color for the biriyani. Always make fresh fried onions at home to get the best aroma and flavor on the biriyani. do not stir fry or shallow fry but deep fry with less oil.
6.Increase or decrease the quantity of the spices and other ingredients according to the quantity of biriyani you make. More the quantity, more the taste.
7.Cooking time differs for mutton biriyani. Tenderize the mutton for 3 hours or for at least an hour before marinating. Same cooking method. Dum it for extra 10 minutes. So that total cooking time will be 45 minutes.