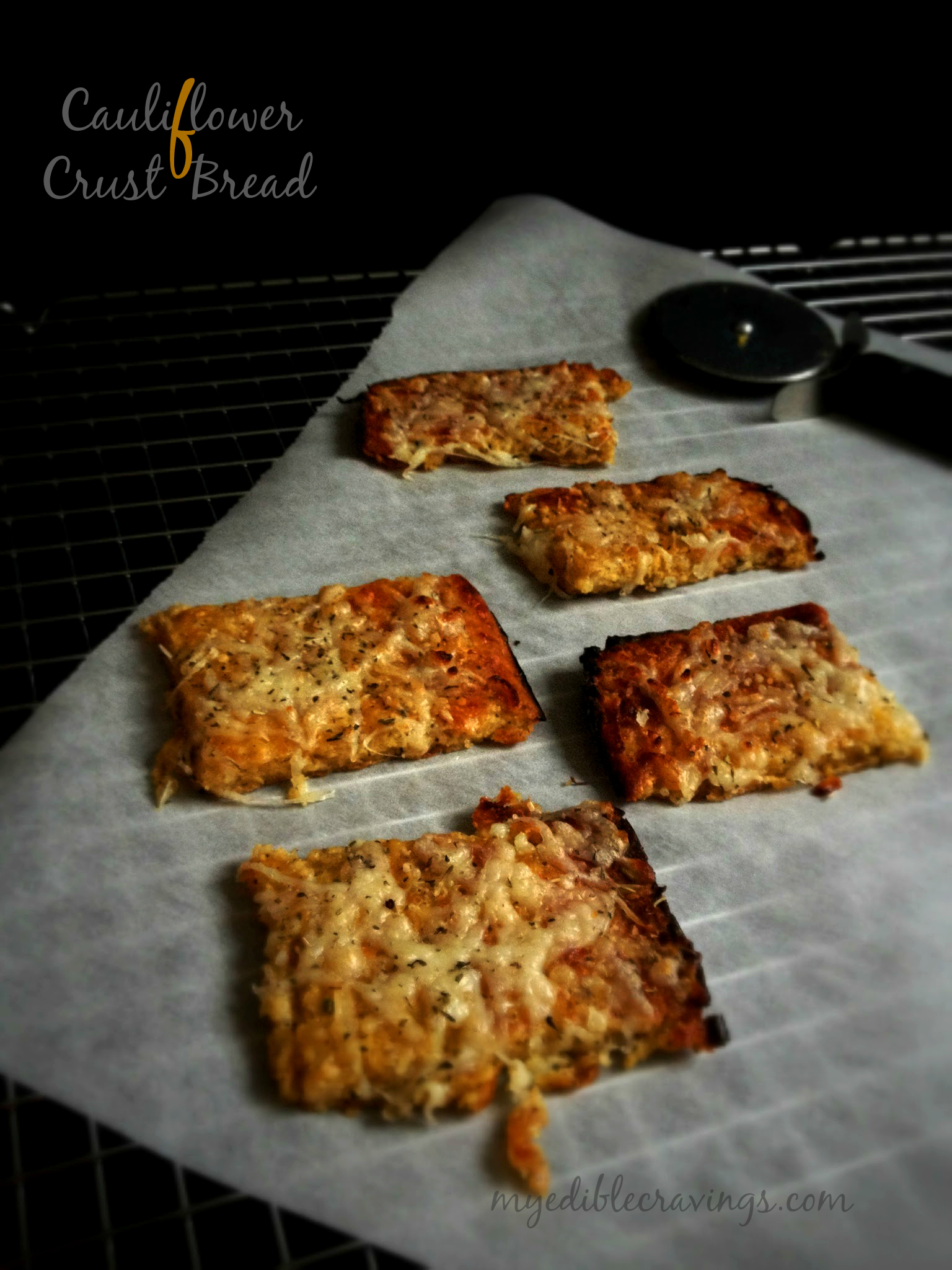 Cauliflower Crust Bread, interestingly, this dish is not a bread as the name implies. It is more of a pizza like variety and it tastes yummy! This is one of those dishes that I came across in my eternal search for different dinner recipes.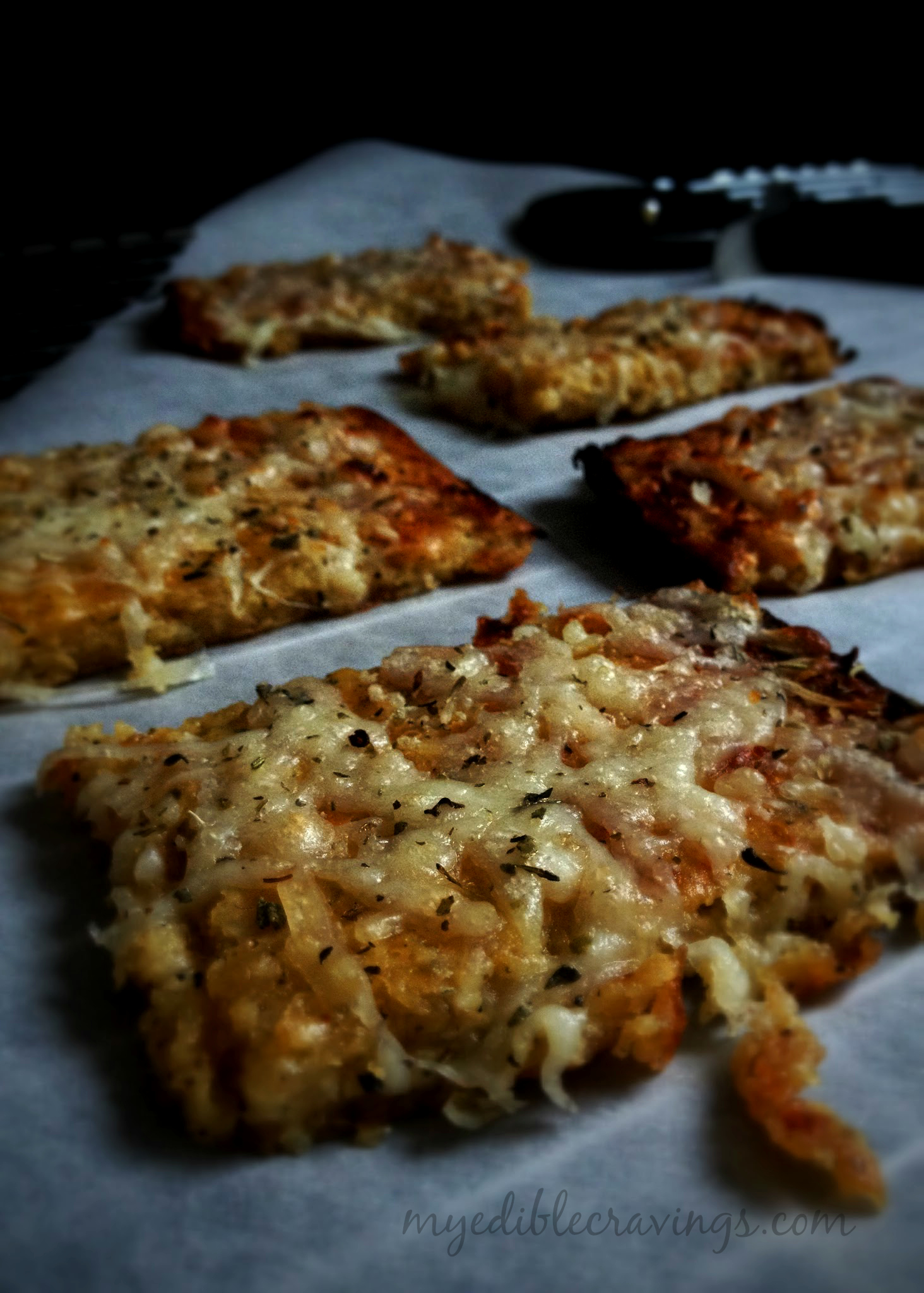 Caulifower Crust Bread is an easy to make dish and is comparatively healthier than Pizza. It is a very mild dish and hence kids friendly. The first time I made Cauliflower Crust Bread, the quantity was very less since I had used just a quarter of the cauliflower (I am bit cautious when trying out new dishes ;)) and I realy felt sorry for not making enough. It is that good.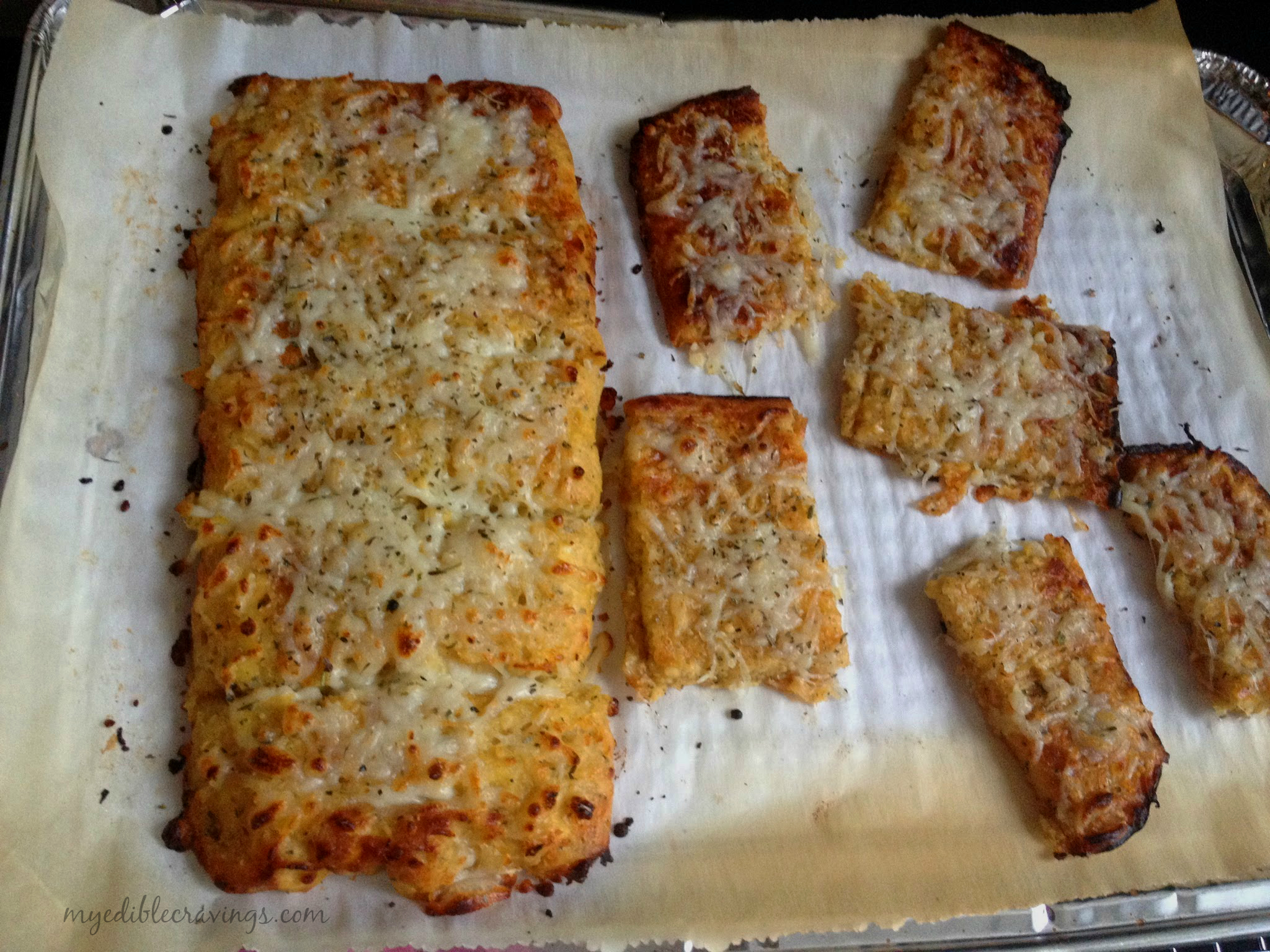 And here is the recipe for Cauliflower Crust Bread. It goes well with marinara sauce (home made or store bought, doesn't matter). Do try this one in your home and let me know how it tastes 🙂

CAULIFLOWER CRUST BREAD
Prep time:
Cook time:
Total time:
Caulifower Crust Bread, interestingly, this dish is not a bread as the name implies. It is more of a pizza like variety and it tastes yummy!
Ingredients
Cauliflower (medium) -1
Cooking oil / olive oil - 2 tsp
Garlic cloves ( grated or minced) - 6
Eggs – 2 (lightly beaten)
Mozzarella cheese (low-fat cheese is fine) - 16 oz
Dried Italian herb seasoning - 1 tsp (freshly grated and divided)
salt and pepper - 3 pinch each
Cooking spray
Marinara sauce, for serving (optional)
Instructions
Preheat the oven to 350F and line two 8" x 8" square cake pan with parchment paper so that the excess paper hangs over the sides; lightly spray the parchment paper with cooking spray (I used one 8" x 8" square cake pan and 9" x 9" loaf pan , cake pan crust was thin, whereas loaf pan's crust was little thick).
Grate the cauliflower (you should have about ½ a bowl of riced cauliflower) and microwave (uncovered) until softened, about 6 to 8 minutes, stirring occasionally (don't add water); cool slightly.
While the cauliflower cooks, cook garlic in a small skillet (stir constantly) with little oil on a low flame until fragrant (about 30 seconds to 1 minute).cool slightly.
To the bowl with the softened cauliflower, add the garlic, egg, ¾ of the cheese (reserving ¼ for topping later), ¼ teaspoon of the dried Italian herb seasoning (reserving ¼ teaspoon for topping later), and a pinch of salt and pepper. Stir to combine and then spread in the prepared pans.
Bake until the loaf sides turn golden brown (for about 30 minutes). Line a baking sheet with a piece of parchment paper; use the parchment paper to lift the loaf out of the loaf pan and carefully flip it over onto the lined baking sheet (so the bottom is on top). Bake for another 10 minutes.
Preheat the broiler. Cut the loaf cross-wise into pieces. Slightly separate the pieces and sprinkle the cheese on top along with the remaining ¼ teaspoon dried Italian herb seasoning. Broil a couple minutes until the cheese is melted and golden in spots. Take out of the oven. Let it cool for 10 minutes (so that the crust will harden a bit and makes it easier to hold like a thin-crust pizza) and enjoy!
Notes
You could also use this cauliflower crust recipe for making pizza base instead of all-purpose flour.