Today is Father's Day! A father is a hero to every daughter and Father's day is a way to honor them for their love, unwavering support and kindness. So Happy Father's Day to all fathers out there. On the occasion of this important day, I wanted to prepare something sweet that personifies their nature i.e.,  being sweet 🙂 I decided on Paal Payasam, a south Indian dessert item that is very tasty. I love the Paal Payasam that my MIL makes. The recipe that I have given below is my MIL's.
Paal Payasam is a classic dish that uses very few ingredients i.e., rice, sugar and milk. Paal Payasam is one of my favorite payasams (similar to pudding in general) and my sister's too. Preparing this dish is time consuming but to allevate some of that I used whole milk because one of the steps in making Paal Payasam is to reduce the milk to half but using whole milk saves time since it is already thick.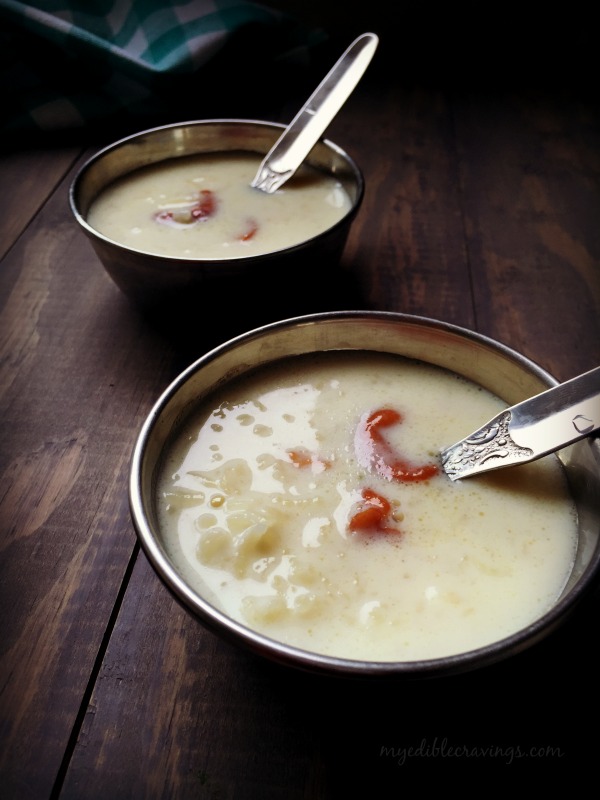 Paal Payasam can either be served hot or cold but tastes excellent when served cold. Try this sweet dessert in your kitchen and I hope you too will enjoy it as much as I do 🙂

Paal Payasam
Prep time:
Cook time:
Total time:
Ingredients
Raw rice or basmati rice or seeraga samba rice – ½ cup
Ghee – 3 tbsp, divided
Milk – 1 liter
Sugar – 1 cup
Cashews – 1 tbsp
Cardamom powder – a generous pinch
Instructions
Wash and soak the rice in water for half an hour. Later crush the rice using your hands and keep it aside.
Heat a pan or pressure cooker and add a tbsp of ghee. Add the rice and fry until golden brown.
Add a cup of milk and cook or pressure cook until the rice is well cooked. Add the remaining milk and boil until the milk is reduced to half and turns slight brown in color.
Add sugar and mix well. Boil for another few minutes stirring occasionally.
Heat the remaining ghee in a tempering ladle, fry the cashews until golden brown and add to the paayasam.
Finish it off by adding cardamom powder. Serve cold and enjoy!
Notes
1.It takes a very long time around 45 minutes to reduce the milk. So I would suggest using whole milk to reduce your work.
2.Milk will not boil if you add clean marbles (golli gundu) to the milk.
3.Add or reduce sugar according to your own taste.
4.You could also add dates to this recipe which tastes excellent.