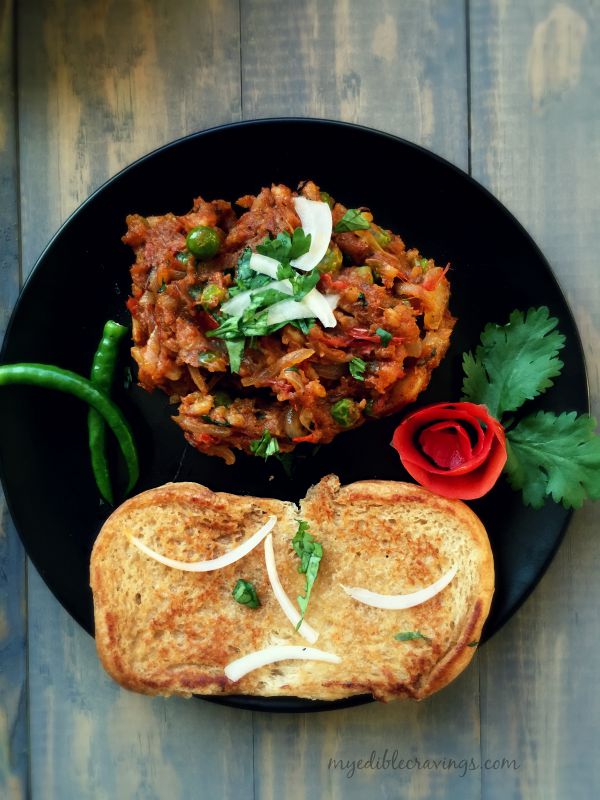 Pav Bhaji is synonymous to Mumbai, next only to Bollywood. It is a type of street food that is sold in road side eateries in India just like gyros in New York City. Pav Bhaji is made of toasted bread roll and spicy vegetable curry usually made of potatoes, green peas and onions.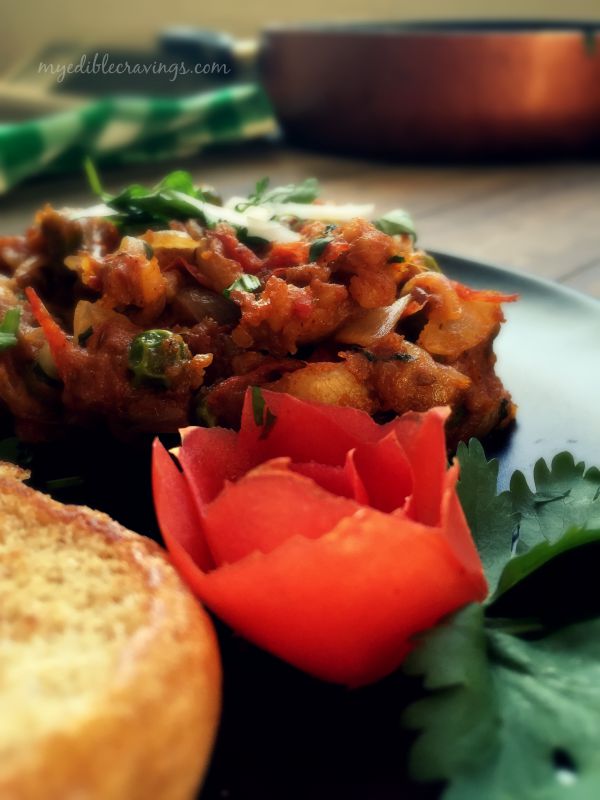 As with most street foods, the ease of making is one of the pluses here, apart from the taste. Unlike most Indian dishes, you don't have to follow a specific sequence while adding the spices or take care when slicing the onions (there are specific ways to cut the onions depending on the dish you are making in Indian cuisine). I would call the making of Pav Bhaji an orderly messiness :), where you know what ingredients to add and when but you don't care about the way you add them.
Pav Bhaji is very easy to make. You can customize the bhaji (vegetable curry) to suit your taste, like the vegetables you want to use and the spice level in the curry. Having hot Pav Bhaji with a cup of tea or coffee on a rainy evening is an experience to live for 🙂
Pav Bhaji
Prep time:
Cook time:
Total time:
Ingredients
Unsalted butter – 3 to 4 tbsp, divided
Cumin seeds – ½ tsp
Onion, slits – 1 no , divided
Potato, medium – 3 nos
Tomato, big, slits – 1 no
Green peas, cooked – ¼ cup (I used frozen peas)
Pav bhaji masala – 1 to 1 1 ½ tsp ( I used sakthi brand )
Salt as required
Red chilli powder – ½ tsp
Kashmiri chilli powder – ¼ tsp (optional)
Coriander powder - 1 tsp
Cilantro, finley chopped – 3 tbsp
Instructions
Add enough water in a pressure cooker just to sink the potatoes and pressure cook for 2 whistles. Allow it to cool. Peel the skin and mash them using your clean hand or with a potato masher.
Heat a flat pan and add 2 tbsp of butter. Add in cumin seeds when the butter starts to melt.
Add ¾th of the thin sliced onions and sauté for few seconds until they turn translucent.
Add the mashed potato and mix well. Add little salt at this stage.
Now add thin sliced tomato into the mixture and saute well for couple of minutes or until well blended with potatoes.
Add in cooked green peas and mix well.
Add in pav bhaji masala and mix well. Saute them for a minute.
And finally add in the rest of the masalas. Mix well until all the masalas are well coated. At this stage you could add some more butter if needed. Sauté and cook for another 5 minutes.
Switch off the flame and garnish with finely chopped cilantro.
Heat a small skillet and add very little butter. When the butter starts to melt, toast the pav ( I used Pepperidge wheat bread slider) on one side until they turn slightly brown.
Serve the pav along with bhaji with a thin slice of butter on top. I like to have it with some onions on the side as well. Enjoy! 
Notes
1.You do not need to finely chop the onions and tomatoes for this recipe.
2.I used kashmiri chilli powder just for the color. You can totally skip that.
3.You can just have them by filling the bhaji on the middle of the sliders with some onions. I like to have them by just taking a piece of pav/bread and scoop some bhaji with some onions.