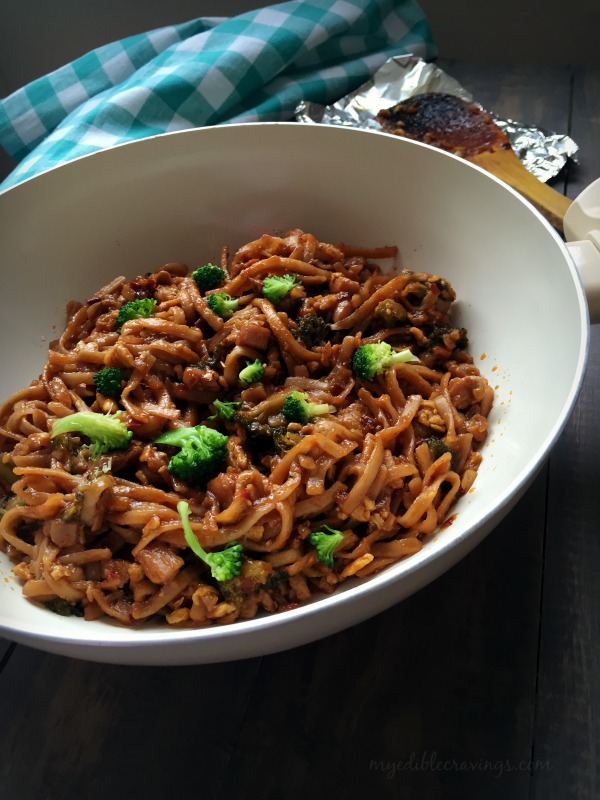 Chicken Lo Mein is a Chinese noodles dish made with wheat flour noodles and chicken. Lo Mein is the Cantonese name for stirred noodles. Traditionally Lo Mein is a variation of another dish called the Wonton noodle soup. Lo Mein is a popular take-out in American Chinese restaurants. It is also sometimes called as Chow Mein but the preparation of this dish very different from that of Lo Mein since with Chow Mein, the noodles are made crispy by frying.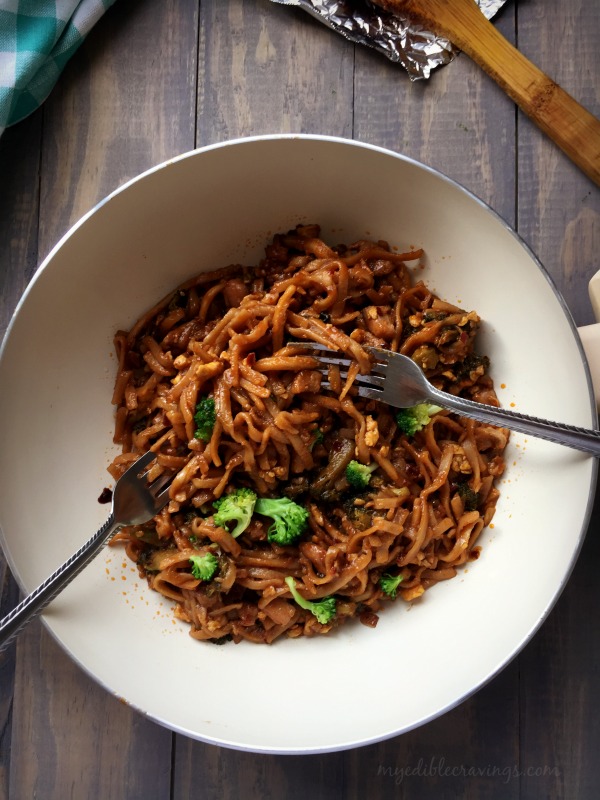 I love Chinese food but normally prefer fried rice and what not. I got hooked to noodles variety only recently. Like said in my earlier posts, I am always on the lookout for dishes from different cuisines which I can try in my kitchen. And now I had the opportunity to cook an authentic dish from Chinese cuisine. The Chicken Low Mein recipe I had given below is a very easy to make and the end result is totally worth the effort.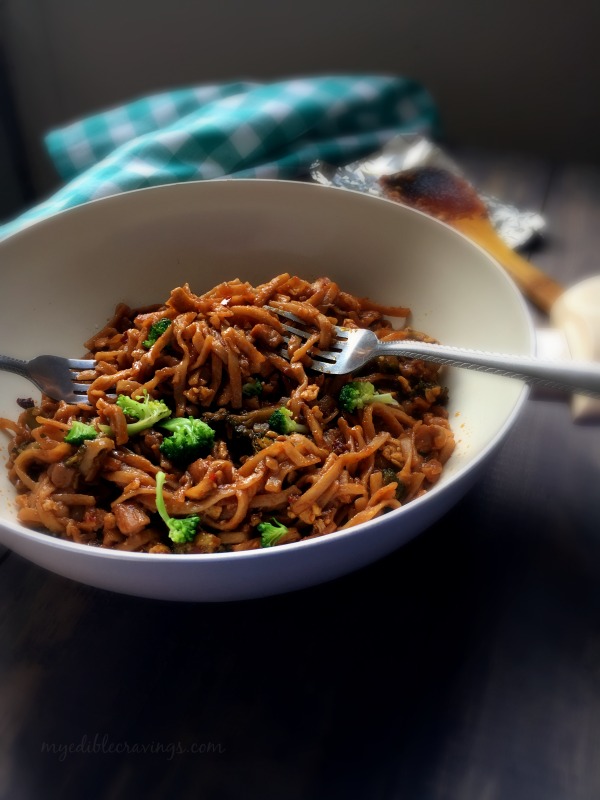 Chicken Lo Mein has a slight sweetness to it because of the brown sugar but also has spiciness as well at the same time. It is an apt dish to be served for both lunch and dinner. Try this popular Chinese dish in your home and let me know your experience 🙂
Chicken Lo Mein
Prep time:
Cook time:
Total time:
Ingredients
For the sauce:
Sesame oil – 1 tbsp
Sriracha hot sauce – 1 tbsp
Garlic cloves, minced – 3 nos
Soy sauce – ¼ cup
Water – 2 tbsp
Brown sugar – 1 ½ tbsp
Cornstarch – 2 tbsp
For Chicken:
Olive oil – 1 tbsp
Broccoli, small – 1 no ( or 2 cups of florets)
Chicken thighs, cut to bite size pieces – 500 grams
For the Lo-Mein:
Lo Mein noodles – 4 oz
Olive oil - 2 tbsp
Unsalted butter - 1 tbsp
Eggs, large, lightly beaten - 2 nos
Ginger, minced - 1 tsp
Red chilli flakes, crushed - ½ tsp
Carrots, shredded - ½ cup
Snow peas - ½ cup
Garlic, minced - 3 cloves
Green onions, sliced thinly – 2 nos
Salt to taste
Instructions
Step 1:
In a small bowl combine and whisk together sesame oil, hot sauce, garlic, soy sauce, water, sugar, and cornstarch; set the sauce aside.
In a large bowl, add many ice cubes and prepare ice bath for broccoli. So that the broccoli retain its color after blanching.
Step 2:
Bring water in a sauce pan along with little salt to boil. Add the broccoli and blanch them for 4 minutes. Immediately transfer them to the ice bath to stop the cooking process.
Heat a large skillet with olive oil in medium high heat. Add the chicken pieces and cook until changes to white/brown color. Add the blanched broccoli, reduce the flame to medium and add the sauce. Stir to coat ingredients and cook for about 5 to 7 minutes or until the sauce has thickened. Transfer it to a bowl.
Step 3:
Meanwhile bring water in the sauce pan along with little salt to boil. Add the noodles and boil for 10 minutes. Simmer it and cook for another 15 minutes or until the noodles are well cooked. Make sure the noodles don't stick before adding to the water. Drain the noodles and set aside.
Step 4:
Heat the large skillet and add butter in medium low flame. Add the minced ginger and sauté for few seconds or until raw smell disappears. Add the crushed pepper and cook for couple of seconds. Add in the eggs, stir gently and cook for about 3 minutes or until well done.
Sauté carrot and snow peas with very little olive oil in a small flat skillet. And add it to the eggs.
Add the chicken and broccoli to the eggs as well.
Finally add the drained noodles to the skillet, stir until everything is coated well with the sauce. Sprinkle with green onions and serve hot.
Notes
Soy sauce has a lot of sodium, so taste before you add any to the finished product.