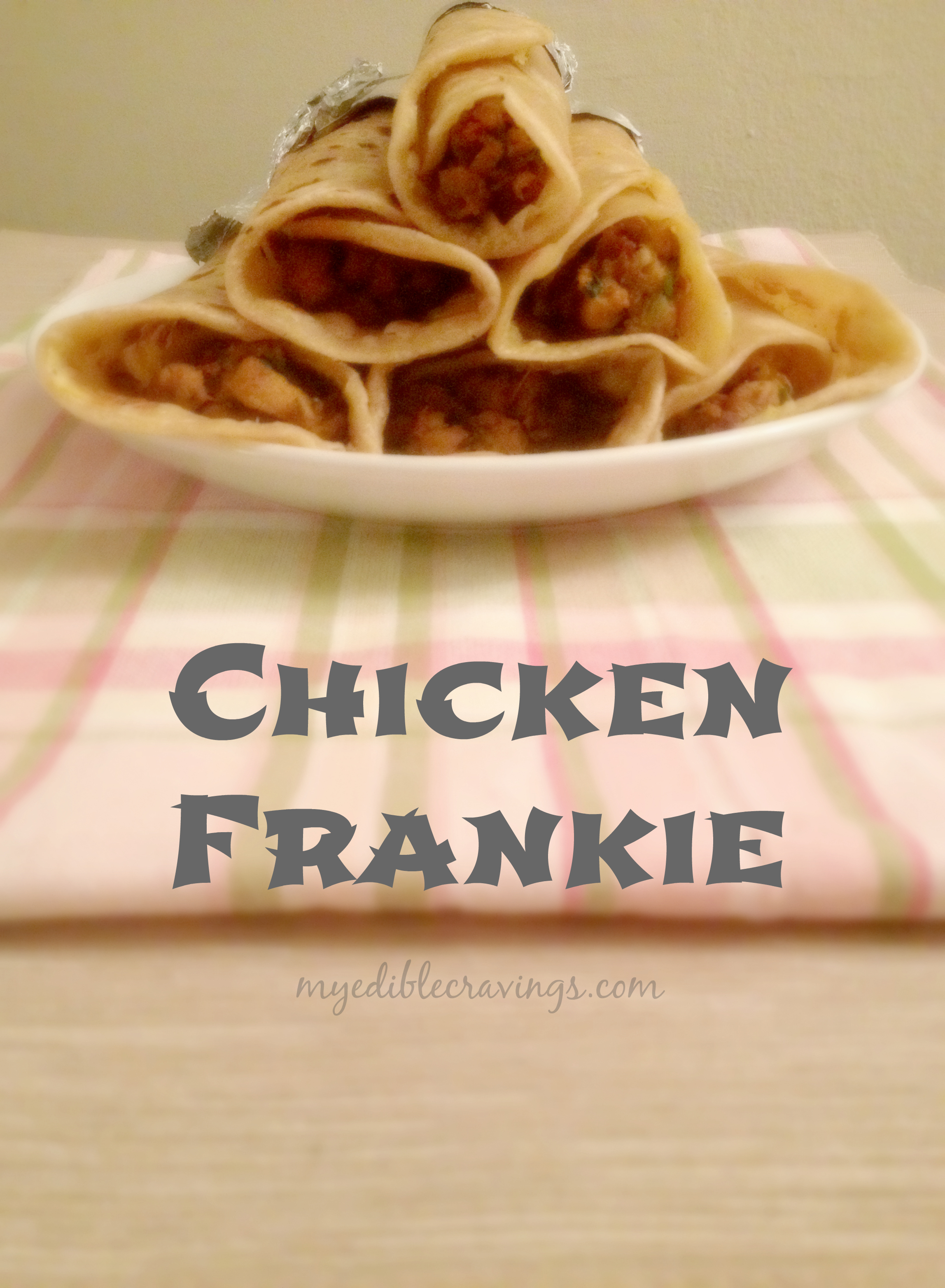 I am very partial to non-vegetarian dishes in general and chicken in particular. There are numerous ways to cook chicken, be it an appetizer or an entree or a gravy, you name it and there is a recipe out there. Today, I am going to give you the recipe of one of my favorite chicken dishes, the Chicken Frankie. Chicken Frankie is a popular street food item in India. I was introduced to this amazing food item during my college days (sweet memories :)) There are a number of things that I miss from India like family, friends, mom's food, marina beach, shopping malls etc and Chicken Frankie is one among them.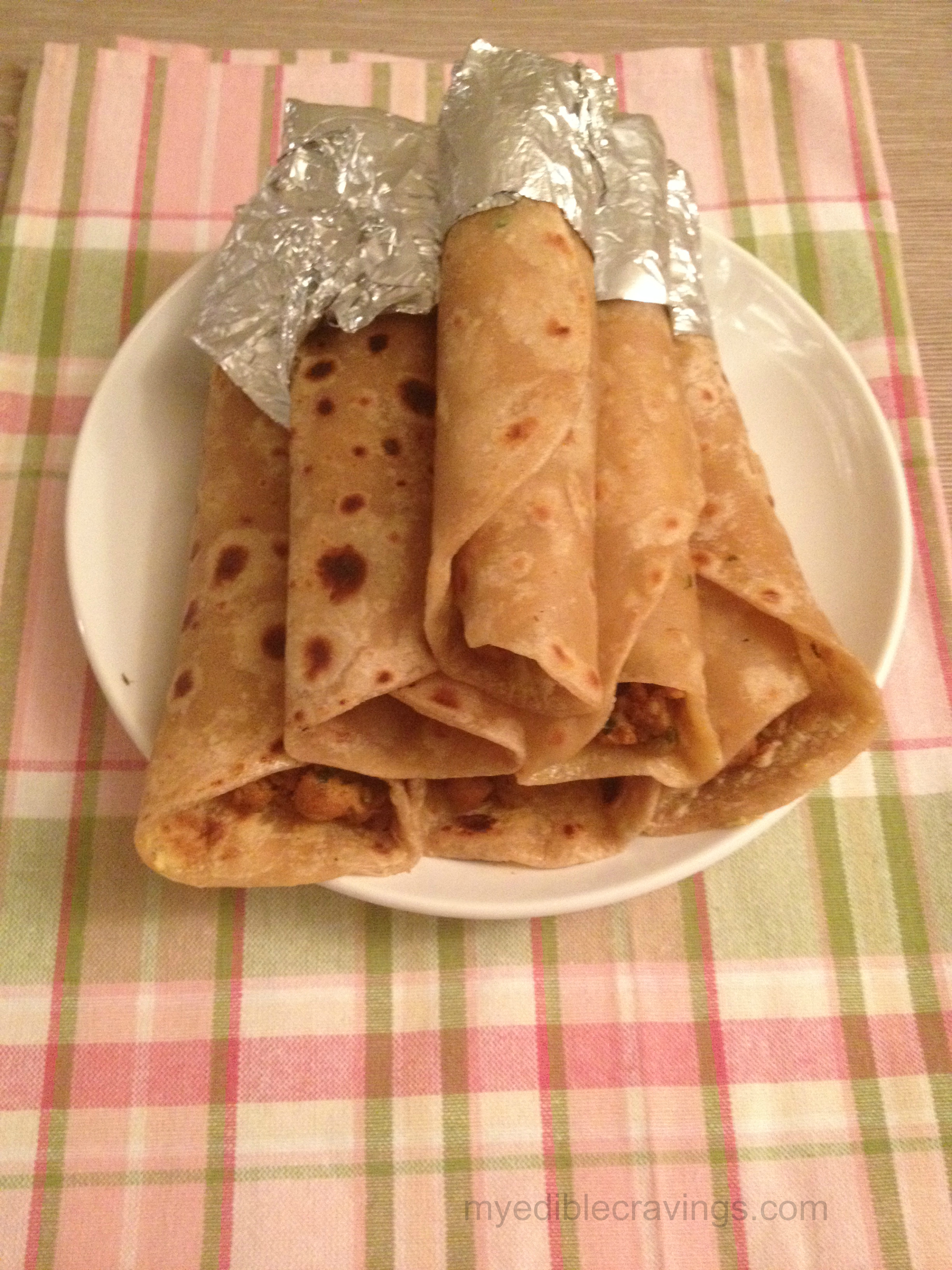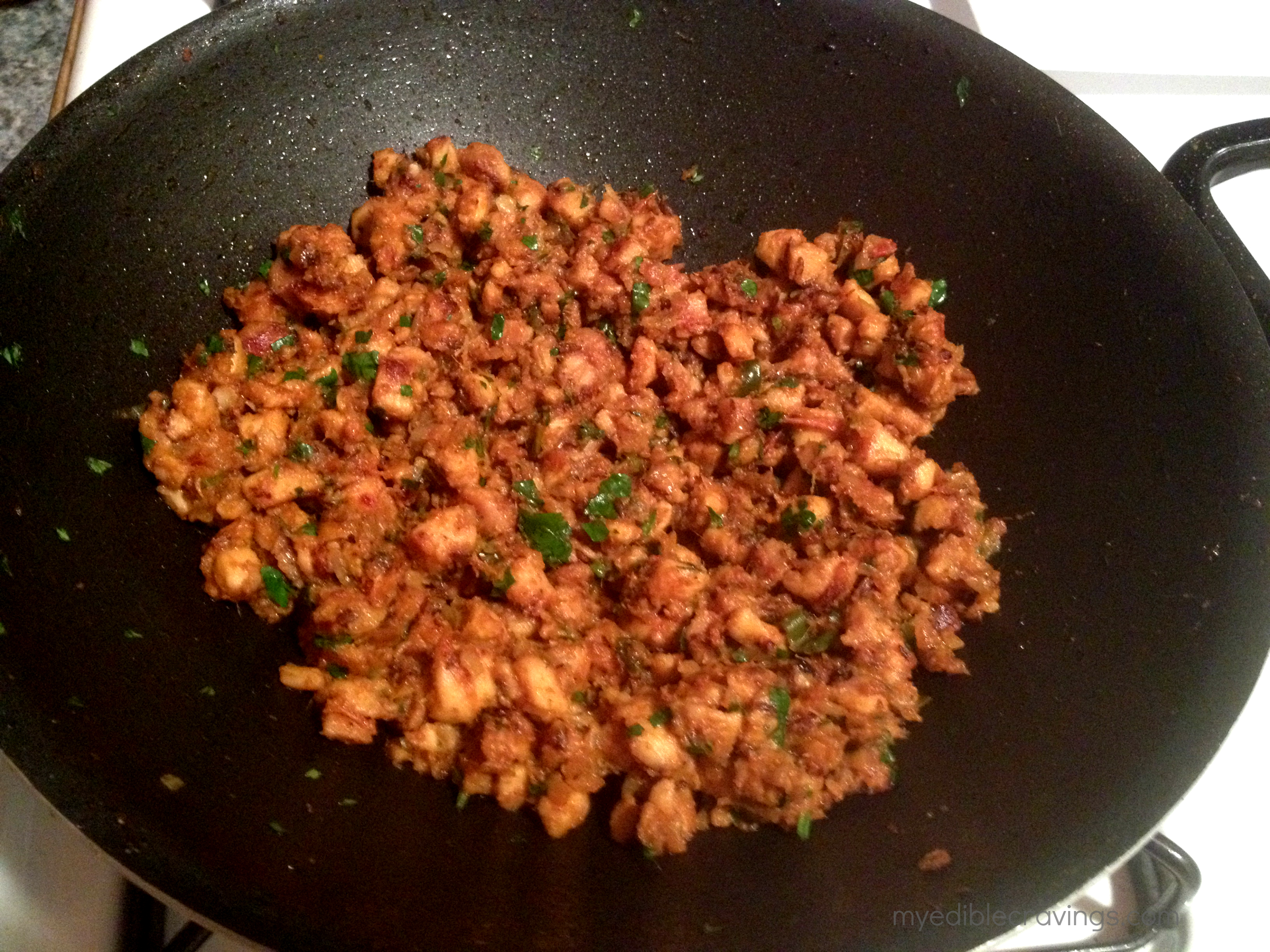 Chicken Frankie is basically a type of stuffed roll made from chappati/paratha and chicken. I believe it has its origin from north India (not sure about the exact location but it might have been Mumbai) and is a recent entry to the street food scene in Chennai, India. Chicken Frankie is an easy dish to make. I would say the only time consuming part in the whole process is the slicing of chicken in to small pieces! You can customize Chicken Frankie to suit your own preference like substituting the meat with any vegetables or egg, altering the spiciness etc.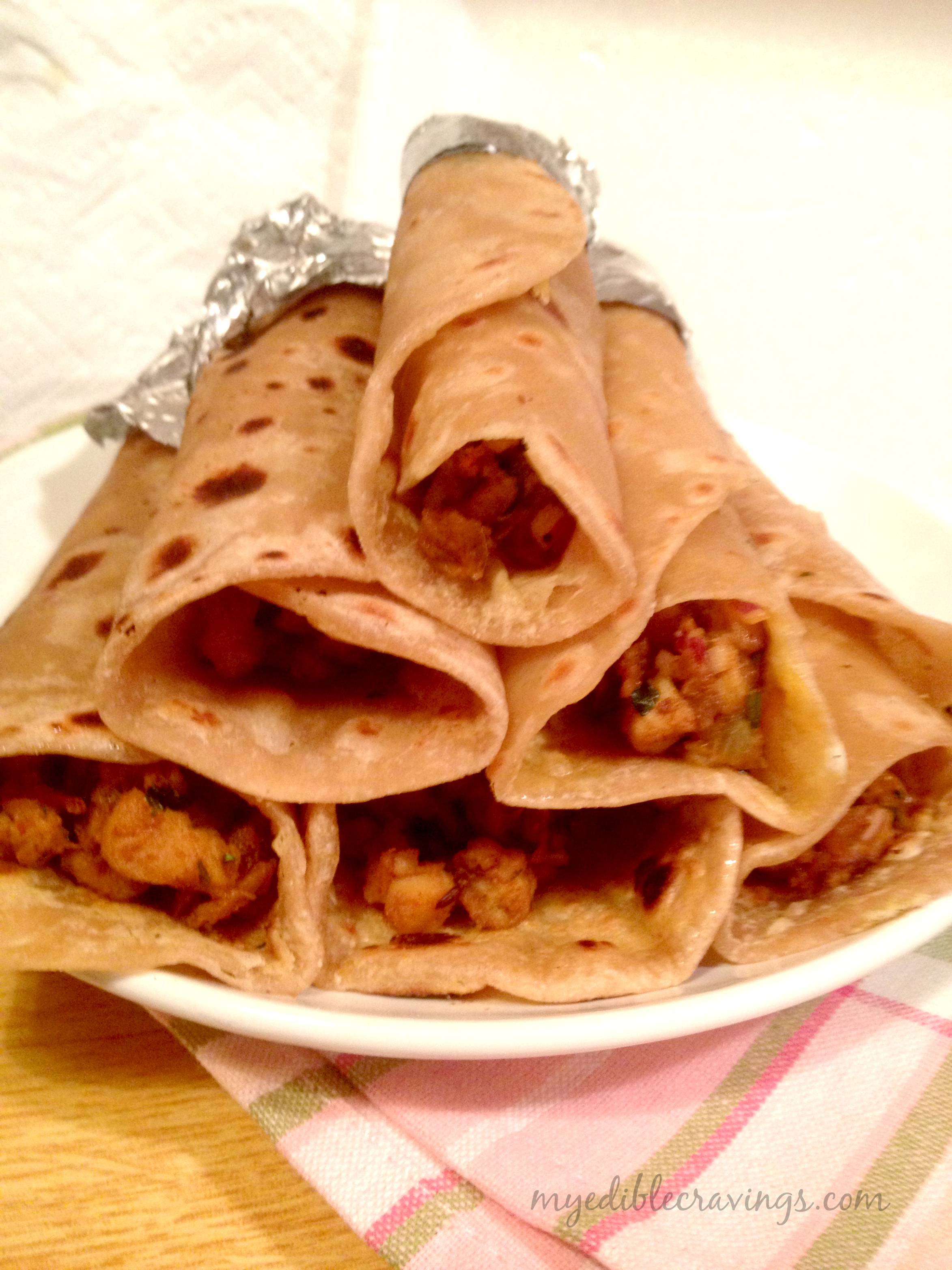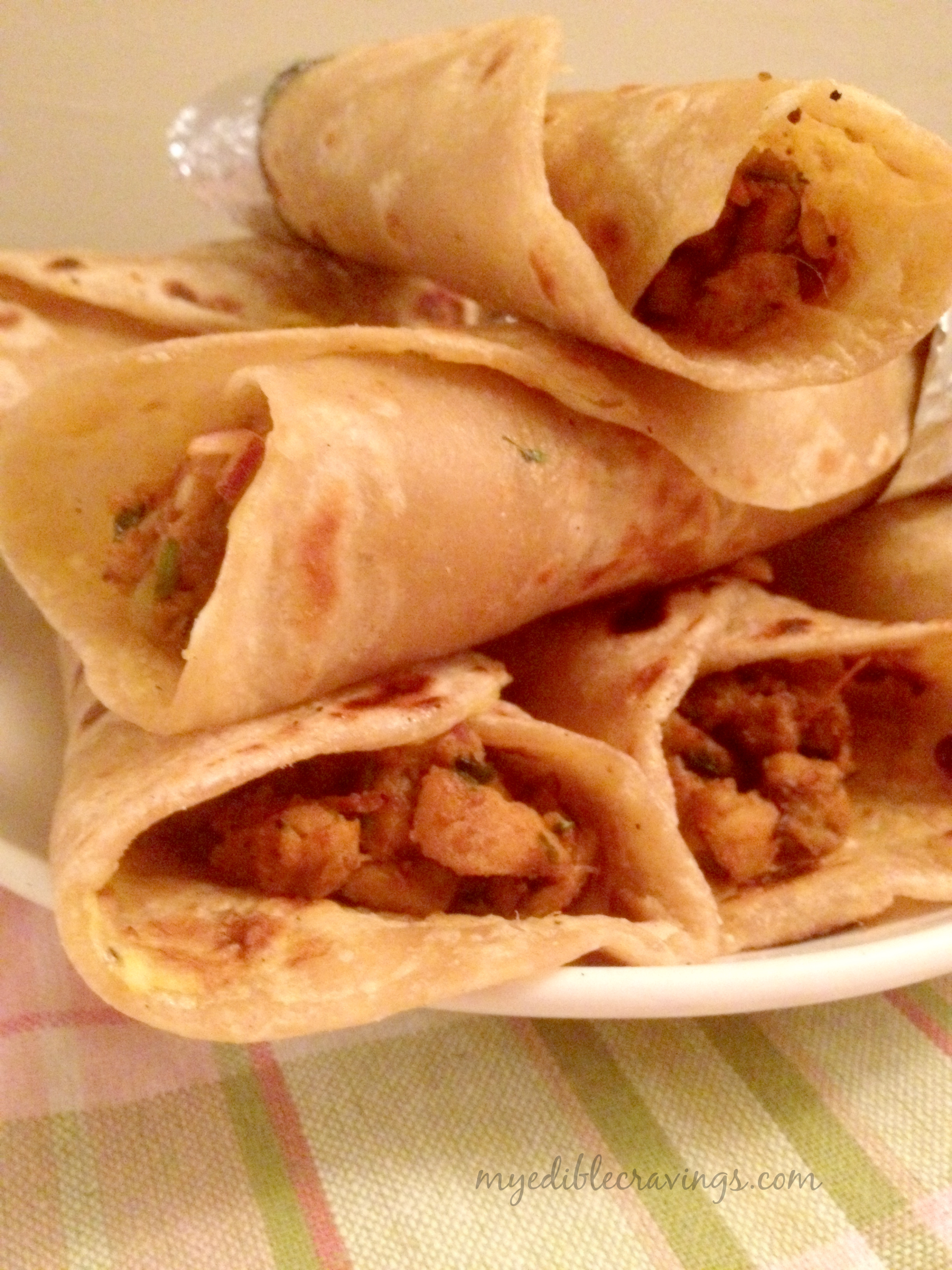 In the US, I am yet to have Chicken Frankie. Agreed, there are similar dishes but I haven't seen them matching to the tastiness of Chicken Frankie. Interestingly, my HB has never had it back in India :). Hope you too would make it often after trying this delicious and tasty desi street food, the Chicken Frankie, in your home 😉

Frankie
Prep time:
Cook time:
Total time:
Ingredients
for the stuffing:
Oil – 1 tbsp
Cumin seed – 1 tsp
Onion, medium, finely chopped – 1 no
Ginger garlic paste – 1 tbsp
Tomato, small, finely chopped – 1 no
Green chilli – 1 no
Sambar powder or red chilli powder – 1 tbsp
Salt as required
Chicken, cut to small pieces – ½ kg (500 grams)
Cilantro, finely chopped – 1 tbsp
Other ingredients:
Uncooked Chapathi or rotis – 6 nos
Eggs, beaten – 1 no
Chilli sauce – 2 tbsp (optional)
Onion, slits, washed – 1 no (optional)
Oil to smear around rotis
Instructions
Heat oil in a tawa and add cumin seeds. When they start to sizzle add in finely chopped onion and sauté until they turn translucent. Add ginger garli paste and sauté until raw smell disappears. Add in chopped tomato and sauté until they turn mushy and leaves oil. Add salt and chilli or homemade sambar powder and give a quick stir. Finally add in the chicken pieces and stir to mix. Cover the lid and cook until the chicken is well done. Open the lid and cook until the excess water evaporates. Garnish with cilantro.
Heat a flat griddle pan and cook roti on one side, apply or brush beaten egg all over using a spoon, smear oil on the sides and flip over. After a minute or two, flip over again (egg side) and place 2 tbsp of the cooked chicken, some onion slits and chilli sauce. Roll them over tightly and wrap aluminum foil on one end of the Frankie. Serve it hot.
Notes
1.Make chapathi dough with equal portion of wheat and all purpose flour.
2.You can make any stuffing of your choice. Vegetarians can make it with mushroom, cauliflower, paneer, etc.
3.Adding chilli sauce is completely optional.