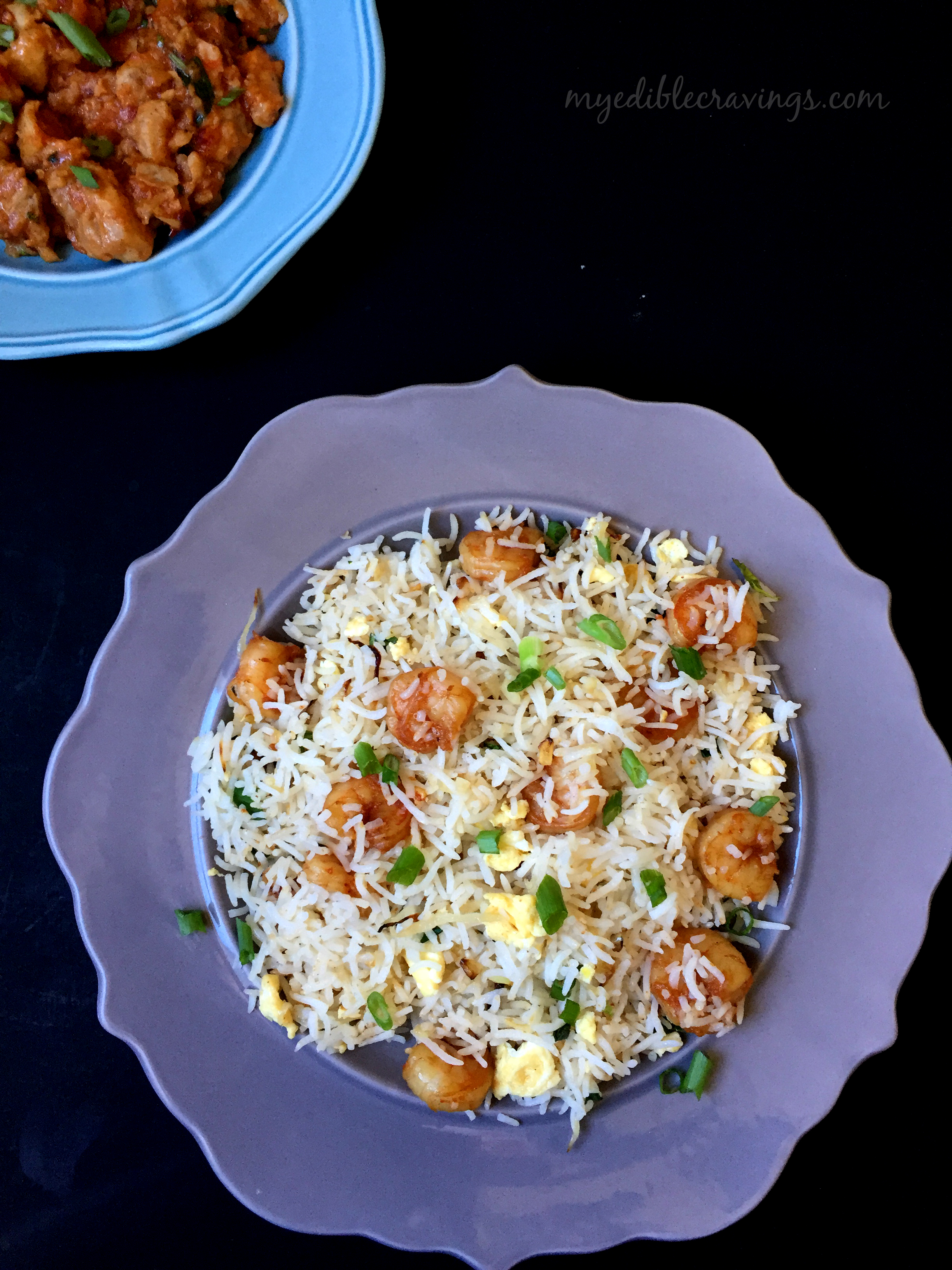 I wanted to post something special for the first post of this new year. So for the past few days, I have been contemplating about trying a different cuisine than the usual south Indian or the occasional north Indian varieties. So me and my HB, after much deliberation, decided on chinese cuisine. As for the actual dishes, we decided on Prawn rice and Dragon chicken.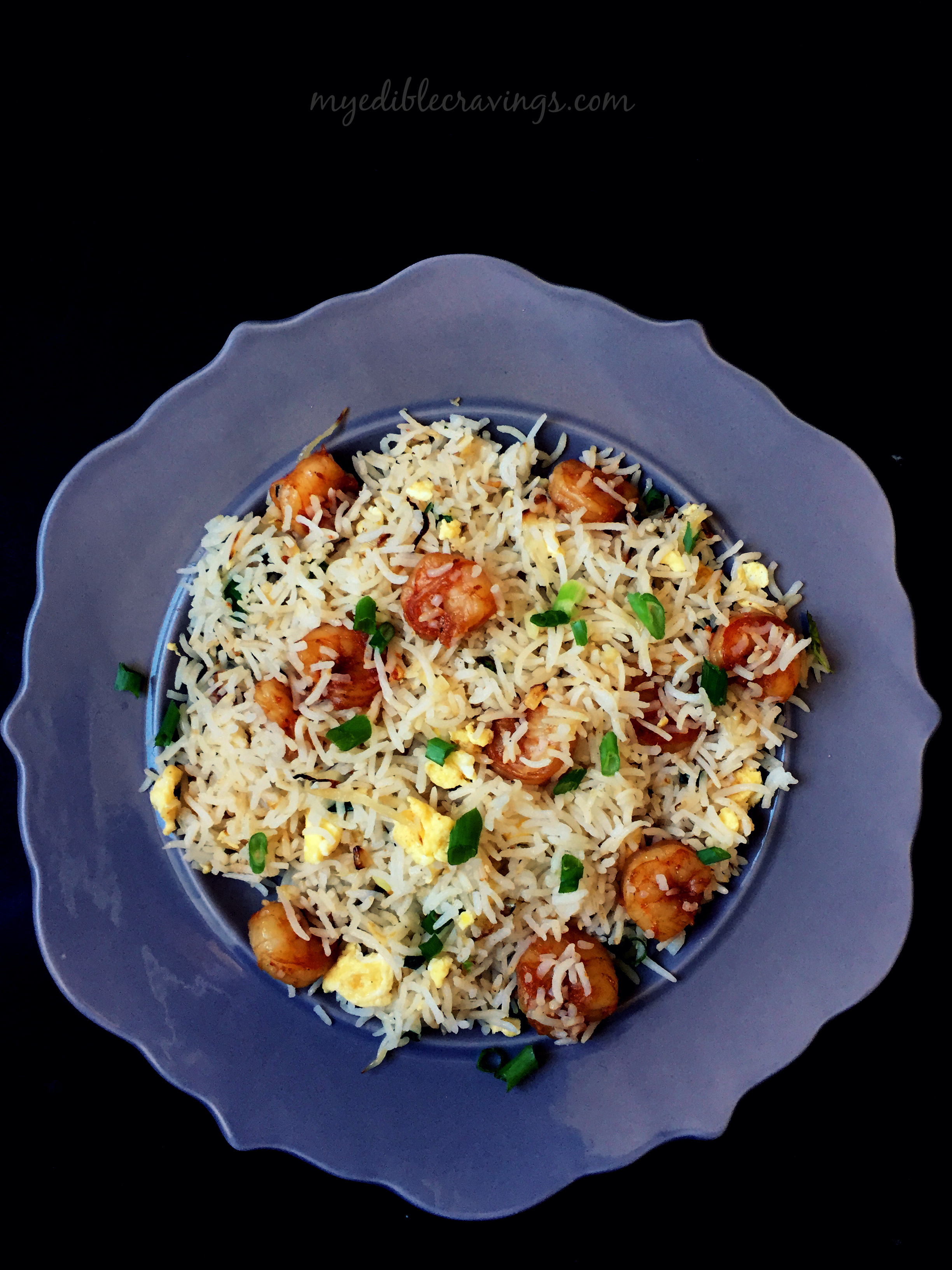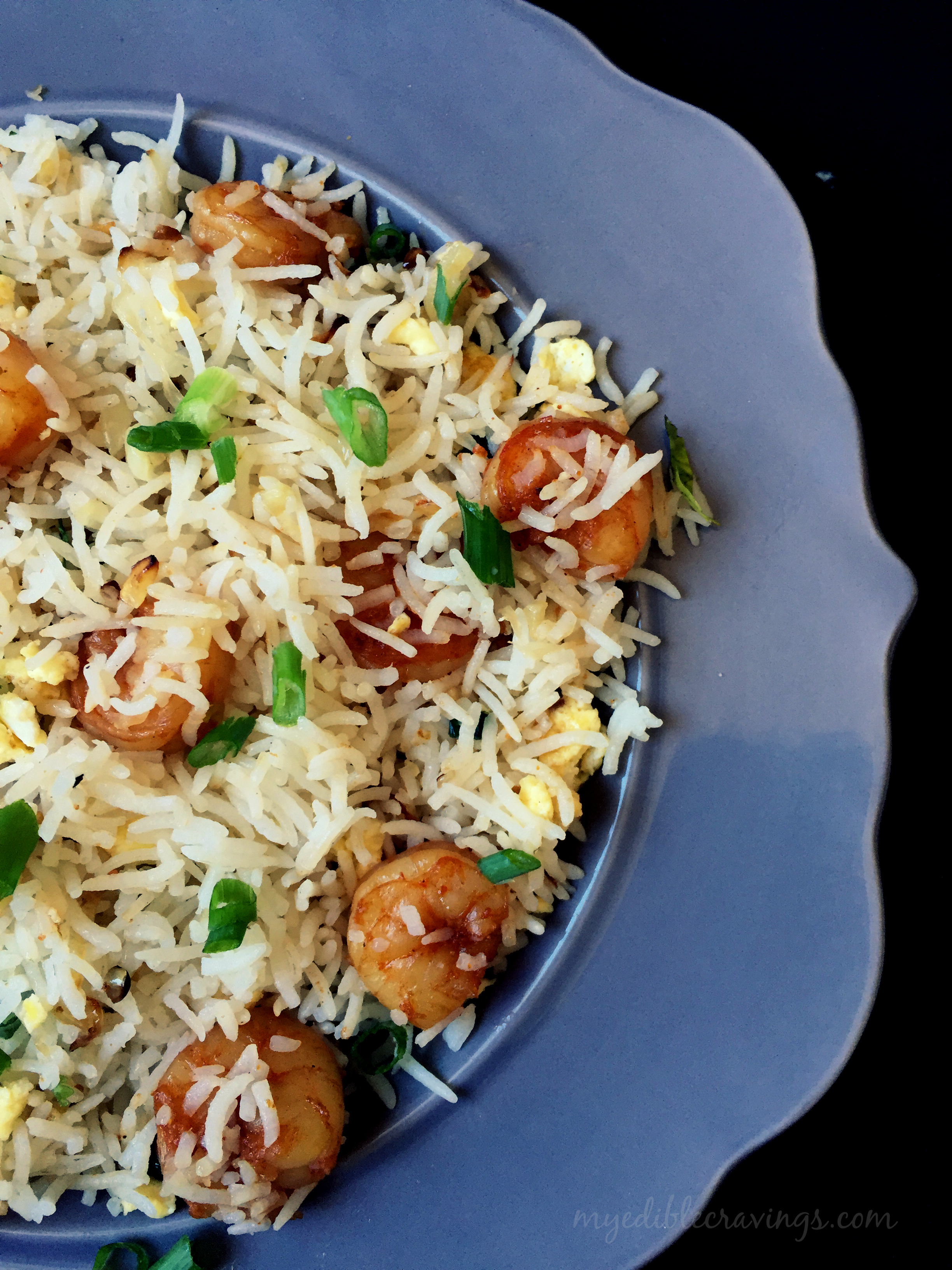 Prawn rice is similar to fried rice except that in fried rice we add soy sauce. Also in fried rice, we cook the rice separately, then add other ingredients along with the cooked rice in a wok and cook them further. In Prawn rice we cook everything separately, i.e.., rice and prawn and then mix them together. Dragon chicken is an indo-chinese dish which is very easy to make. Guess the 'Dragon' came from the fiery red color of the dish. It is a dry and spicy dish that goes well with rice, chappati, fried rice or rotis.
Do try these dishes in your home and let me know your experience 🙂
BTW, a very happy & prosperous 2015!!! 🙂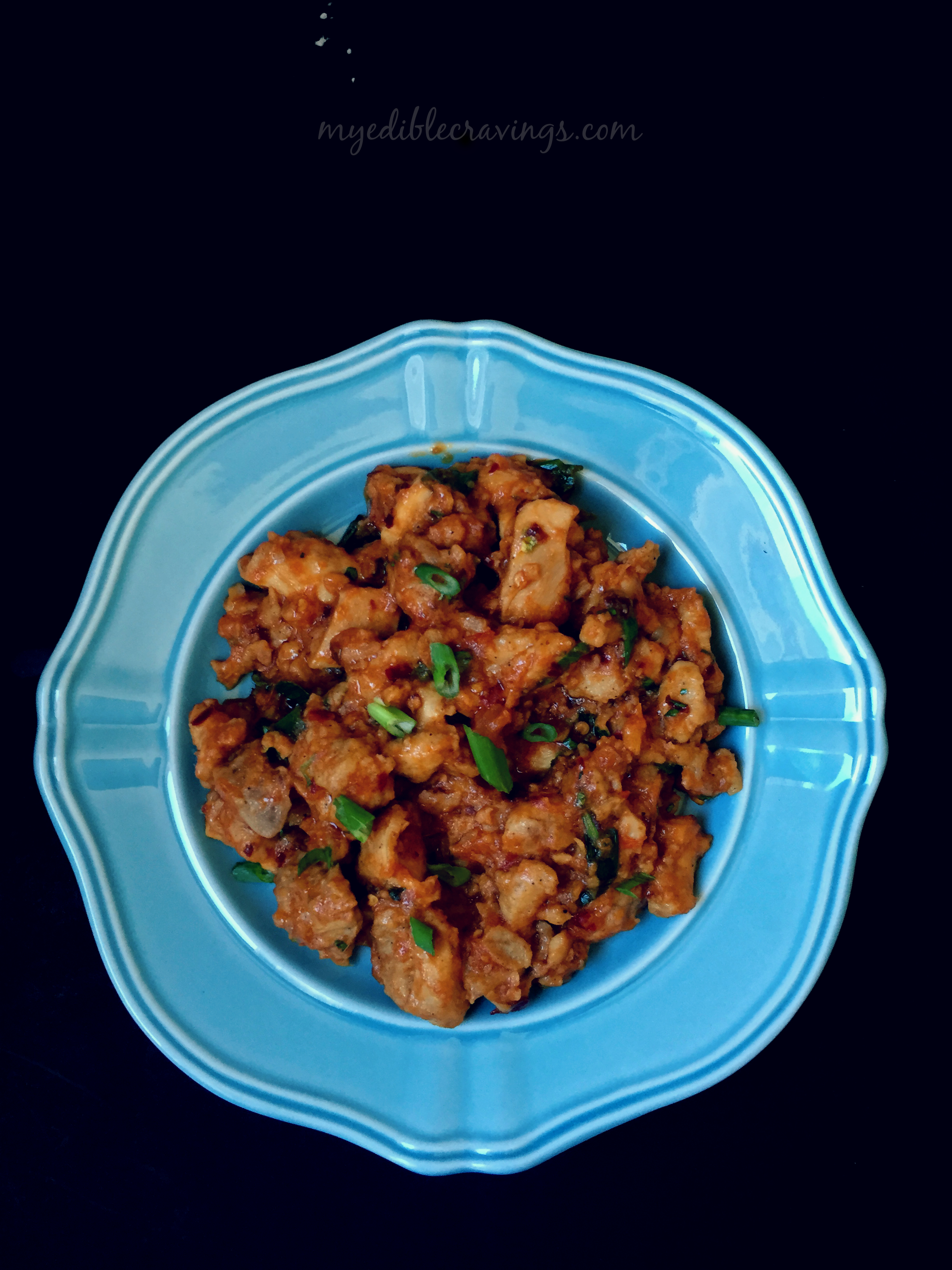 Prawn rice with Dragon Chicken
Prep time:
Cook time:
Total time:
Ingredients
For Prawn Rice
To marinate:
Prawn – 1 lb, 50 count
Chicken 65 masala powder – 1 ½ tbsp (I used shakthi brand)
Red chilli powder – 1 tsp
Salt – as required
Ajinamotto – ½ tsp (optional)
Corn flour – 1 tbsp
Water – 1 tbsp
For the rice:
Basmati rice – 1 cup
Ajinamotto – a pinch (optional)
Salt as required.
Other ingredients:
Oil – 2 tbsp
Scallions or spring onions – 3 tbsp, divided
Onion, slits, medium – 1 no
Green bell pepper, finely chopped – 3 tbsp
Salt – ½ tsp
Scrambled eggs – 1 cup
Salt if needed
Green chilli sauce – ½ tsp
Cilantro leaves – 2 tbsp
Garlic, minced – ½ tbsp
For Dragon Chicken
To marinate :
Ginger garlic paste - 1 tbsp
Crushed pepper - ½ tbsp
Egg whites - from 1 egg
Corn starch - ¼ cup
Soy sauce - ½ tbsp
Boneless Chicken thighs (cubed) - 500g
other ingredients:
Ginger - ½ tbsp, finely chopped
Garlic - 1 tbsp, finely chopped
Red chilli flakes - 1½ tbsp
Tomato sauce - 1½ cups
Soy sauce - 1 tbsp
Cilantro - 1 handlful, chopped
Spring onions - 1 stalk, chopped
Vegetable oil for deep frying
Instructions
Clean and marinate the prawns. Leave it for at least an hour and shallow fry them.
Cook rice separately. I cooked the rice using boiling method to get fluffy separate grains.
Soak the rice for 20 minutes in water. Boil enough water in a medium sized sauce pan and add the rice. Cook until the rice grains starts to sputter. Always stay close while cooking the rice by boiling method. Because rice cooks really quick in this method.
Heat oil in a skillet and add scallions and onions. Sauté till they turn translucent. Add bell peppers and sauté for a minute. Add them to the rice.
Sauté garlic separately.
Transfer the rice to a wide open mixing bowl or a wok and add the sauce, scrambled eggs, sautéed garlic and fried prawns. Mix them very carefully without breaking the rice. Garnish with spring onions and serve hot.
For Dragon Chicken:
Marinate the cut chicken cubes with the marination ingredients mentioned above and set aside for like 15 minutes.
Deep fry the marinated chicken until the cubes turn golden brown.
Heat a non-stick pan over medium heat and pour a tbsp of oil (you can reuse the oil used for deep frying)
Once the oil is hot, add the chopped garlic, garlic and saute until the raw smell goes away
Add in the chill flakes and saute for a little while.
Add in the tomato sauce and stir well.
Then add soy sauce and leave it until the broth comes to a boil
Add the fried chicken cubes to the broth and cook until everything is combined well (by now the mixture should have dried down i.e., not like a gravy anymore)
Garnish with chopped cilantro and chopped spring onion
Server hot with Prawn rice.
Notes
If you don't have green chilli sauce at home, chop few green chillies finely and add them to a half cup of water. Allow them to soak for an hour and just use the water (2 tbsp) to the rice.