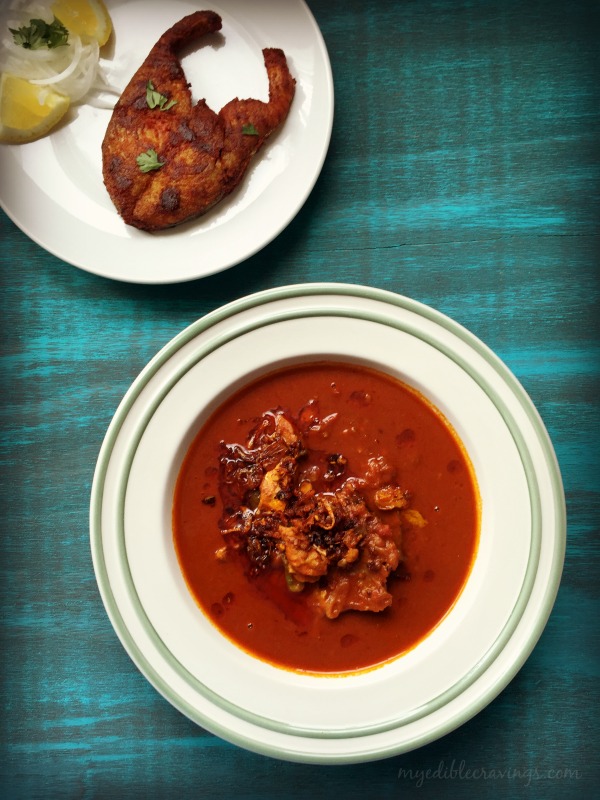 Generally, I am big fan of any food items that has tamarind as one of the ingredients like puli kuzhambu (tamarind gravy), puliyogare (tamarind rice) etc. On those lines, one other dish that I like so much is the Meen kuzhambu/Fish gravy and this gravy also has tamarind as one of the ingredients. Fish gravy is one dish which literally took a lot of my effort in getting it right. Every time I try making this gravy, something or the other didn't come together. I always suspected that the variety of fish I buy was the reason. So when I visited India recently, this was the dish I had on the top of my list to learn 😉 I tried fish gravy as soon as I returned home and voila! It turned out to be one of my best creations ever 😉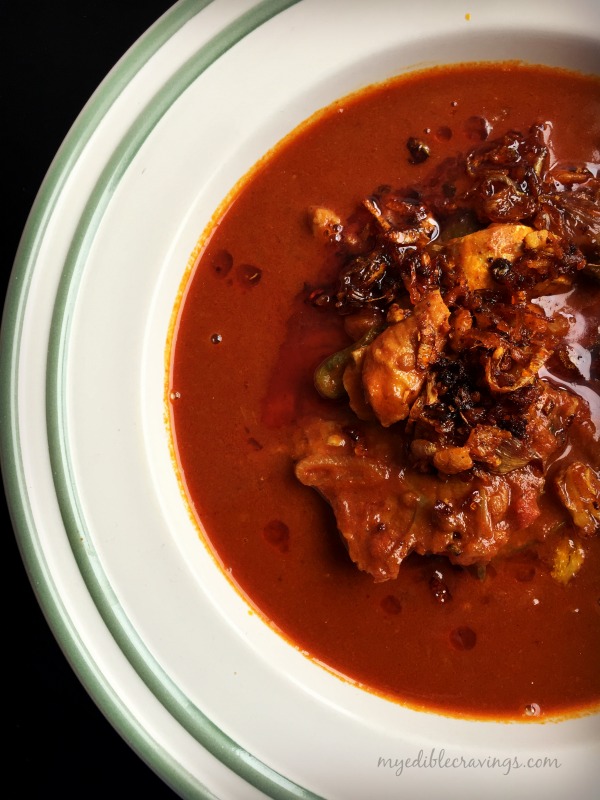 I always liked fish since my childhood. I like its texture and taste. The meen kuzhambu that I have given here is one of my mom's signature recipes. The main ingredients that are used here, other than tamarind, are tomato and green chilli. Fish in general absorbs too much of hotness from the ingredients that we use (chilli and homemade sambar powder). So you need to add extra chilli and/or sambar powder to the gravy. Also, the addition of sambar powder gives thickness to the gravy (you can substitute coconut milk as well here).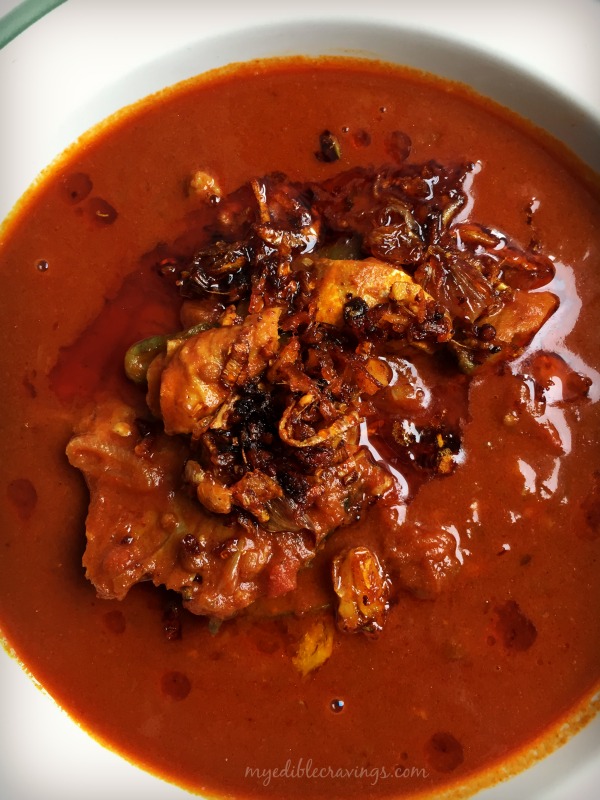 One lesson that I learnt from this successful attempt of preparing meen kuzhambu/fish gravy is that if you have the right recipe, you don't have to worry about the fish you use. So people do try this wonderful recipe and let me know your equally wonderful experience!
Other things that I have learnt,
Add extra oil while making fish gravy – enhances the taste.
Right amount of tamarind – gives the kick to the gravy.
Add extra spiciness – fish absorbs more spice.
Fish cooks real fast, so do not stir the gravy often once the fish is added – So that you don't break/mash the fish.
And finally, like biriyani and pizza, fish gravy tastes excellent when had the next day! 🙂
Fish Gravy
Prep time:
Cook time:
Total time:
A traditional and authentic fish gravy recipe made using tamarind extract and spices.
Ingredients
to marinate:
Homemade sambar powder or kuzhambu podi – 1 tbsp
Salt – ½ tsp
King or seer fish – 1 pound (5 pieces)
other ingredients:
Gingelly oil – 3 to 4 tbsp
Fenugreek seeds – ½ tsp
Shallots, cut to rings – 6 nos
Garlic cloves, cut to rounds – 5 nos
Tomatoes, big, finely chopped – 1 ½ nos
Green chilli – 1 no
Salt as required
Tamarind - Big gooseberry size
Jaggery - a very small piece (a generous pinch)
Homemade sambar powder or kuzhambu podi– 2 tbsp
Red chilli powder – 1 tsp
Grated coconut – 1 to 2 tbsp (optional)
to crush and temper:
Shallots – 1 no
Garlic cloves - 1 no
Ginger – 1"
Oil – 1 tbsp (oil used to fry the fish)
Instructions
Clean and wash the fish with a tsp of turmeric powder and marinate them with the above given ingredients. Cover and leave it for at least half an hour.
Soak tamarind in a cup of water and extract the juice or blend them in a blender to a thick paste.
Grind coconut and a shallot to a fine paste (this step is completely optional).
Heat oil in a kadai or any wide open deep pan and add fenugreek seeds. When they start to sizzle add chopped shallots. Sauté until the onion turn translucent and then add chopped garlic and fry for a minute until it turns golden brown.
Add chopped tomatoes and a slit green chilli. Cook until the tomatoes are mushy. It takes 2 to 3 minutes.
Add in the tamarind extract/paste and allow them to boil. Add a pinch of jaggery at this time.
Now reduce the flame and add sambar powder, red chilli powder and salt. Mix well and cook until the gravy leaves oil.
When the gravy starts to boil, check for salt and spice and add the marinated fish to the gravy. Cook until the gravy leaves oil. It takes about 5 to 8 minutes – Do not stir the gravy once the fish is added. Just slightly tilt around the kadai if you wanted to.
Meanwhile crush shallots, ginger and garlic in a motor and pestle.
If you are making a large batch, add coconut paste to the gravy five minutes after the fish is added to the gravy.
Heat a seasoning ladle and fry the crushed ingredients until light golden brown and pour them in to the fish gravy.
Enjoy the tasty fish gravy with hot rice and fish fry and experience the heaven! 
Notes
1.Here I have used king fish. You can use any variety of fish of your choice. I heard red snapper tastes excellent for fish gravy. 😉
2.I usually don't add coconut paste to the gravy if I am making for just the two of us. I recommend adding it when you are making a large batch.
3.Adding jaggery enhances the tanginess of the fish gravy
4.If you are making fish fry on the same day, season the crushed ingredients in the left over oil. My mom always does this because it adds more taste to the gravy.