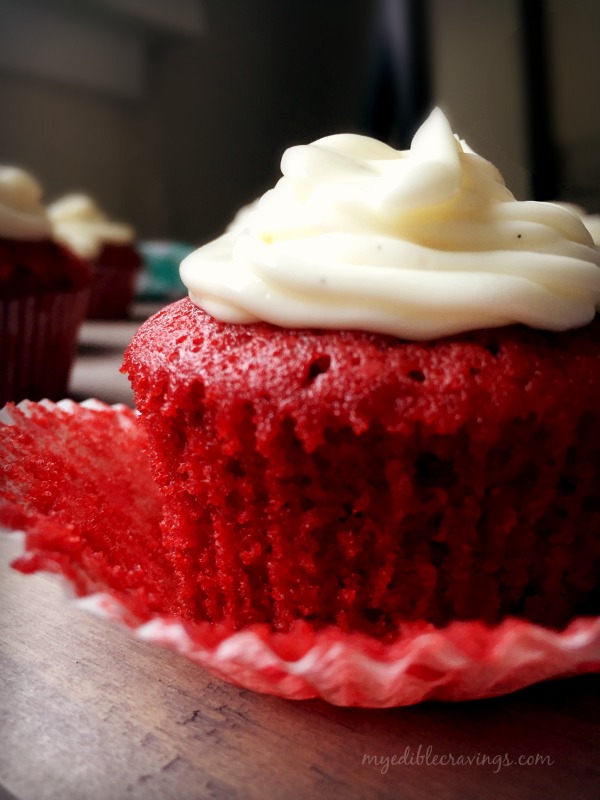 I love cakes and pastries, period. Cake is one food that I can eat even when I am not in the mood to eat anything!:) So obviously, trying out different varieties of cakes is a favorite pastime of mine. Recently, we celebrated my HB's birthday and this time I decided to make something that was in long time pending list and a favorite of mine (as for as cakes are concerned my HB's choice comes in second :)), the red velvet cupcake!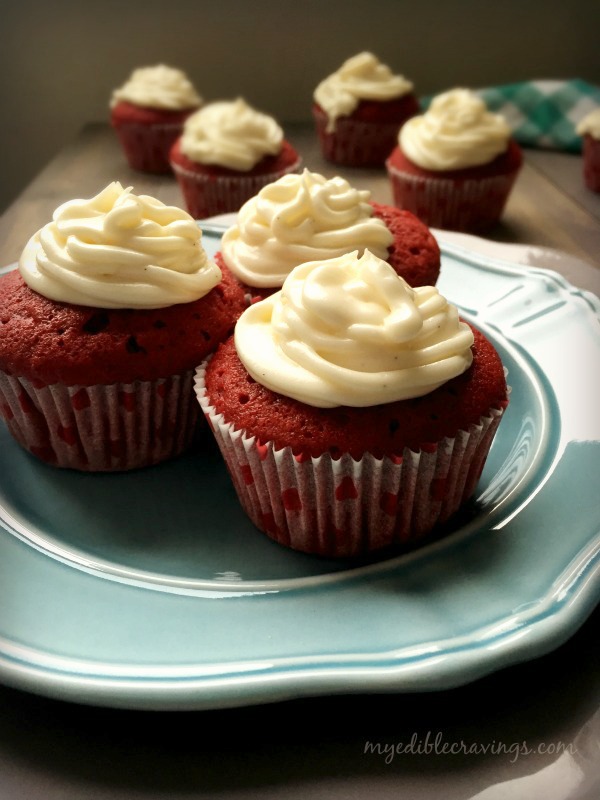 Cupcakes are classic American delicacies that have been around as early as the late 18th century. There are numerous varieties of cupcakes. After the advent of boutique pastry shops, more and more interesting flavors are being baked. The earliest mention of Red velvet cupcakes was in the late I950s (courtesy Wikipedia). Also the distinct red color has its own titbit. Apparently, one businessman in Texas started baking red velvet cakes as a marketing ploy to sell more red dyes! It is quite hard to nail down the flavor of this cake. It is a mixture of mild chocolate, with a hint of buttermilk, enough vanilla and lots of butter taste. The major attribute of Red velvet cupcakes is the dense but soft,  moist crumb. The best part about Red velvet cupcakes are their cream cheese frosting. The slight tanginess of the cream cheese goes hand in hand with the soft moist crumb of the cake. There are certain things to be noted while baking Red velvet cupcakes. One is the use of cake flour. All purpose flour is a strong no-no. Cake flour gives the distinct softness associated with this cake. Another is the use of unsweetened cocoa powder. This gives you a mild chocolate flavor just enough to tease your tastebuds 🙂 For Red velvet cupcakes, there are two special ingredients that we use. One is buttermilk and the other is vinegar. Buttermilk gives you a slight tanginess and moistness to the cake. It also enables the baking soda to leaven the cake. Vinegar is used to enhance the red color. Trust me, you will not taste even a hint of vinegar once the cake is baked.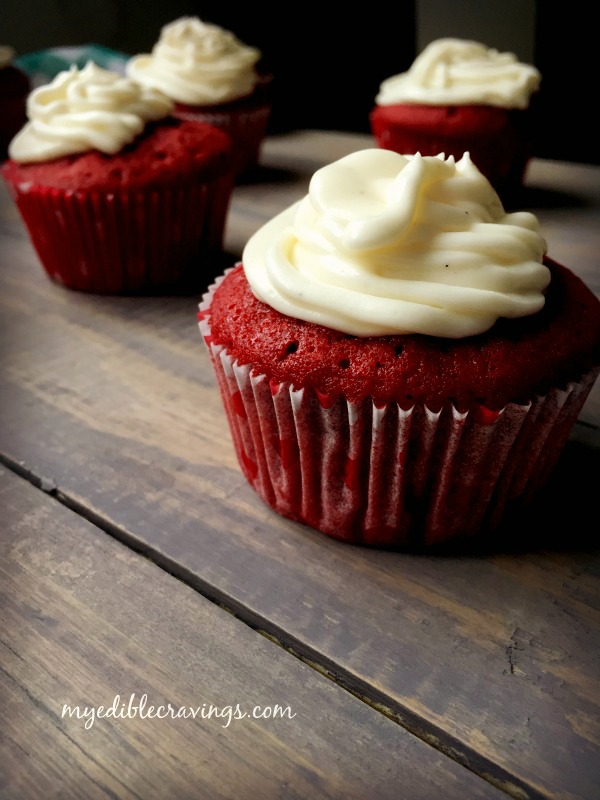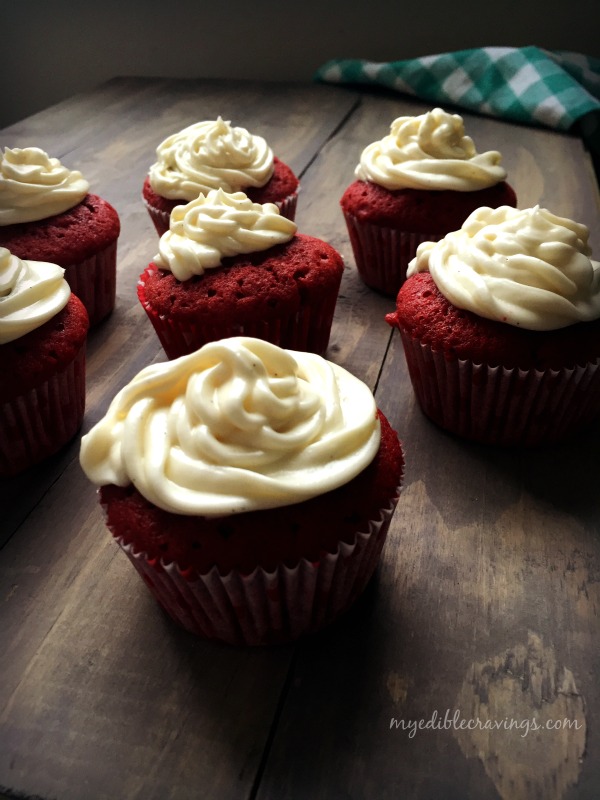 Red velvet cupcake is a decadent dessert that is sure to make any party a memorable one, given its distinct taste and delightful appearance. So try it in your home and have your own party, tasting the awesome Red velvet cupcake!:)
Red Velvet Cupcake
Prep time:
Cook time:
Total time:
Ingredients
1 ½ cups cake flour
½ tsp baking soda
1 tbsp unsweetened cocoa powder
¼ tsp salt
¼ cup unsalted butter, softened to room temperature
1 cup granulated sugar
½ cup vegetable oil
2 large eggs, room temperature, separated,
¾ tbsp vanilla extract
½ tsp distilled white vinegar
1 ¾ tbsp Gel or liquid or powder red food coloring
½ cup buttermilk, room temperature
¼ cup white chocolate chip
for the cream cheese frosting
5 oz. cream cheese, brick type
3 ¼ tbsp unsalted butter, room temperature
1 ¾ cups confectioners' sugar sifted
½ vanilla bean paste +1 tsp vanilla extract or 2 tsp clear vanilla extract
Instructions
Preheat the oven to 350 degree Fahrenheit or 180 degree Celsius. Line cupcake pans with paper liners.
Sift the flour, baking soda, cocoa powder and salt together into a medium mixing bowl and keep it aside.
Separate the egg yolk and egg whites and set aside.
In a large mixing bowl, beat the butter using hand mixer on high speed until smooth for about one minute.
Add sugar and beat on high speed for another couple of minutes until creamy.
Scrape the sides using spatula and add the oil and beat on high for another 2 minutes.
Now add in the egg yolks and vanilla. Beat on medium high speed until well combined.
Now beat in the vinegar and enough food coloring until you reach the desired color.
Set the mixer on low speed and add the dry ingredients in three additions alternating with the buttermilk, beginning and ending with the dry ingredients, and mixing each addition just until incorporated – do not over mix.
Vigorously whisk the egg whites until thick and foamy for 3 minutes as shown in the picture.
Fold the beaten egg whites into cake batter with a spatula. The batter will be silky and lightly thick.
Add in white chocolate chip and gently mix the batter. Again, do not over mix the batter.
Pour the batter into cupcake pans filling ⅔ of the way full and bake for 18 minutes or until the tooth pick inserted in the center comes out clean.
Remove the pan from the oven and let it cool in the pan for 10 minutes, then transfer to a wire rack and cool them completely.
Now for the frosting, combine the cream cheese and butter in a medium mixing bowl and beat on medium to high speed for 3 minutes until light and fluffy.
Add in the confectioners' sugar and mix on low speed until well incorporated. Increase the speed to medium to high and beat for another 2 minutes.
Blend in the vanilla.
Add the frosting into a pipe bag. And refrigerate for one hour. Later cut the edge of the pipe bag and frost the cupcakes according to your own taste. Enjoy 🙂
Notes
1.Using cake flour is a must for making red velvet cake or red velvet cupcakes. Cake flour is much lighter than all-purpose flour and gives right texture.
2.Separate the egg white and egg yolk and then add to the cake batter to achieve the fluffiest texture possible.
3.Buttermilk is a must for this recipe to give tangy flavor and moisture to the cake and vinegar as well. Read that vinegar helps brighten the color.
4.You can make 6" red velvet cake using the same measurement or double the measurement for 2 layer red velvet cake.