Hello everyone! After a few weeks, here I am with a new recipe. I might have mentioned this already but I love baking. It is a passion of mine. Trying out different varieties of cakes and whatnot is something I do when I get free time. Today I have posted below one of the recent recipes that I tried out in honor of friends all over the world. Happy Friendship Day!!! It is the recipe for Vanilla cake with Swiss Meringue blueberry lavender buttercream frosting. I know, the name itself sounds exotic and trust me, the taste do justify the name 🙂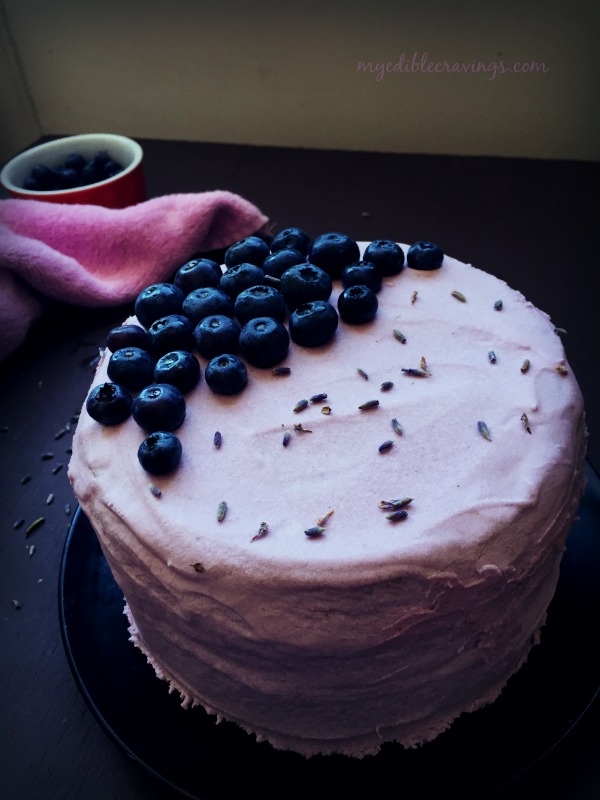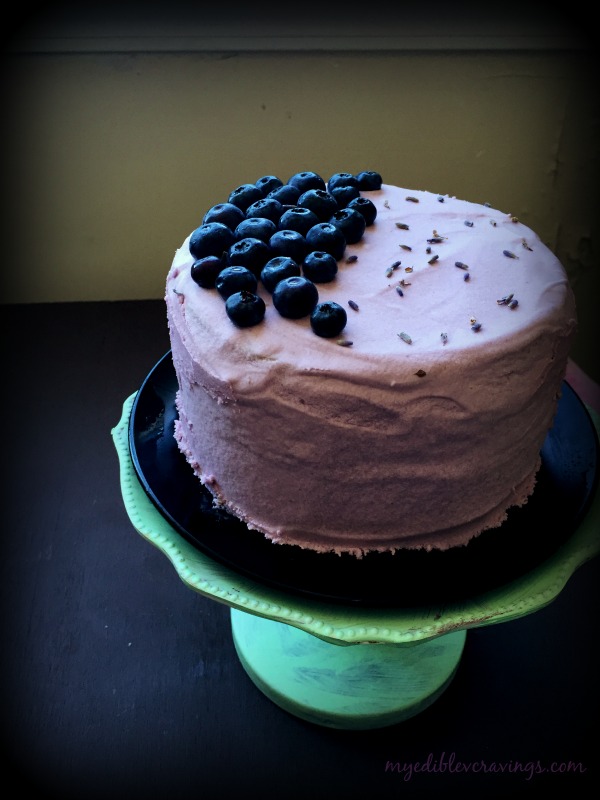 One of the joys of baking is, for almost all recipes that you try out, there is a definite recipe with set measurements for ingredients. That in itself will give you the confidence to try out new items. Coming back to our Vanilla Cake with Swiss Meringue blueberry lavender buttercream frosting, the recipe is that of a wedding cake i.e., the vanilla cake baked here is most commonly baked for weddings! Meringue in itself is a type of dessert made from egg whites and sugar. And Swiss Meringue is a type of meringue. There are three types of meringues, they are French, Swiss and Italian. The swiss variety is smoother and silkier than the other two and is the popular choice for making buttercream frosting. I have used a concoction of blueberry and lavender to flavor the buttercream in this recipe.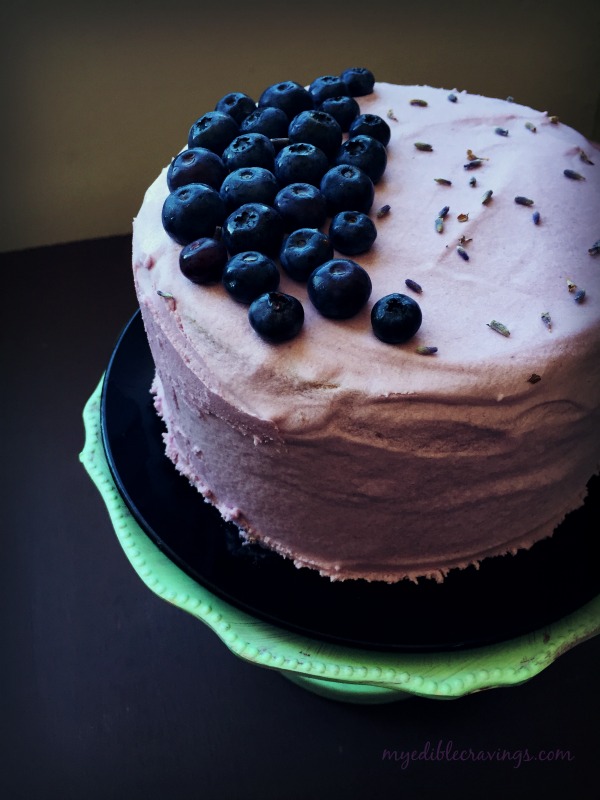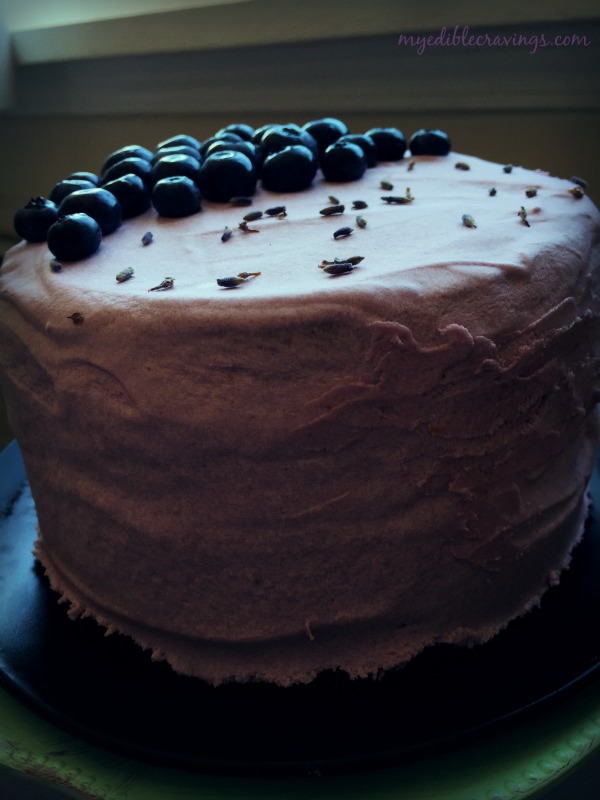 Vanilla cake with Swiss Meringue blueberry lavender buttercream frosting is the perfect recipe for joyous occasions like birthdays and parties but you can also have it on days when you just feel like eating cake :). One thing to remember is you need a little bit of patience to try out this recipe since making the meringue takes some time. However, you will not be disappointed when you taste the soft and smooth cake once baked and frosted 🙂
Vanilla Cake with Swiss Meringue Blueberry Lavender Frosting
Prep time:
Cook time:
Total time:
Serves:
2 layer 6"round cake
Ingredients
For the cake:
1 ½ cup flour
1 ½ tsp baking powder
A generous pinch of salt
3 eggs
1 ½ sticks unsalted butter, room temperature
1 cup granulated sugar
½ cup whole milk
1 tbsp vanilla extract
For the frosting:
1 ½ cup blueberry
1 tbsp dried lavender flowers
6 egg whites
1 cup + 3tbsp granulated sugar
1 tbsp vanilla extract
A pinch of salt
1 cup + 4 tbsp (2 ½ sticks) butter, room temperature
Instructions
For the cake:
Preheat oven to 350 degrees Fahrenheit. Grease the two 6" round cake pans with butter (on the sides and bottom), dust the bottoms with flour and line them with parchment paper.
Sieve the flour, baking powder and salt together in a medium mixing bowl.
In a large mixing bowl, whisk together the egg and sugar in medium speed.
Whisk in the butter until the mixture is creamy and smooth.
Add in the dry ingredients to the wet ingredients and mix in medium speed until well combined- Do not mix too much.
Finally add in the milk and vanilla extract and mix again.
Divide the batter between cake pans
Bake for 35 to 40 minutes or until the tooth pick when inserted comes out clean.
Remove from oven and let cool completely.
Wrap them tightly in polythene sheet and freeze them for couple of hours before frosting.
For the frosting:
Place blueberry, lavender and half cup of water in a small pan and cook on medium for 5 minutes until juices have released. Let it cool.
Grind them in a blender. Strain out the pulp and extract the juice. Keep it aside.
On a double boiler (or a medium sized bowl suspended over the pan of simmering water) combine the egg whites, sugar, vanilla extract and salt. Heat, stirring gently until the sugar is completely dissolved- check by rubbing a bit of mixture into your fingers. It should feel smooth.
Take the bowl off the heat and whip the egg whites using hand mixer until stiff peaks form. It takes around 15 to 20 minutes.
Now add the butter 2 tbsp. at a time, until each tbsp. butter is well incorporated into the mixture. Once all the butter have been added, the resulting buttercream should be smooth and thick. This is called swiss meringue butter cream. If you think the frosting is runny you could add icing sugar to make it smooth and thick.
Finally add in 1 ½ tbsp. of blueberry lavender concoction and gently mix together until well incorporated.
Level the cake by cutting the top crust and frost them according to your taste.
Notes
1.To pasteurize the egg you could also clip on the liquid thermometer to the mixture to reach a temperature of 160 degree Fahrenheit, gently stirring continuously.
2.Butter that are added to the frosting should not be soft. It should be stable.
3.If the frosting is runny, refrigerate for 20 minutes and take out and mix in medium high speed until it becomes thick.
4. If the frosting have curdled, microwave for 10 seconds and then beat again until the frosting becomes thick.