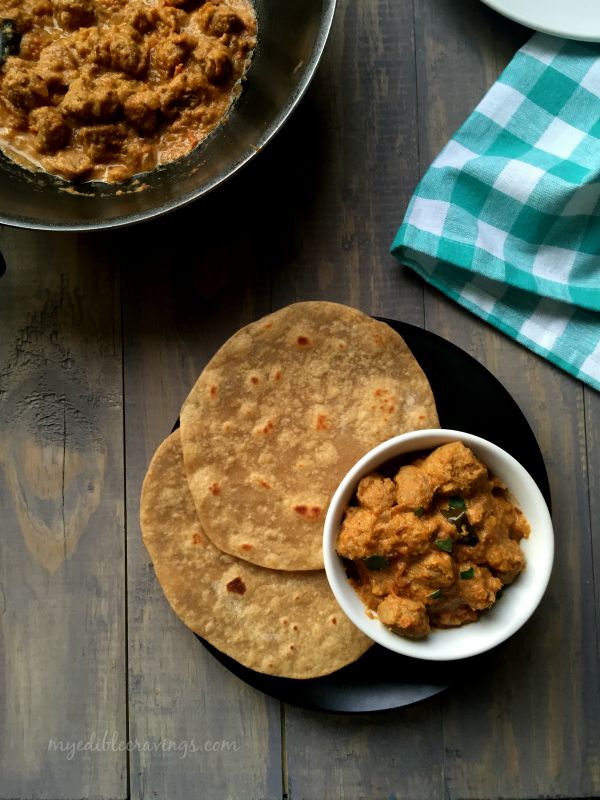 Soya beans are a popular legume variety that is known for its protein content. South Indian cuisine has a variety of dishes made with soya beans. Here I have given you a type of gravy made from soya chunks called the Soya chunks gravy.  It is very tasty gravy that goes well with chappati, naan, pulav etc.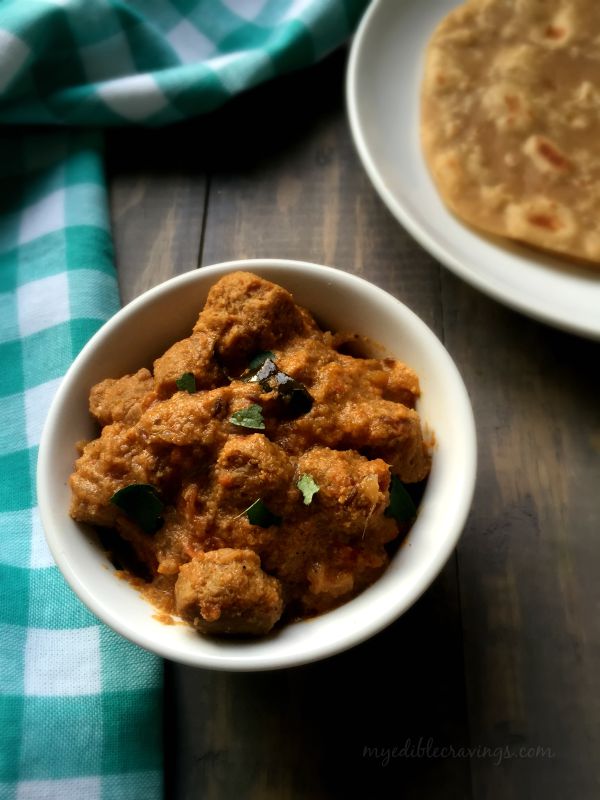 Soya chunks gravy is a very easy dish to prepare. I literally use all types of masalas, mutton masala powder, chicken 65 powder, biriyani powder and madras curry powder as ingredients. Soya beans are used to make all those meat substitutes like tempeh, tofu etc. I would say dishes made using soya chunks are the closest to regular non vegetarian dishes in taste.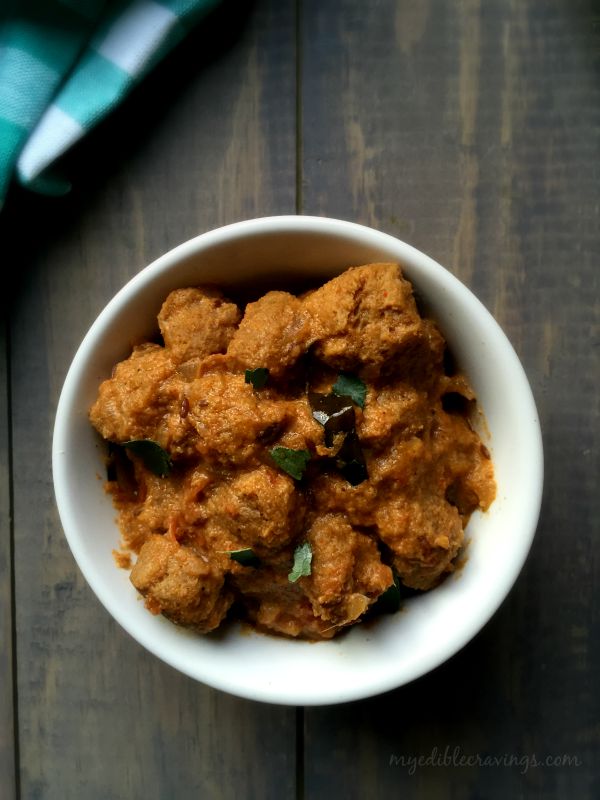 As I had mentioned earlier, soy is rich in protein, amounting to 40% of its composition. Soya chunks gravy is a very healthy dish and a perfect alternative to meat. Try this healthy and tasty dish in your kitchen and let me know your awesome experiences.
Soya Chunks Gravy
Prep time:
Cook time:
Total time:
Ingredients
Oil – 2 tbsp
Cumin seeds - 1 tsp
Onions, small, finely chopped – 1 no
Curry leaves – a sprig
Ginger garlic paste, freshly ground – 1 tbsp
Tomato, medium, finely chopped – 1 no
Red chilli powder – ½ tsp
Mutton masala – ½ tsp (I used sakthi brand)
Chicken masala – ½ tsp
Madras curry powder – ¾ tsp
Soya chunks or meal maker – 1 cup
Biriyani masala – ½ tsp (I used sakthi brand)
Salt as required
To grind:
Instructions
Heat enough water in a pan and bring them to boil. Switch off the flame and soak the soya chunks in hot water for about 10 minutes. After 10 minutes drain the water and keep the soya chunks aside.
Grind grated coconut to fine paste and set aside.
Heat oil in a pan and add cumin seeds.
When they start to sizzle, add in finely chopped onions and curry leaves. Sauté until onions turn translucent.
Add in freshly ground ginger garlic paste and sauté until the raw smell disappears.
Add in finely chopped tomatoes and sauté until oil separates or until they turn mushy.
Add in all the above mentioned masala powders and give a quick stir. Add very little water and sauté for a minute until the raw smell disappears.
Now add in the soaked and drained soya chunks into the masala and mix well. add enough salt and water. Cover and cook for 5 to 8 minutes.
Finally add in the coconut paste, mix well and cook for another 10 minutes. Enjoy the tasty soya chunk gravy