Jugalbandi is a musical word related to Indian classical music referring to duet performance of two solo musicians. The word literally means "entwined twins" (courtesy:- Wikipedia). You might be wondering why I am talking about classical music in a food blog 🙂 That is because the dish I have given here today is a mix of two distinct ingredients that makes up an absolutely delicious dish called the Mushroom-Corn Ki Jugalbandi.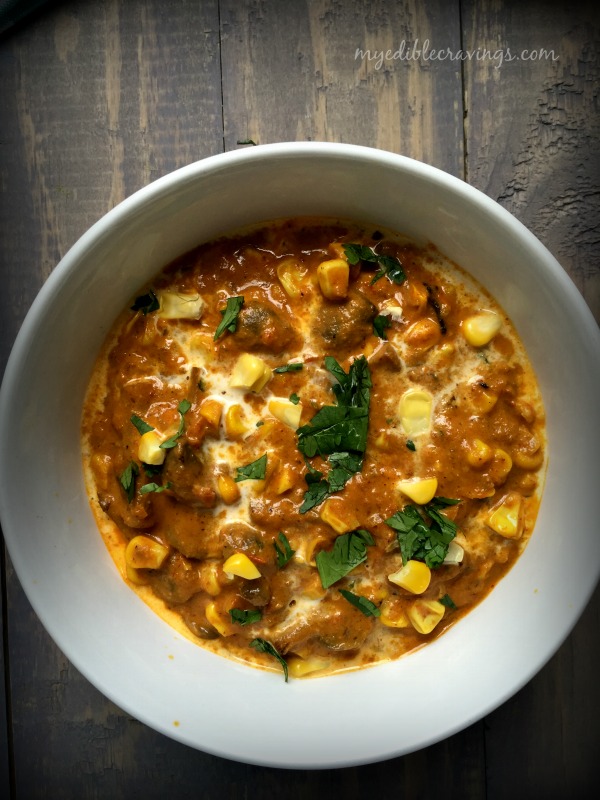 Mushroom-Corn Ki Jugalbandi is a north Indian sabzi variety which is prepared using mushroom and corn with a touch of cream. My HB is a big fan of this dish and it is an amazing side dish for pulao, naan, chappati and many more. Since our diet mainly consists of chapati, I am always on the lookout for new side dishes. So when I came across this recipe online I immediately tried it out and got absolutely hooked. The corn in this dish gives a crunchiness to it and the hint of cream gives a mild sweetness as well. Trust me, it is an irresistible combination 🙂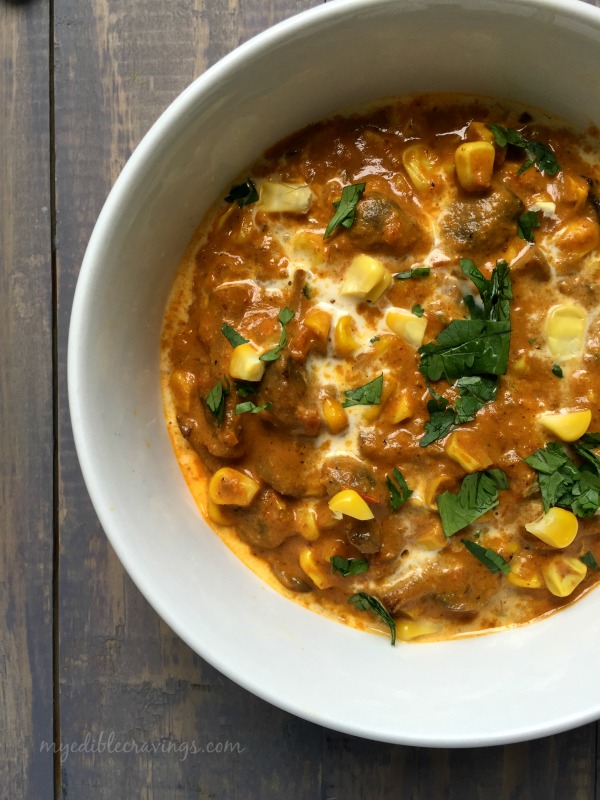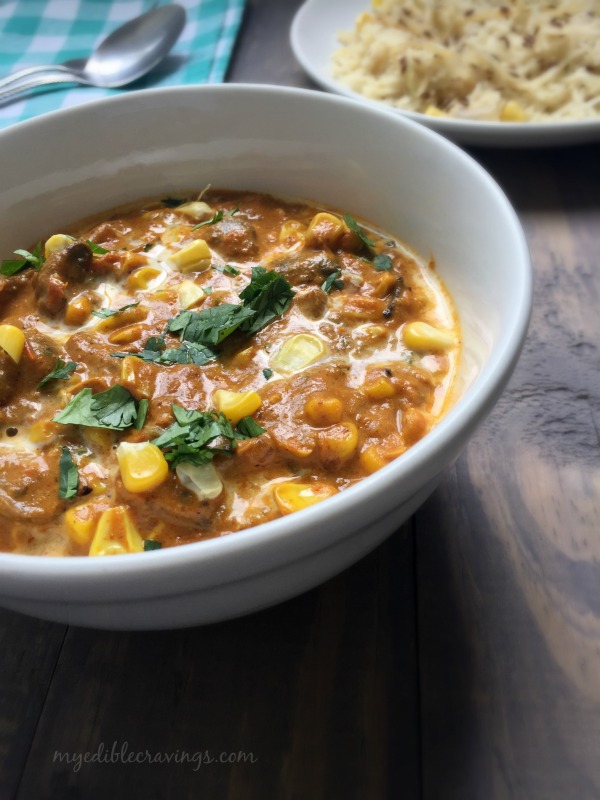 Mushroom Corn Ki Jugalbandi is a pretty rich dish because of the cream but goes well with chappati as mentioned above because it complements with the lightness of chappati. Do try this delicious dish in your kitchen and let me know to what main entree dish does it pair well with.
Mushroom Corn Ki Jugal Bandhi
Prep time:
Cook time:
Total time:
Ingredients
Oil – 1 tbsp
Cinnamon stick – 1"
Cloves – 2 nos
Cardamom – 3 nos
Onion, medium, finely chopped – 1 no
Ginger garlic paste – 1 tbsp
Tomato, finely chopped – 1 no
Turmeric powder – ½ tsp
Red chilli powder – 1 tsp
Coriander powder – 1 ½ tsp
Cashew paste - 4 tbsp (from 10 nos of cashews)
Mushroom, cut to four – 1 cup
Sweet corn pod – 1 cup
Fresh cream – 1 tbsp
Cilantro, finely chopped – 1 tbsp
Instructions
Soak cashews in water for 10 minutes and blend them to fine paste.
Heat oil in a flat wide pan and season with cinnamon, cardamom and cloves.
Add in finely chopped onion and sauté until they turn translucent.
Add ginger garlic paste and sauté until the raw smell disappears.
Add finely chopped tomato and sauté until thay turn mushy.
Now add in all the masala powders (turmeric, chilli, coriander) and salt. Give a quick stir.
Add very little water like ½ a cup and bring it to boil until the raw smell of the masalas disappear.
Add in the cashew paste and sauté until the gravy leaves oil.
Now add in the freshly chopped mushrooms and corn. Mix well and cook for 5 to 10 minutes or until the mushrooms are well cooked.
Finish it off by adding fresh cream. Mix well and garnish with freshly chopped cilantro. Serve hot as a side for chapathi, pulao or jeera rice.
Notes
Add equal amount of chopped onions and tomatoes.
Add the masala powder in 1:2:3 ratio.