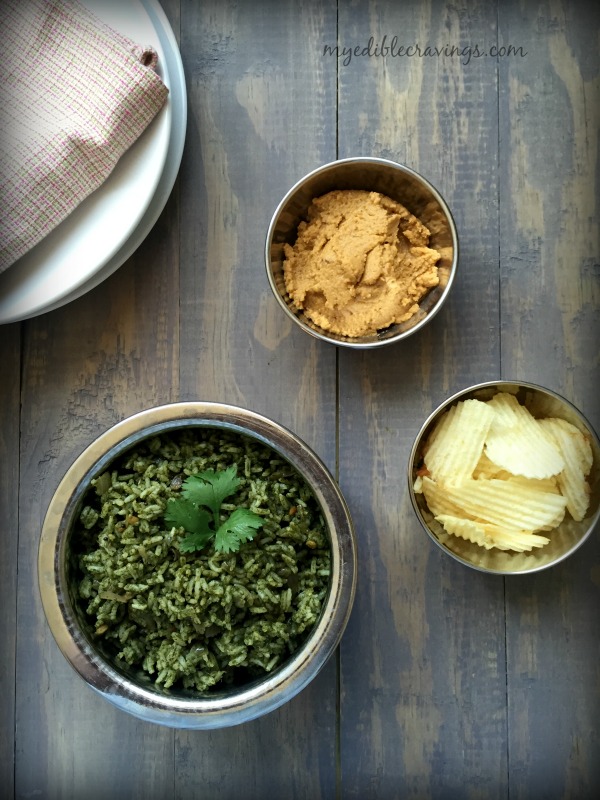 It has been quite a while since I had posted a recipe for a rice variety. The recipe that I have posted today is a specialty of my MIL. It is called as the Coriander/Cilantro rice. As the name suggests, the main ingredient here is coriander. It is a very simple and tasty dish.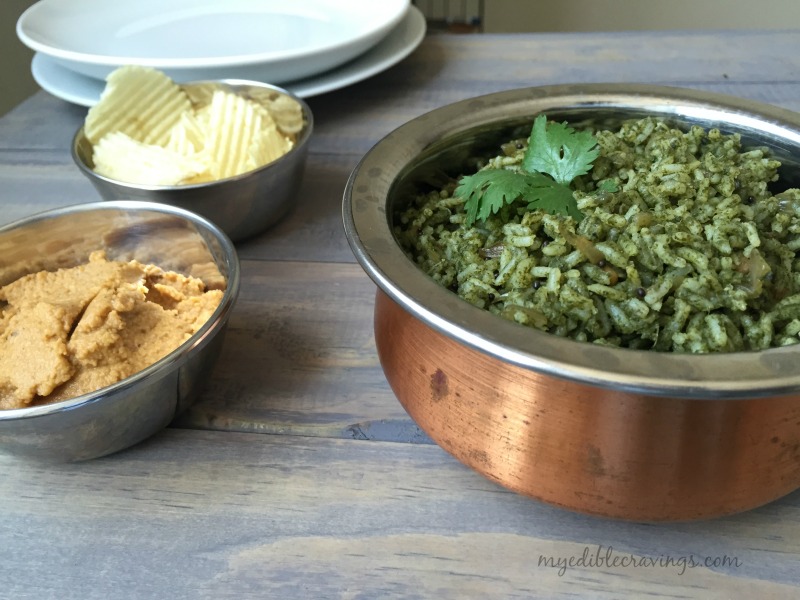 Coriander in general has many medicinal properties. It is used for obesity treatment, skin care and is also recommended for diabetic people. So Coriander rice is a healthy dish but you normally don't find them in restaurant menus (maybe because it is healthy :)).
On days when you don't feel like cooking but still want to have something healthy, Coriander rice is an apt choice. Try this simple and tasty variety rice in your kitchen and let me know what side dish you would prefer with it (I like it with simple potato chips and kadalaiparuppu thogaiyal 🙂 )
Coriander Rice
Prep time:
Cook time:
Total time:
Ingredients
Oil – 1 tsp
Mustard seeds – ½ tsp
Urad dal – ½ tsp
Onion, medium, finely chopped – 1 no
Ginger garlic paste – 1 tbsp
Raw rice – ¾ cup
Salt as required
Ghee – 1 tsp
to Grind:
Coriander leaves or cilantro – a bunch (1 ½ cups tightly packed)
Green chillies – 5 nos
Chutney:
Oil – ½ tsp
Asafetida, solid – 1 "
Red chilli – 1 no
Garlic clove – 1 no
Gram dal – 2 tbsp
Curry leaves – 4 nos
Grated coconut – 1 tsp
Salt as required
Instructions
Wash and grind cilantro and green chillies to a fine paste.
Wash and cook the rice adding enough salt to it and set aside.
Heat a pan with little oil and season with mustard and urad dal.
When they start to sizzle add in finely chopped onions. Sauté onions until they turn translucent.
Add in ginger garlic paste and sauté until the raw smell disappears.
Add the ground cilantro paste and stir until the raw smell disappears. Add enough salt and switch off the flame.
Now add the cooked rice to the coriander paste and mix well until all the rice are well coated with the paste.
Drizzle a few drops of ghee and serve hot with kadalai paruppu thogaiyal on the side.
Kadalaparuppu thogaiyal-
Heat a pan and dry roast asafetida for just few seconds. Transfer it to a plate.
Heat the same pan with oil and add red chilli. Sauté until it changes color and transfer it as well to the plate.
Add garlic clove and sauté until it turns translucent and transfer it to the plate.
Add gram dal and sauté until the aroma spreads or until they turn golden brown.
Switch off the flame and add grated coconut, curry leaves and salt.
Grind everything together to a coarse paste by adding very little water.