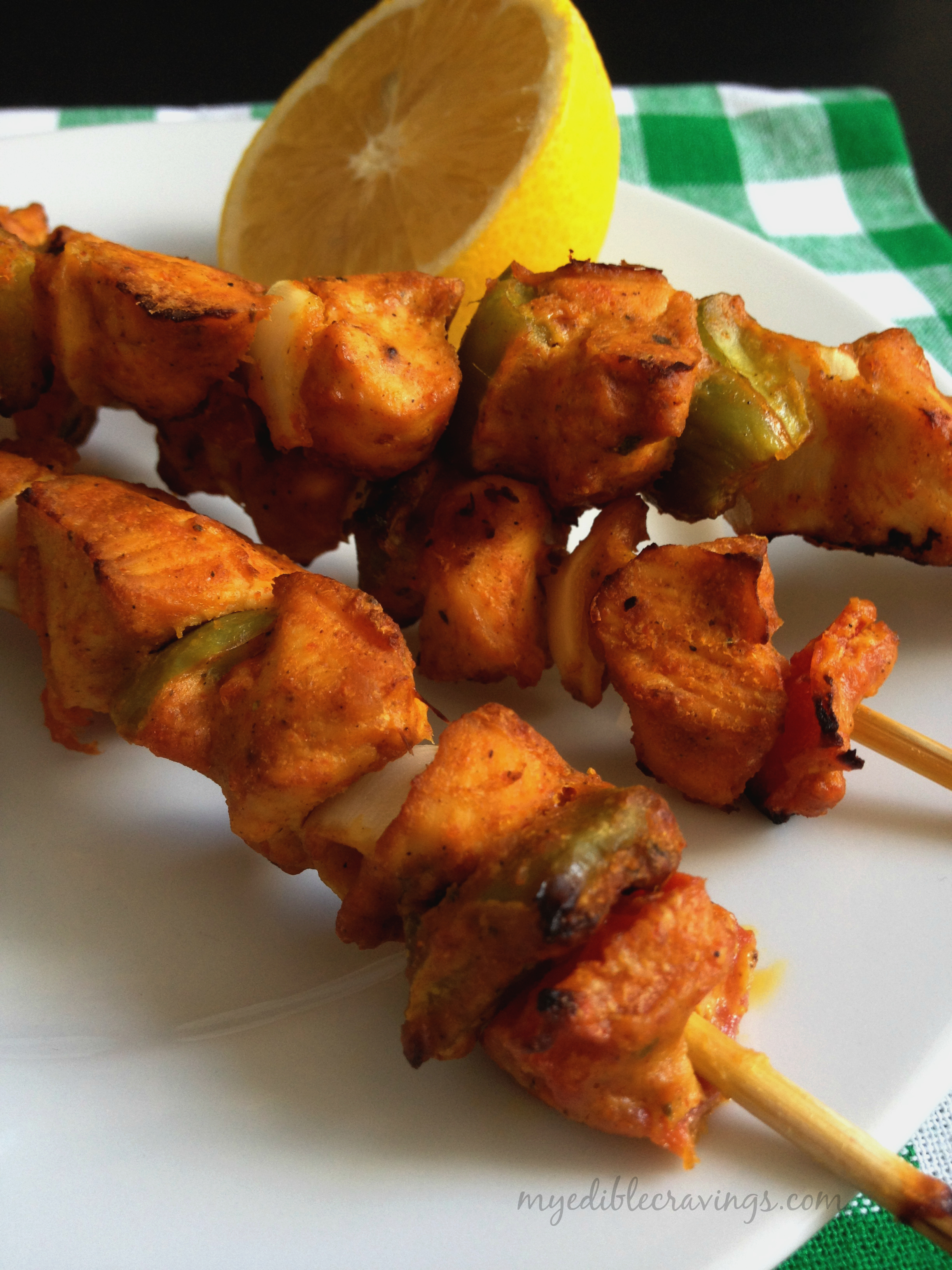 Chicken Tikka is a popular north Indian dish made of small pieces of boneless chicken. The work Tikka means pieces (in Hindi). The peparation method for making chicken tikka is unique in the sense that the chicken pieces are baked in a clay oven called Tandoor. Given that we can't have tandoors at home (atleast most of us, including me :)), conventional oven is a good alternative. It still tastes great baking the chicken tikka in an oven.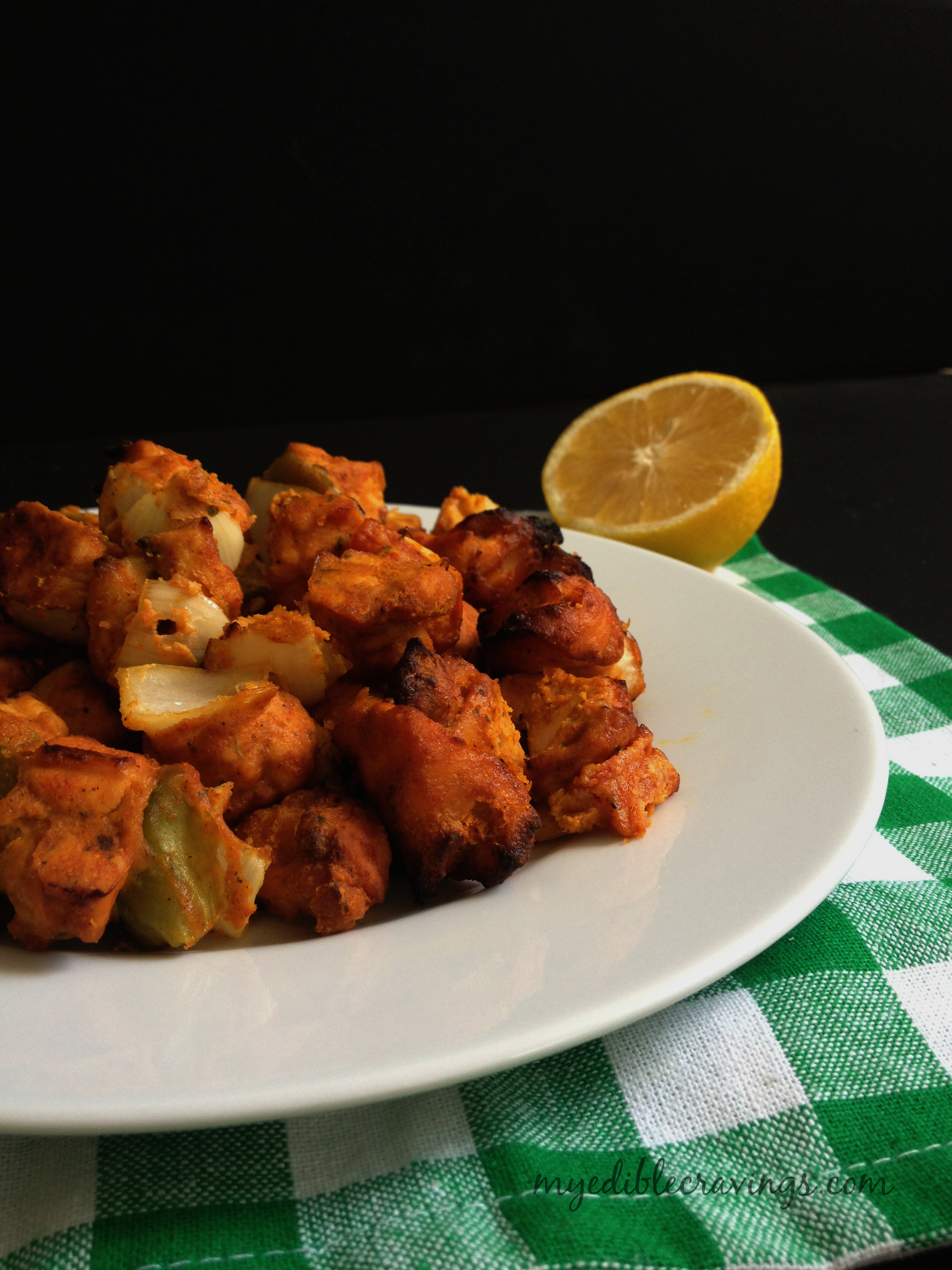 Chicken Tikka is also the base for another popular dish called the Chicken Tikka masala, a tasty gravy. One of the main pain points for making chicken tikka masala, apart from the Tandoor is the moisture content in the chicken. Make sure to remove all moisture from the chicken tikka and the marinating ingredients as well. I usually marinate the chicken overnight which given the chicken tikka a nice flavor given that the masala gets absorbed by the chicken through the night.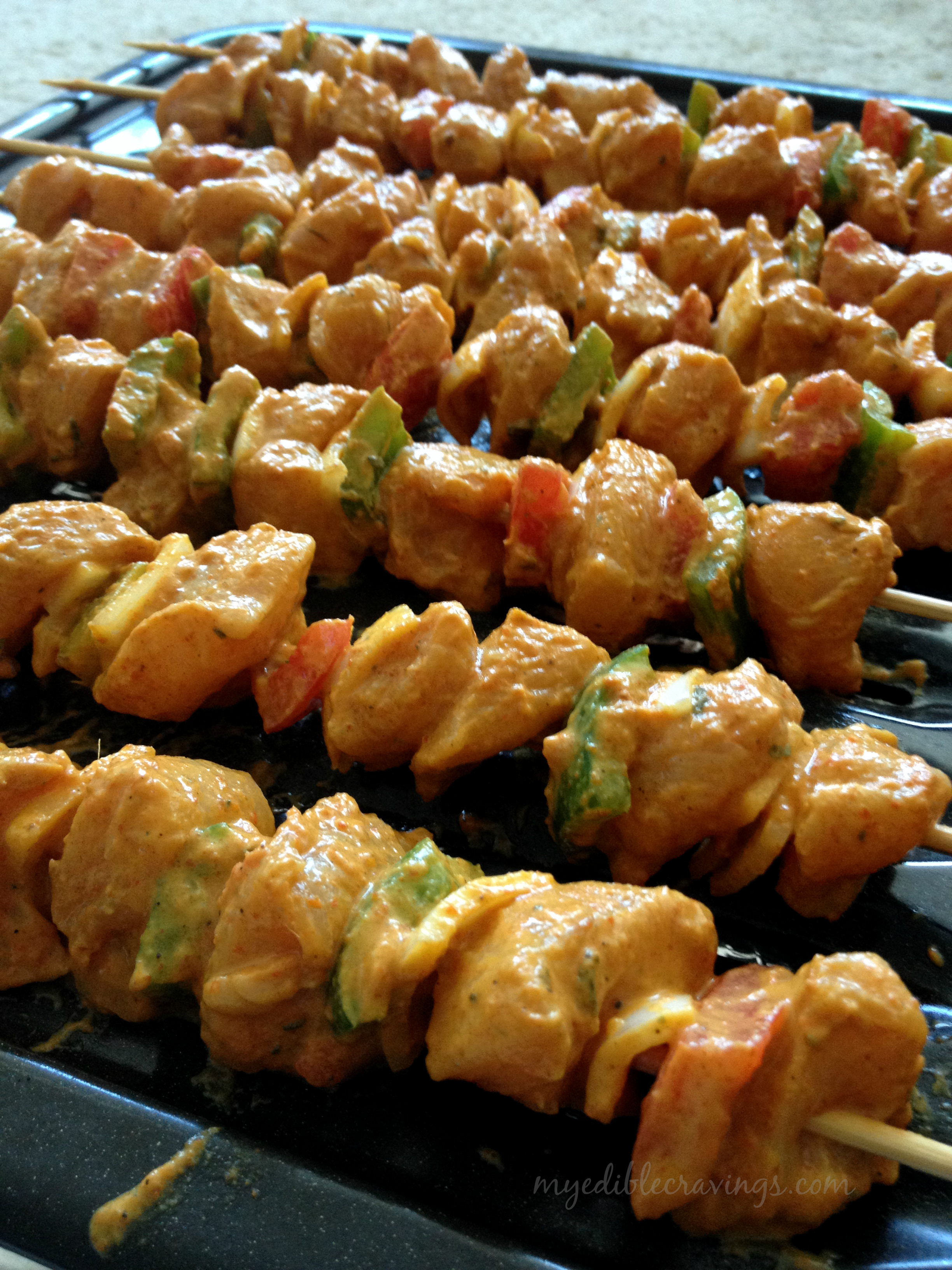 Chicken tikka is very popular in overseas Indian restaurants and as far I have seen, it is one of the most popular indian dishes among foreigners (along with naan). Also, given its dual benefit of having it as a dry item as well as a gravy (chicken tikka masala), it is one of the go-to dishes in functions like weddings, get-togethers and also in hotel buffets.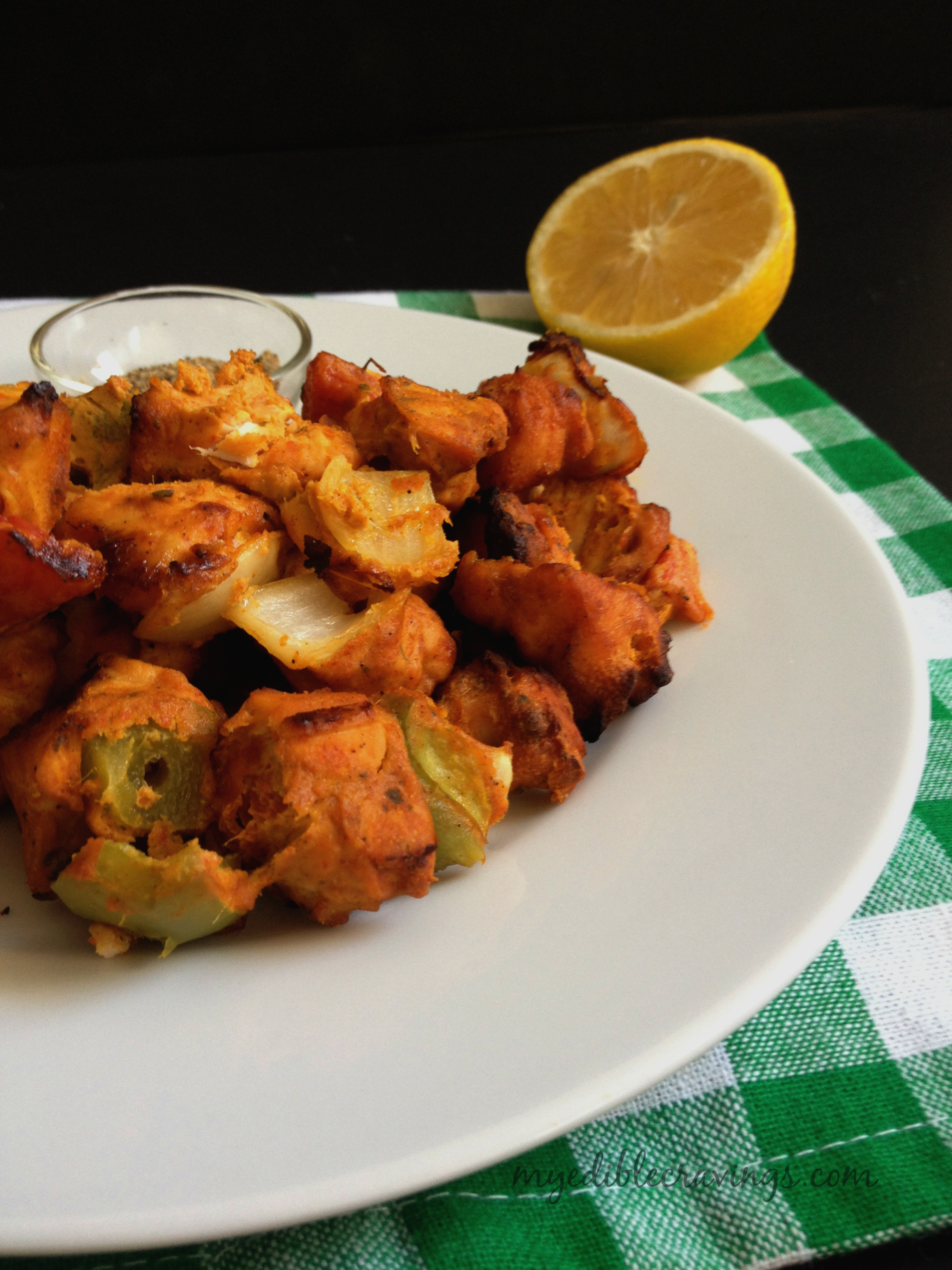 Hot Chicken Tikka with a squeeze of lemon juice and coriander chutney tastes like heaven and can make anyone drool just by a glimpse of it. Here is the recipe to this wonderful dish. Let me know your thoughts and comments on your experience with Chicken tikka!

CHICKEN TIKKA
Ingredients
Marinade #1 :
Chicken thighs – 800 grms
Ginger & garlic paste – ½ tbs
Kashmiri red chilli powder – 1 tbs
Salt – a pinch
Lemon juice – 1 tbs
Marinade #2:
Gram flour – 2 tbs
Kashmiri chilli powder – ½ tsp
Ginger & garlic paste – 1 tbs ( squeeze all the moisture )
Turmeric powder – 1 tsp
Salt – 1 tsp
Garam masala – ½ tsp
Cardamom powder – a pinch
Dry Fenugreek leaves / Kasthuri methi – 1 /2 tbs
Oil – 2 tbs
Yogurt – 3 /4 cup (extract all the moisture with the help of muslin/cheese cloth)
Onion – 1 (cut into cubes)
Tomato – 1 (cut into cubes)
Bell pepper – 1 (cut into cubes)
Chat masala mix:
Chat masala – 1 tbs
Dry mint leaves – 1 tbs (crushed)
Instructions
Wash and cut the chicken pieces into small tikka (uniform) size cubes. (smaller sizes are just good). Pat it dry with the clean tissue.
Marinate the chicken given under marination #1 and leave for 20 minutes in the refrigerator.
Now cook the gram flour in a wide pan with a tbs of oil (in a medium flame). Keep stirring the gram flour for a couple of minutes and switch off the flame.
Mix the ingredients given under marination #2 and check the salt and spices.
Now mix marination #1 and #2 all together and leave it for at least 3 hours or refrigerate overnight.
Soak the wooden skewers in water for 20 minutes (So that it don't get burnt while you put it in the oven). While skewers are soaking, bring chicken to room temperature
Preheat the oven to 450°F or max and put in in boiler mode.
Brush a broiler pan lightly with oil.
Divide chicken among skewers (about 4 cubes per skewer) followed by a piece each of onion, bell pepper and tomato cube in between the chicken cubes, leaving an ⅛-inch space between cubes.
Repeat the step on each skewers. Brush oil on top of the chicken and arrange skewers across pan. The chicken is now skewered and ready to be grilled.
Place the pan inside the oven and cook for 20 minutes. (checking between 8 to 10 minutes)
Remove the pan, turn over the skewer and brush the chicken cubes with little oil on top.
Now remove the rack from the oven and place it one layer up (closer to the filament), place the pan on the rack and broil for another 5 minute or until browned in spots.
The nice and juicy chicken tikka is now ready.
Mix chat masala and dry mint leaves and make a powder.
Sprinkle little bit of the chat masala mix and lime juice on top of the kabab.
Chicken tikka can be eaten with green coriander chutney served with onion rings and lemon,