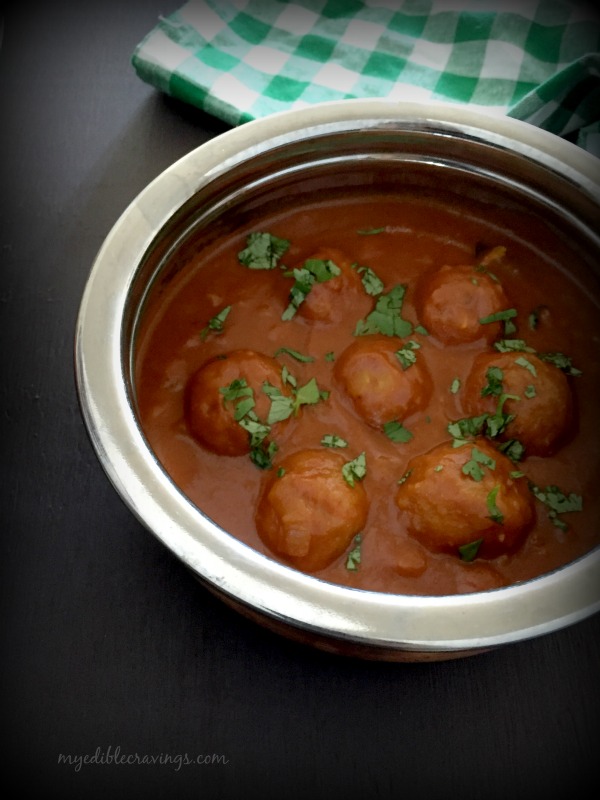 Hello everyone. It has been quite a while since I posted new recipes. But I am back and I hope that you had tried as many recipes as possible while I was away. Today, I am going to post an authentic Tamilian gravy dish called the Paruppu Urundai Kuzhambu (it means Lentil dumplings gravy in english). It is one of my favorite gravy and is a favorite of my HB as well. It is packed with protein (lentils), hence healthy for all age groups.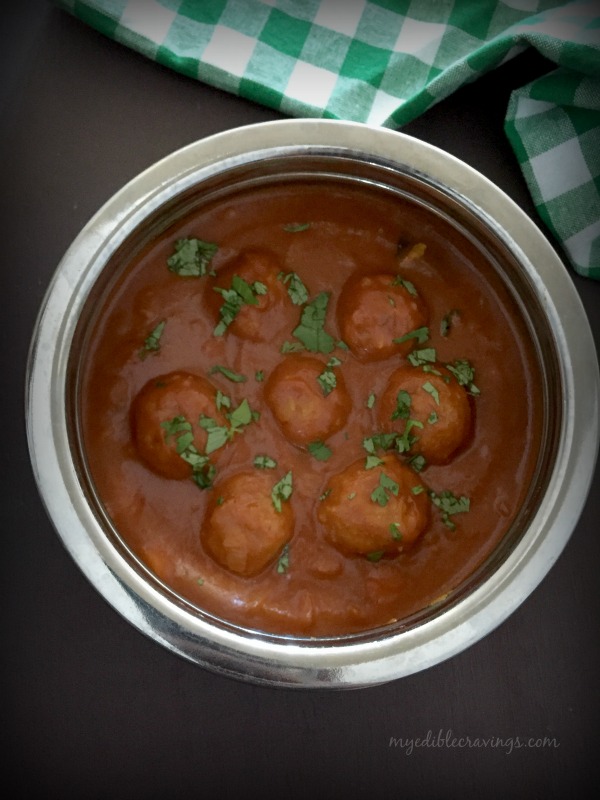 The first time I had Paruppu Urundai Kuzhambu was in my friend's home during my school days.  I loved it instantly. Though it might look like a time consuming process to prepare this gravy, given the preparation of the lentil dumplings and the gravy (we make them separately), it is actually an easy to make recipe. There are subtle variations to the gravy (and the dumplings as well) and the most common one is where the gravy resembles Puzhi Kuzhambu (tamarind gravy). It is a common occurrence in south Indian cuisine where you can prepare different recipes using one common gravy. For example, the tamarind gravy can be used to make Meen Kuzhambu (Fish gravy) and Paruppu Urundai Kuzhambu (Lentil dumplings gravy) as well. I personally like to have a distinct taste, wherever possible, in each of the recipes that I prepare and for that reason my gravy in this recipe does not have tamarind as an ingredient:)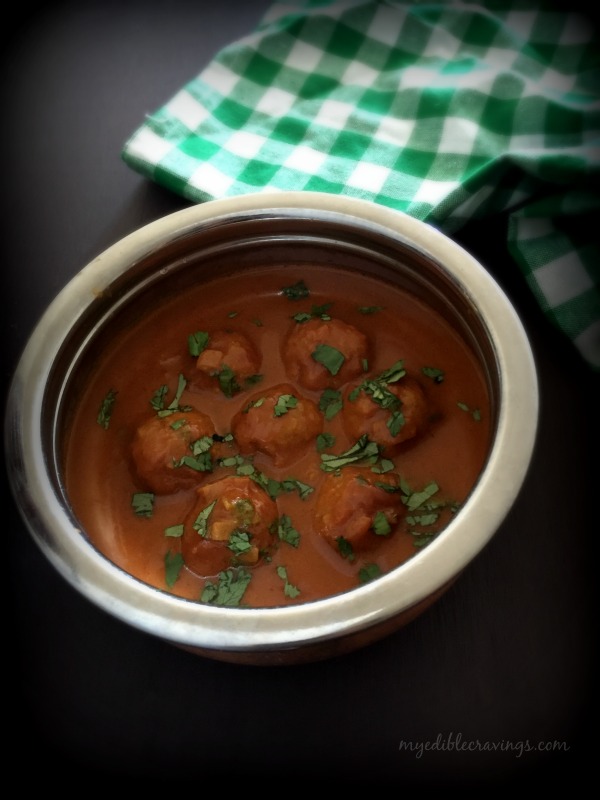 As I had mentioned earlier, Paruppu Urundai Kuzhambu is a two step process. One is the preparation of the gravy and the other one is the making of lentil dumplings. For those who are a bit apprehensive about the preparatory method for the lentil dumplings, worry not. You can steam the dumplings first and then drop them in the gravy. One reason why I don't steam is that the gravy does not get absorbed by the dumplings if you do that and that will alter the taste. So do try this authentic recipe from my home state in India and as always post your comments.
Paruppu Urundai Kuzhambu
Prep time:
Cook time:
Total time:
Ingredients
Oil- 2 tbsp
Cloves – 2 nos
Cinnamon stick – 1"
Fennel seeds – 1 tsp
Shallots , roughly chopped – 4 nos
Garlic cloves, crushed – 4 nos
Tomatoes, pureed – 2 nos
Turmeric powder – ½ tsp
Sambar powder – 2 tbsp
To grind:
Grated coconut – 1 tbsp
Shallots – 1 no
To make dumplings:
Toor dal, soaked and coarsely ground – ½ cup
Shallots, finely chopped – 3 nos
Garlic clove, crushed – 1
Turmeric powder – a pinch
Sambar powder – ½ tsp
Salt – a pinch
Instructions
Soak dal in water for one hour. Drain the water completely and grind them coarsely in a blender. Just pulse them like how you make for paruppu vada.
Crush the garlic cloves and chop the shallots. Make tomato puree and keep it ready. Grind grated coconut along with a shallot to a fine paste and keep it aside.
Heat a pan with oil and season with cloves, cinnamon and fennel seeds.
Add shallots and sauté well. Add the crushed garlic cloves.
Add tomato puree and sauté for a minute.
Add turmeric powder, sambar powder and salt. Add enough water, close the lid and bring it to boil.
Meanwhile, in a separate bowl, mix the dal, finely chopped shallots, crushed garlic, a pinch of turmeric powder and ½ tsp sambar powder and a pinch of salt.
Make small dumplings.
Add ground coconut paste and enough water to the gravy and bring them to boil.
When the gravy starts to boil, check the salt and add the dumplings. Do not stir the gravy once the dumplings are added. Cover and allow them to cook for five minutes. The dumplings will start to float on top when they are cooked. Simmer and cook for another couple of minutes and switch off the flame.
Enjoy the paruppu urundai kuzhambu with steamed rice and fryums on the side. 🙂
Notes
1.You could also steam the dumplings in pressure cooker for 10 minutes and add them to the gravy instead of adding them directly.
2.The gravy must be thin while you add the dumplings. So that it gets cooked.
3.If you feel like the gravy is so thin, take out the cooked dumplings carefully and place on a wide pan or plate. Simmer the gravy and cook until the desired consistency. Switch off the flame and transfer the gravy to the pan where the dumplings are transferred.
4.You could also use coconut milk in place of coconut paste.