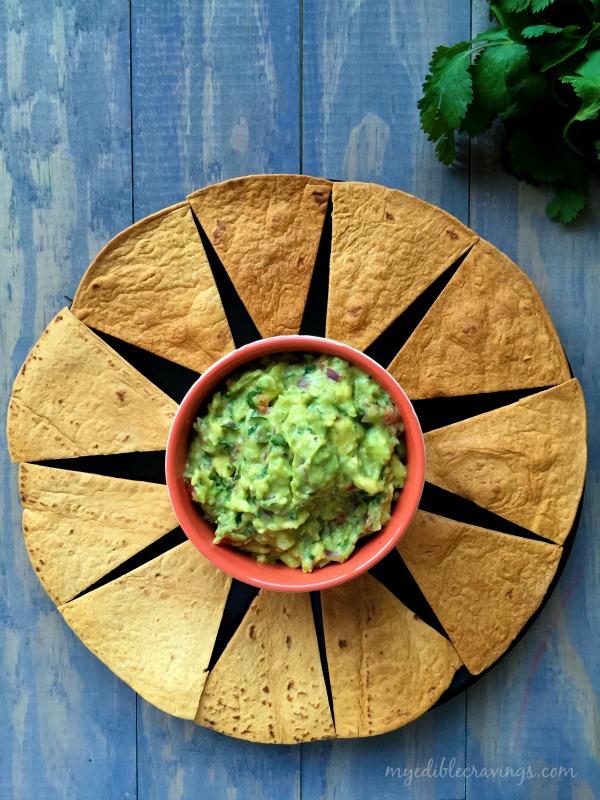 Every country has its own snack food variety and the US is no exception. USA is an amalgamation of different cultures and each one has brought their version of snack food. One such is the Guacamole and Chips. Guacamole and Chips are the staple snacks/appetizers served in all Mexican restaurants here. The best part about this food is that it is healthy! And today, I have posted the recipe for Guacamole and homemade tortilla chips here.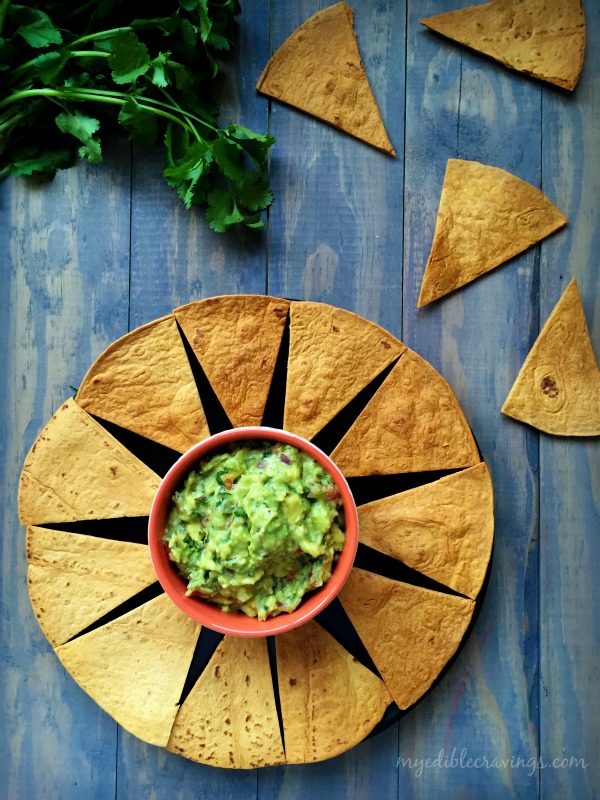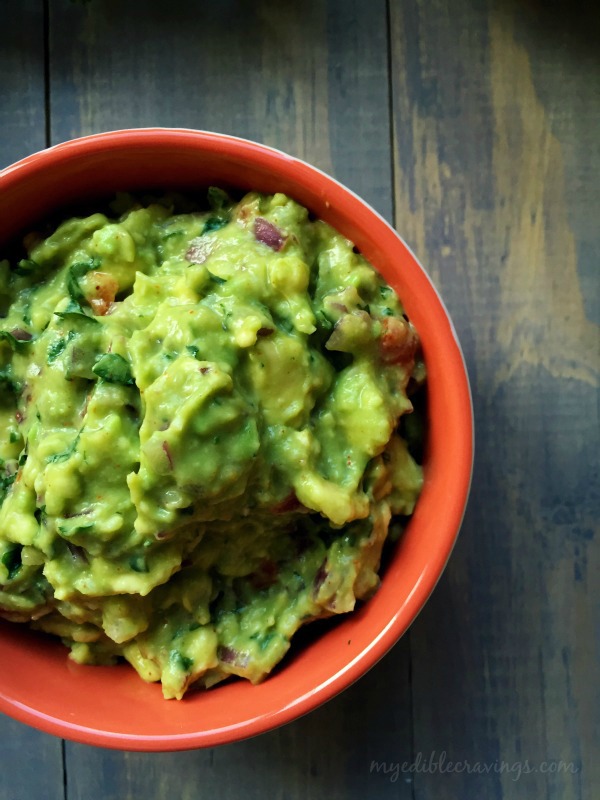 Guacamole is similar to chutneys in Indian cuisine. It is made from Avocado, a super fruit, tomato, mint, cilantro, garlic, onion, lime juice and salt and is super easy to make. Avocado is also known as butter fruit or ice-cream fruit back home. It is a calorie rich fruit full of healthy fat. Guacamole is one dish that can be made from Avocado. You can also eat avocado as is or with salt and pepper sprinkled over and also can be used to make sandwiches. Here in the US, Guacamole and Chips is one of the game day foods, along with chicken wings. Game day foods are snacks that are usually had while watching a baseball game or football game with friends in a bar or at home.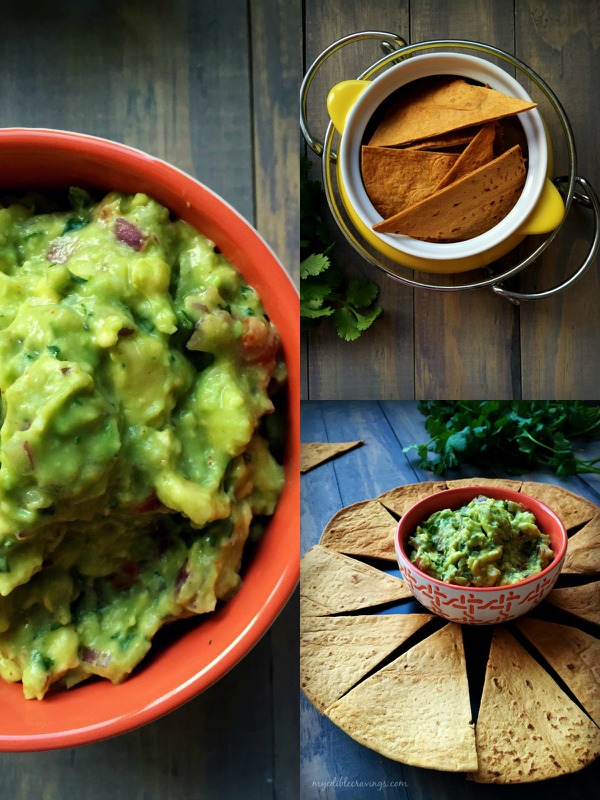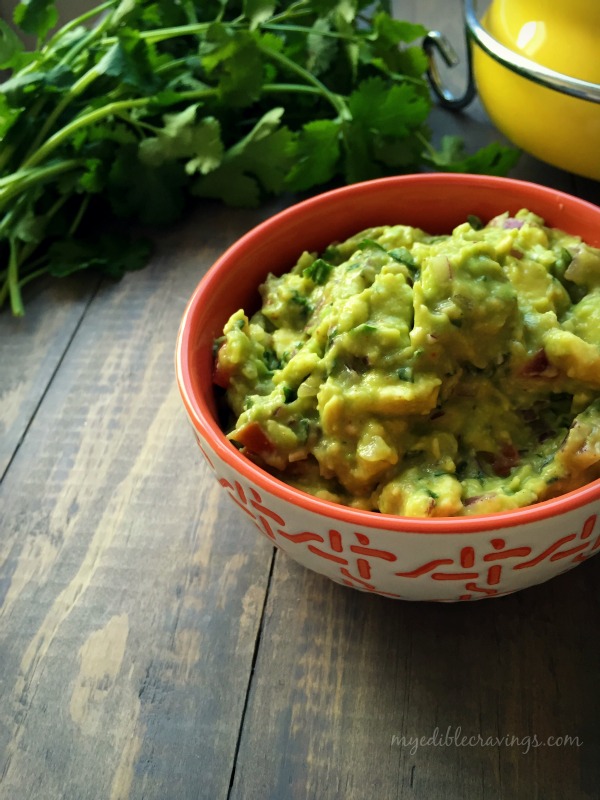 As mentioned earlier, Guacamole is a healthy snack and hence kid friendly. Try this amazing snack in your home and have it with friends and family while watching a game or just as a snack 🙂
Guacamole and Chips
Prep time:
Cook time:
Total time:
Ingredients
For making Guacamole
Avocado, pitted – 1 no
Lime – ½ no
Salt – ¼ tsp
Red onion, finely chopped – 1 tbsp
Cilantro, finely chopped – 1 tbsp
Garlic clove, minced – 1 no
Cayenne pepper – ¼ to ½ tsp
Tomato, deseeded, finely chopped – 1 tbsp
For making chips:
Tortilla – 2 nos
Salt – a pinch
Instructions
Finely chop onion, garlic, cilantro and tomato and keep it ready.
Halve the avocado (cut vertically in the middle and twist two halves), pit ( bang knife on the seed and pull it out as shown in the picture), cut to dices and scrape them using spoon (as shown in the picture).
Add the chopped avocado, lime juice and salt into a medium mixing bowl and mash them using spoon or fork or with the same knife.
Now mix in finely chopped onion, garlic and cilantro.
Finally add the finely chopped tomato, mix well and leave it for an hour or refrigerate the guacamole.
For the chips:
Pre heat the oven to 300 degree Fahrenheit. Cut tortilla like pizza and spread them on a baking sheet lined with parchment paper.
Place them in the oven and bake for 15 minutes.
Take out and flip them. Sprinkle a pinch of salt on top and bake for 5 to 10 minutes until the tortilla turn brown and form as chips. Enjoy with yummy guacamole! 