A while ago, I had mentioned about my HB's attempt at cooking tandoori chicken and the awesome result. Most recently he attempted another variety of chicken called the Kerala Chicken Roast. And again it turned out to be an awesome dish! As the name suggests, Kerala Chicken Roast is a specialty of God's Own Country and also my neighboring state as well, Kerala.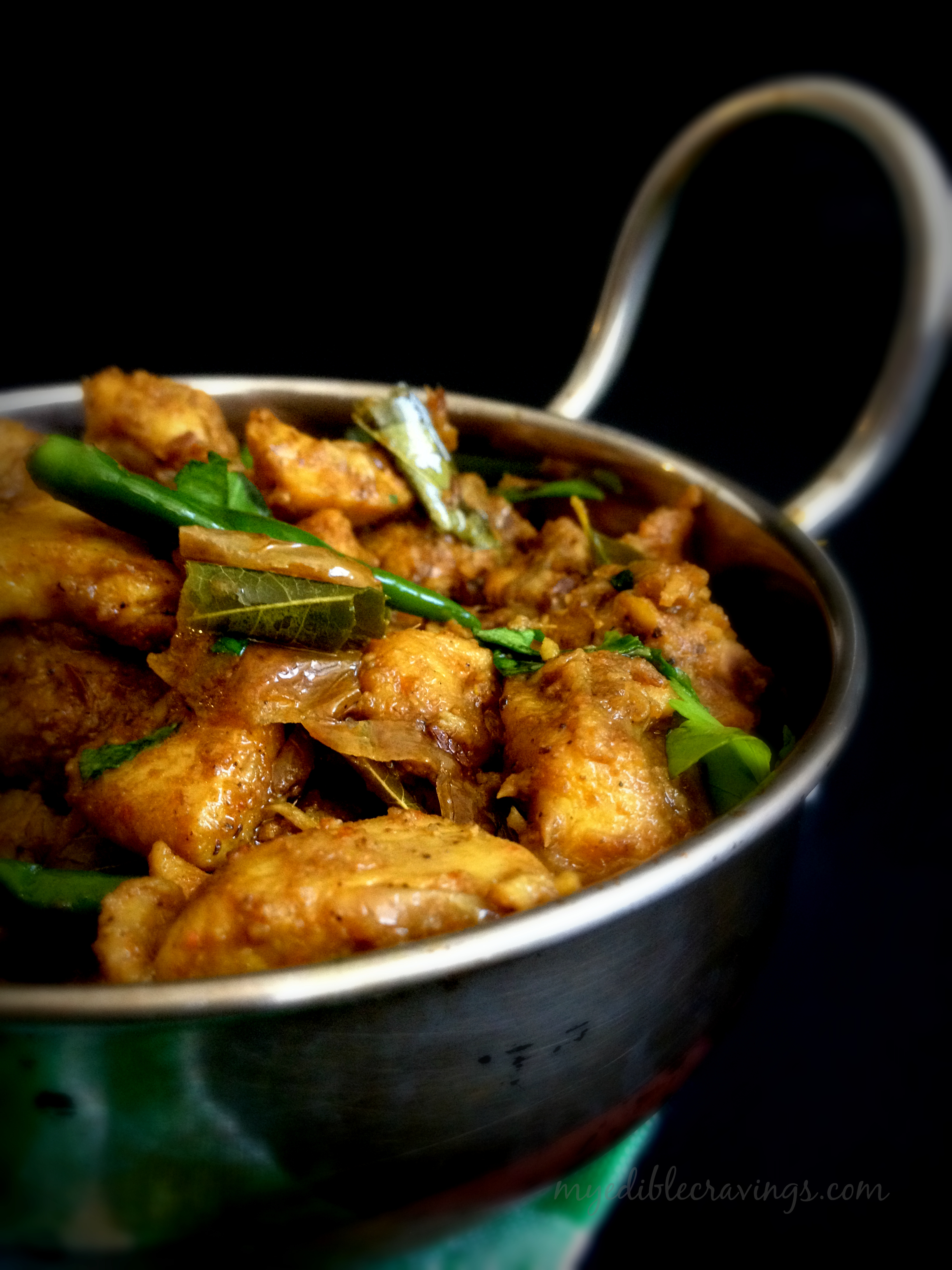 Kerala Chicken roast is an easy to cook, spicy yet a tasty dish. It is a dry variety and hence a side dish essentially. The main ingredient in preparing Kerala Chicken Roast is the kerala garam masala. It is different from regular garam masala in the sense that it has the strong fennel seed flavor. And using shallots is must for this dish. You can have Kerala Chicken Roast with almost all main entrees like Rice (with some gravy, or just rasam), parotta, chapati, biriyani etc.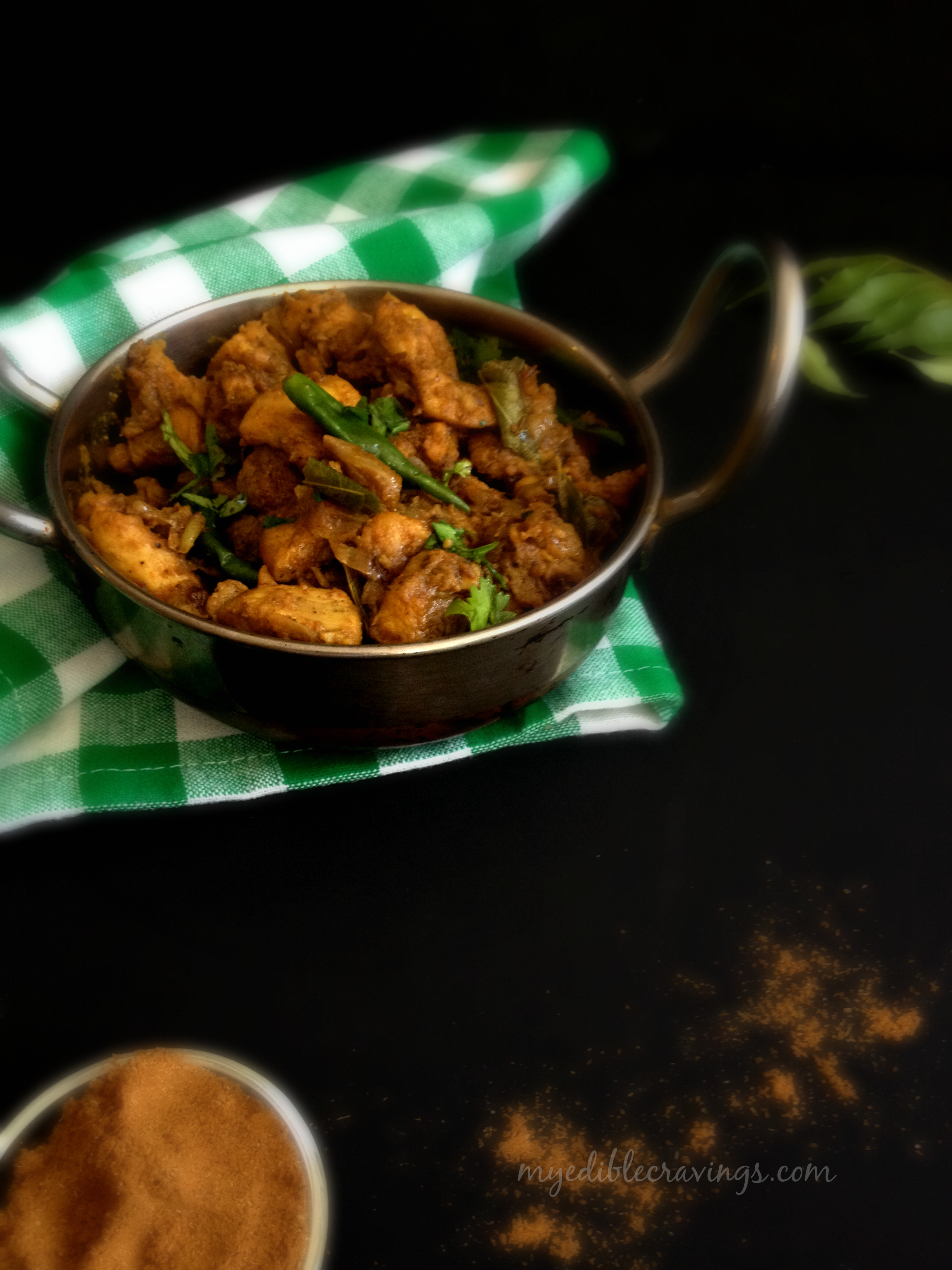 Back to my HB's cooking experiments, it is two out of two so far (Tandoori Chicken and Kerala Chicken Roast). Kerala Chicken Roast is a new dish to me and my HB. I have never had it back home but after tasting it for the first time here, I had noted to myself to try it back home in a Kerala-cuisine restaurant. Try this simple and spicy recipe at your home and share your experiences in the comments section below 🙂

KERALA CHICKEN ROAST
Prep time:
Cook time:
Total time:
Ingredients
To marinate:
Chicken – 200 grams
Red chilli powder – 1 tbsp
Coriander powder – 1 tsp
Salt – a generous pinch
Turmeric powder – ½ tsp
Kerala garam masala:
Fennel seeds – 2 tbsp
Green cardamom – 5 nos
Cloves – ½ tbsp
Black pepper corn – 1 tbsp
Star anise – 1 no
Javetri- ½ no
Cinnamon stick – 1 "
Nutmeg – a pinch
Other ingredients:
Oil – 2 tbsp
Cumin seeds – 1 tsp
Shallots – 6 nos, cut into slits
Curry leaves – a sprig , divided
Ginger garlic paste – 1 tbsp
Kerala garam masala – 1 tbsp
Whole green chillies – 5 nos
Freshly ground pepper – ½ tbsp
Salt as required
Cilantro – for garnishing
Instructions
Wash and marinate the chicken with the above given ingredients for at least two hours.
Dry roast the garam masala ingredients for a minute, allow it to cool, blend into powder.
Heat oil in a pan and add cumin seeds. When it starts to sizzle add shallots and few curry leaves. Sauté for a minute.
Add the marinated chicken and sauté well. close the lid and cook until the chicken is half done.
Add the kerala garam masala and salt and give it a stir.
Add whole green chillies and sauté until all the water is well absorbed and oil ooze out from the chicken.
Now add in the remaining curry leaves and freshly crushed pepper. Sauté for a minute and switch off the flame.
Garnish with chopped cilantro. Enjoy with hot rice or Indian flat breads!