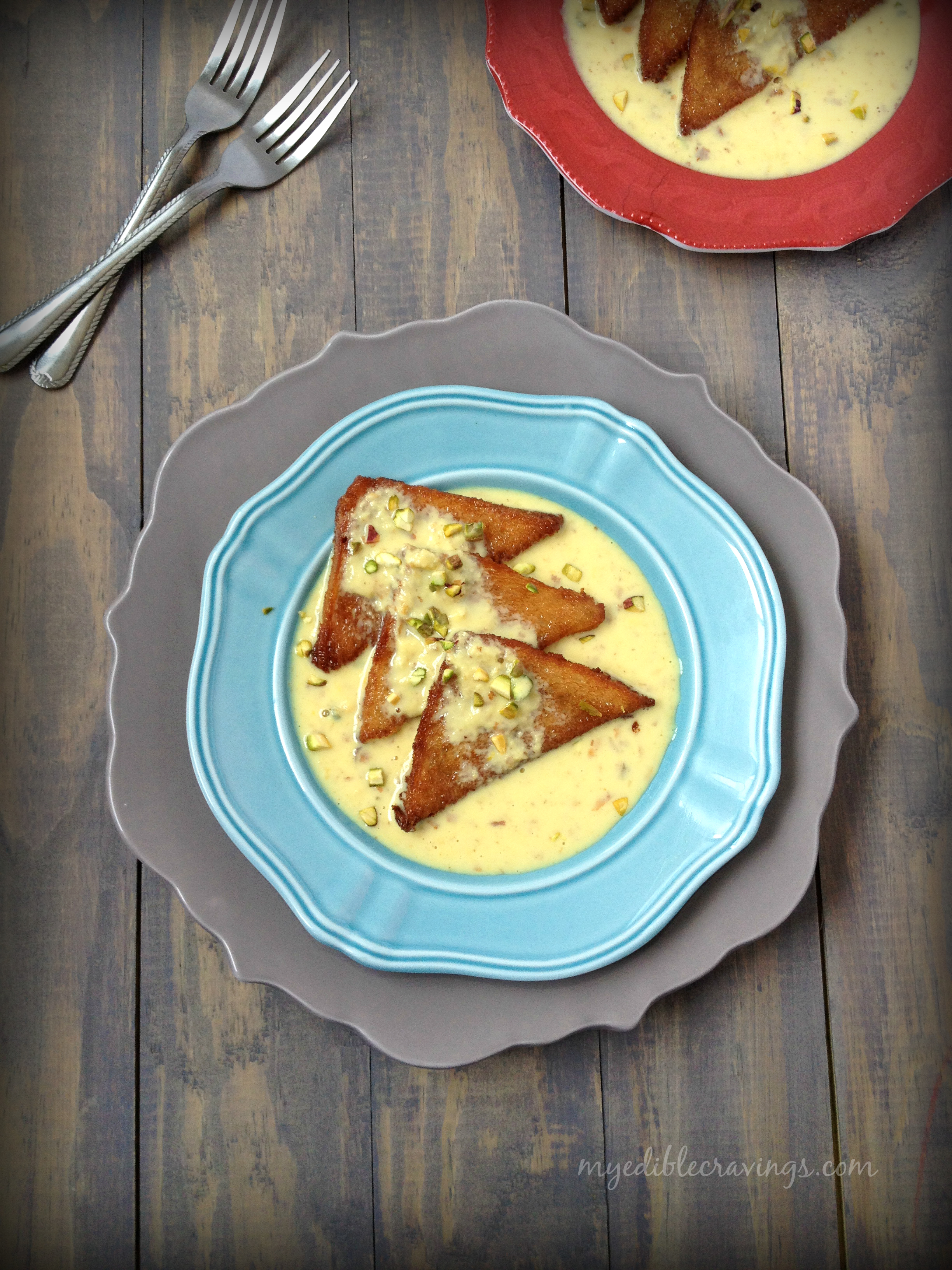 Recently, my sister in law visited us from Canada and we had a blast. During her stay at our home, I tried a north indian dessert item called the Shahi Tukda. Shahi Tukda roughly translates to 'Royal pieces' (Shahi – royal, Tukda – pieces). I came across this recipe in my never ending search for interesting recipes. Shahi Tukda is a very sweet dish and best served when cold. There is a common misconception that Shahi Tukda and the popular Telangana dish, Double Ka Meetha are the same, but they are not.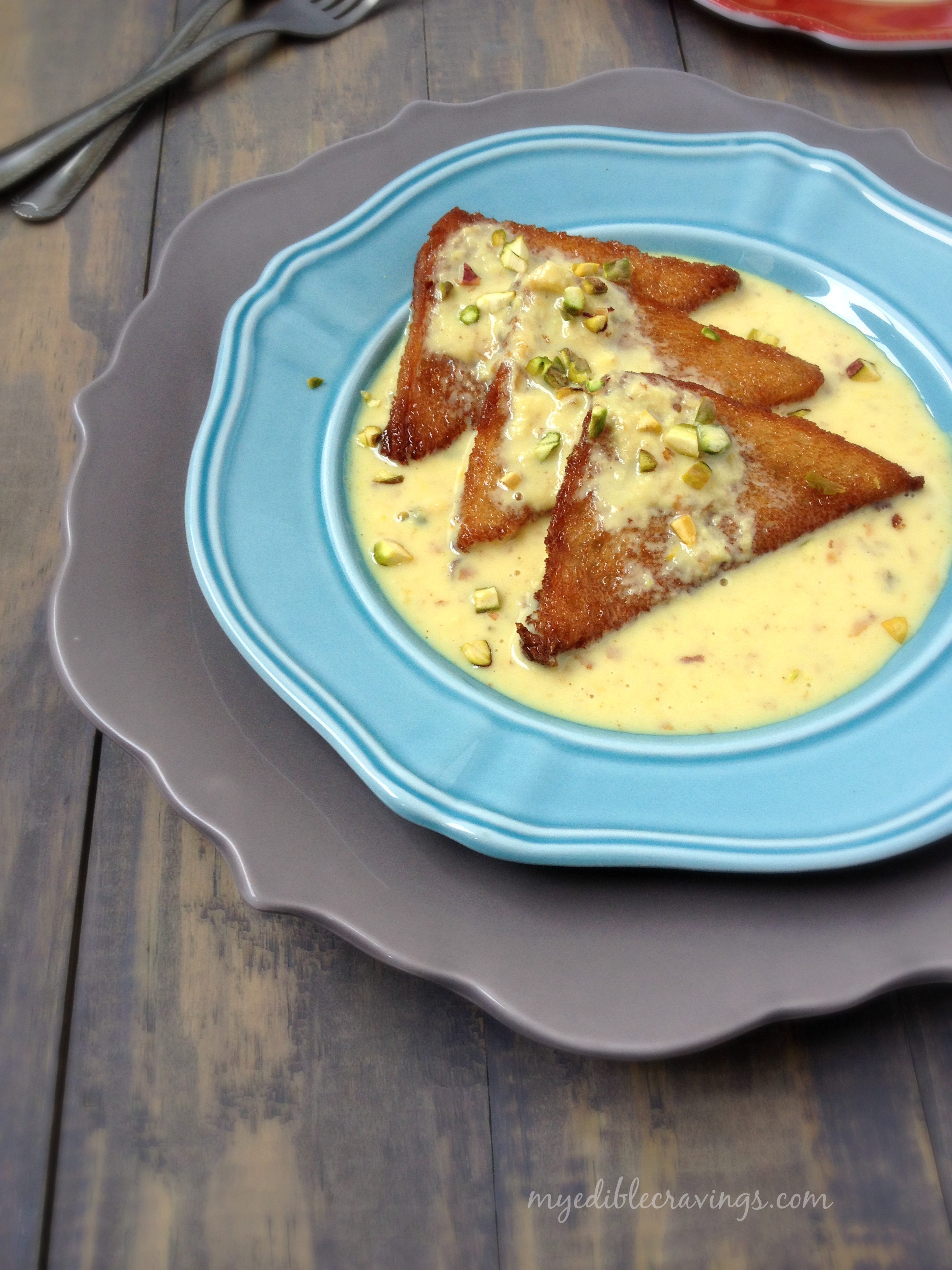 Shahi Tukda's main ingredients are bread and raabdi. Raabdi is a syrup like substance that you would have seen in Rasamalai (yes, it is that same beige colored syrup in which the malai' are dipped in). Shahi Tukda is easy to make and it involves fried bread dipped in thin sugar syrup and then pouring raabdi over it. Keep in mind that frying the bread in ghee tastes way better than frying it in oil. For a little bit healthier version of this dish, you can pan fry the bread (I know, what is healthy in deep frying or pan frying and with too much sugar- but hey, you do have to give in to your indulgence once in a while to enjoy life :)).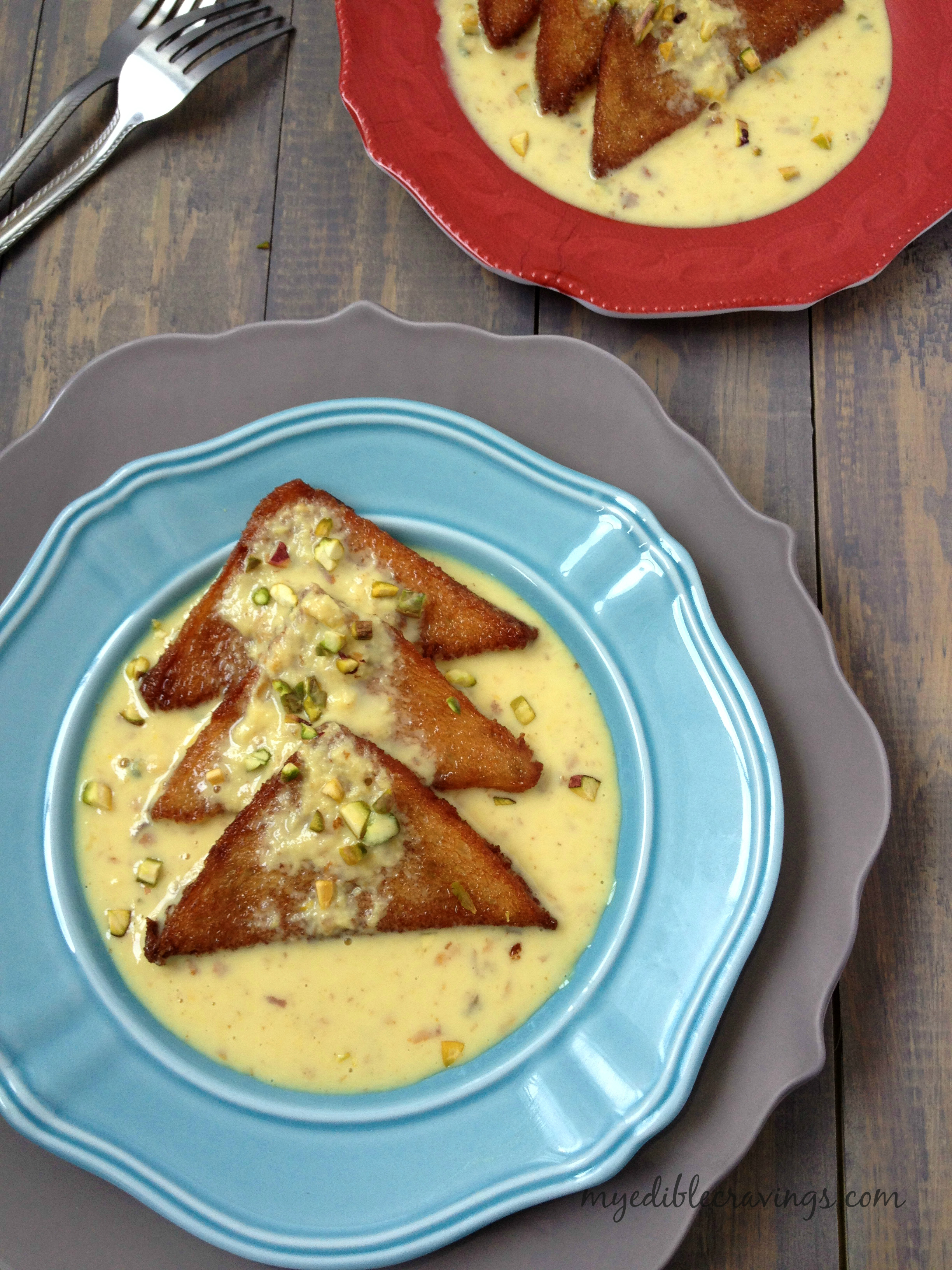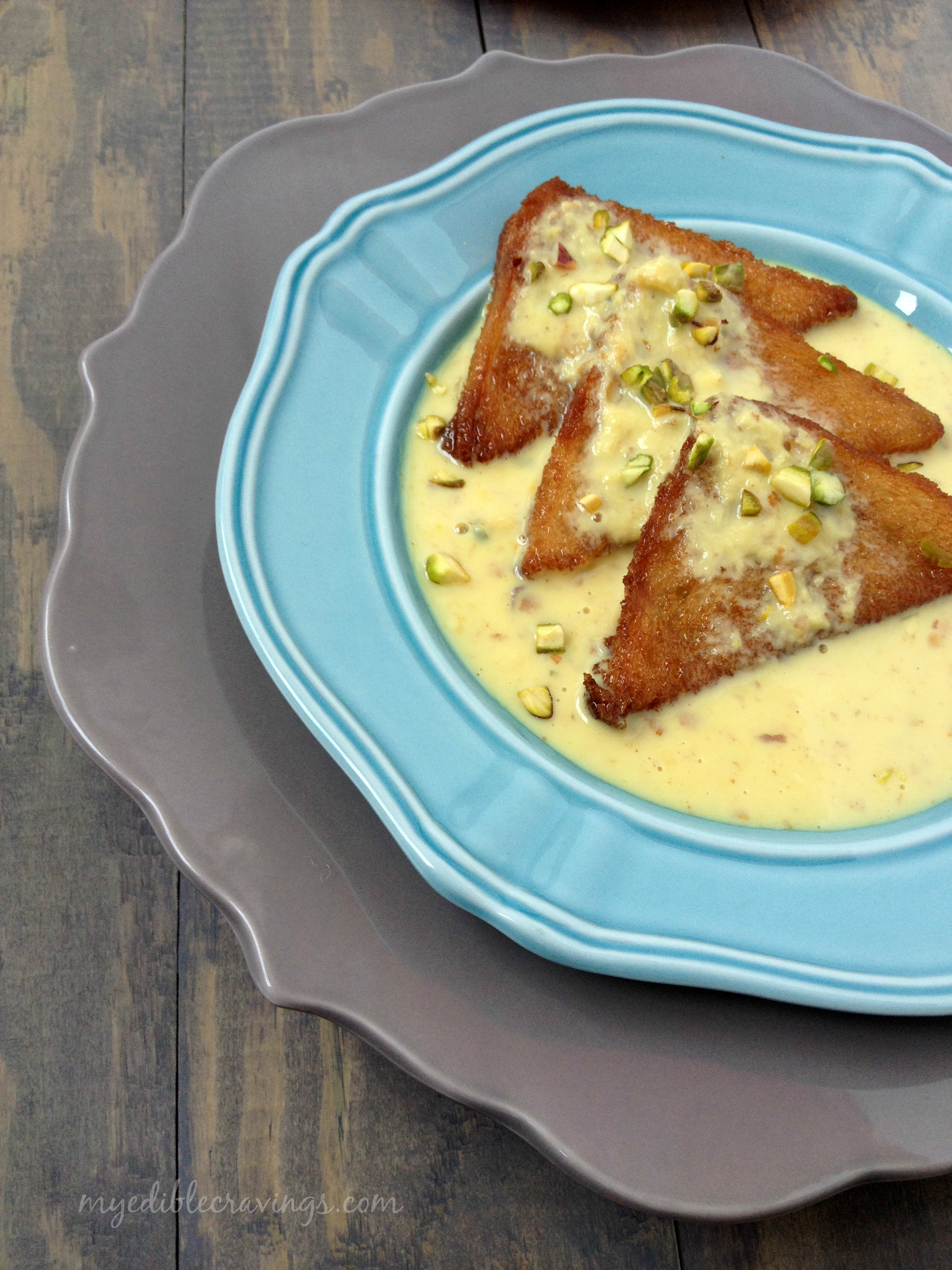 Shahi Tukda is a perfect dessert for those who love sweets a lot. It is very rich in flavor and taste. Do try this north indian 'king's' dessert in your kitchen and let me know your comments and thoughts.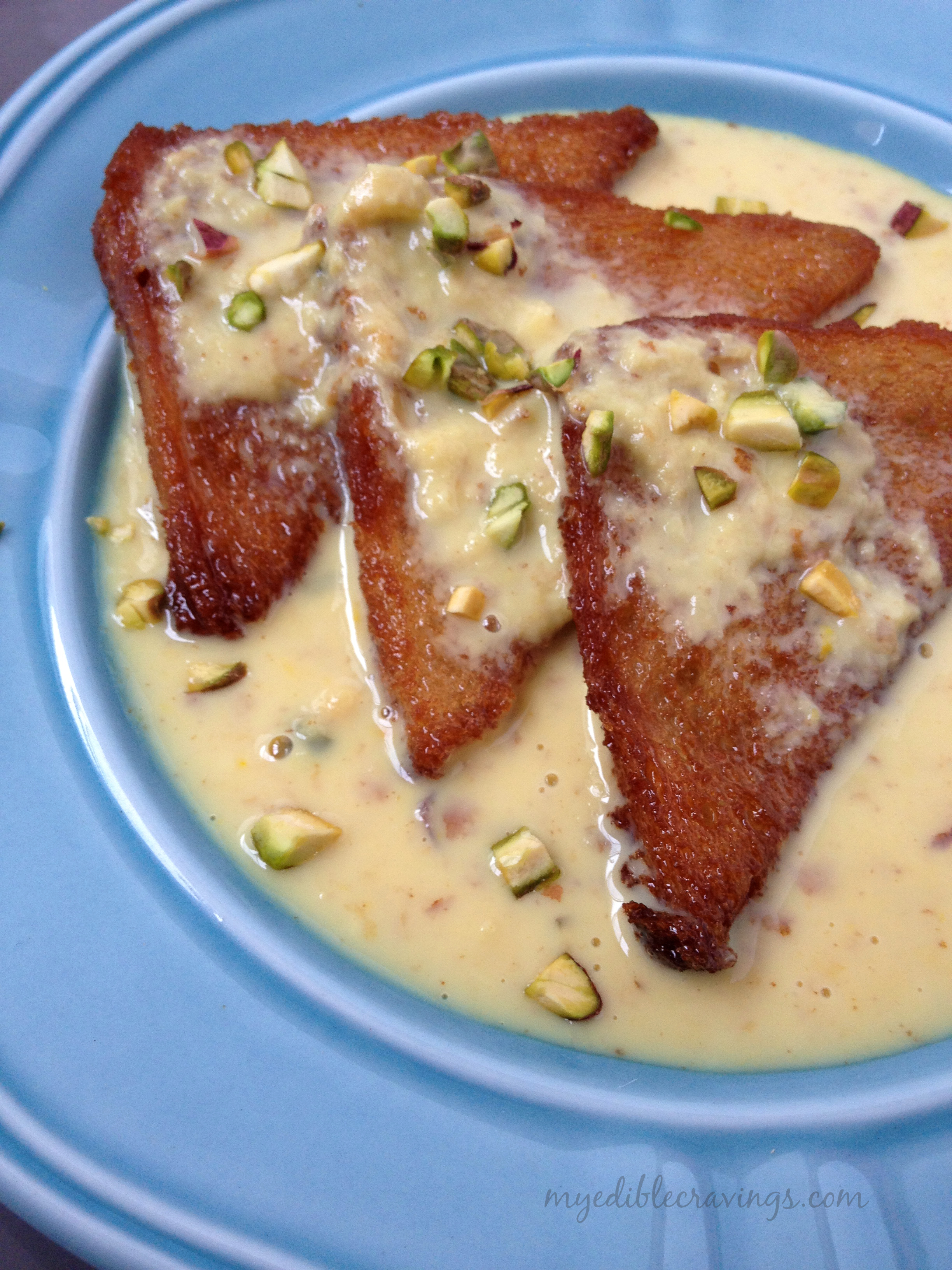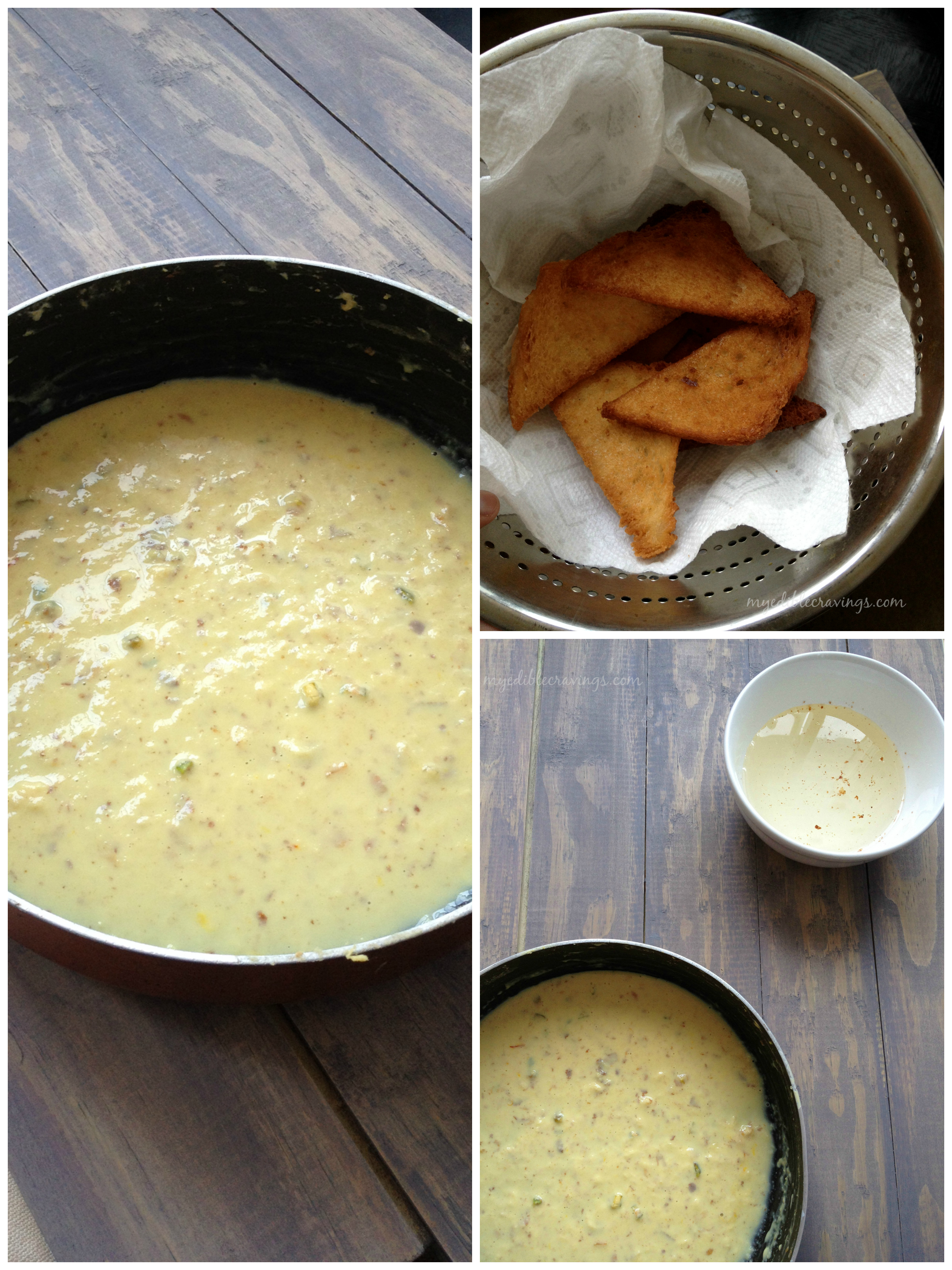 Shahi Tukda
Ingredients
For sugar syrup:
For rabdi :
1 litre whole milk
⅓ cup sugar
A pinch of saffron strands
¼ tsp cardamom powder
½ tsp almonds, chopped
½ tsp pistachios, chopped
Other ingredients:
Ghee to deep fry
6 white bread slices
½ tsp almonds, chopped for garnishing
½ tsp pistachios, chopped for garnishing
Few saffron strands for garnishing
Instructions
Mix water and sugar in a sauce pan. Heat it to make thin sugar syrup (one string consistency).
While the sugar syrup is getting ready, boil the whole milk in a flat bottomed non stick pan. Once the milk is boiled, simmer it and stir occasionally until the milk reaches ⅓rd of its consistency. Add sugar, saffron and cardamom powder and mix well. Simmer for another 5 minutes and rabdi will be ready.
Heat ghee in a pan and first cut the corners (brown parts) of the bread slices and then cut the bread cubes diagonally. When the ghee is hot, deep fry the bread slices until they turn golden brown. Place the deep fried breads in a plate lined with clean tissue.
Pour some rabdi on a serving plate. Dip the bread slices one by one into the sugar syrup (do not soak) and place them on the same serving plate. Pour rabdi again on top of the bread pieces. Garnish with chopped nuts and few strands of saffron.
Serve it warm or cold (refrigerated shahi tukda taste excellent).