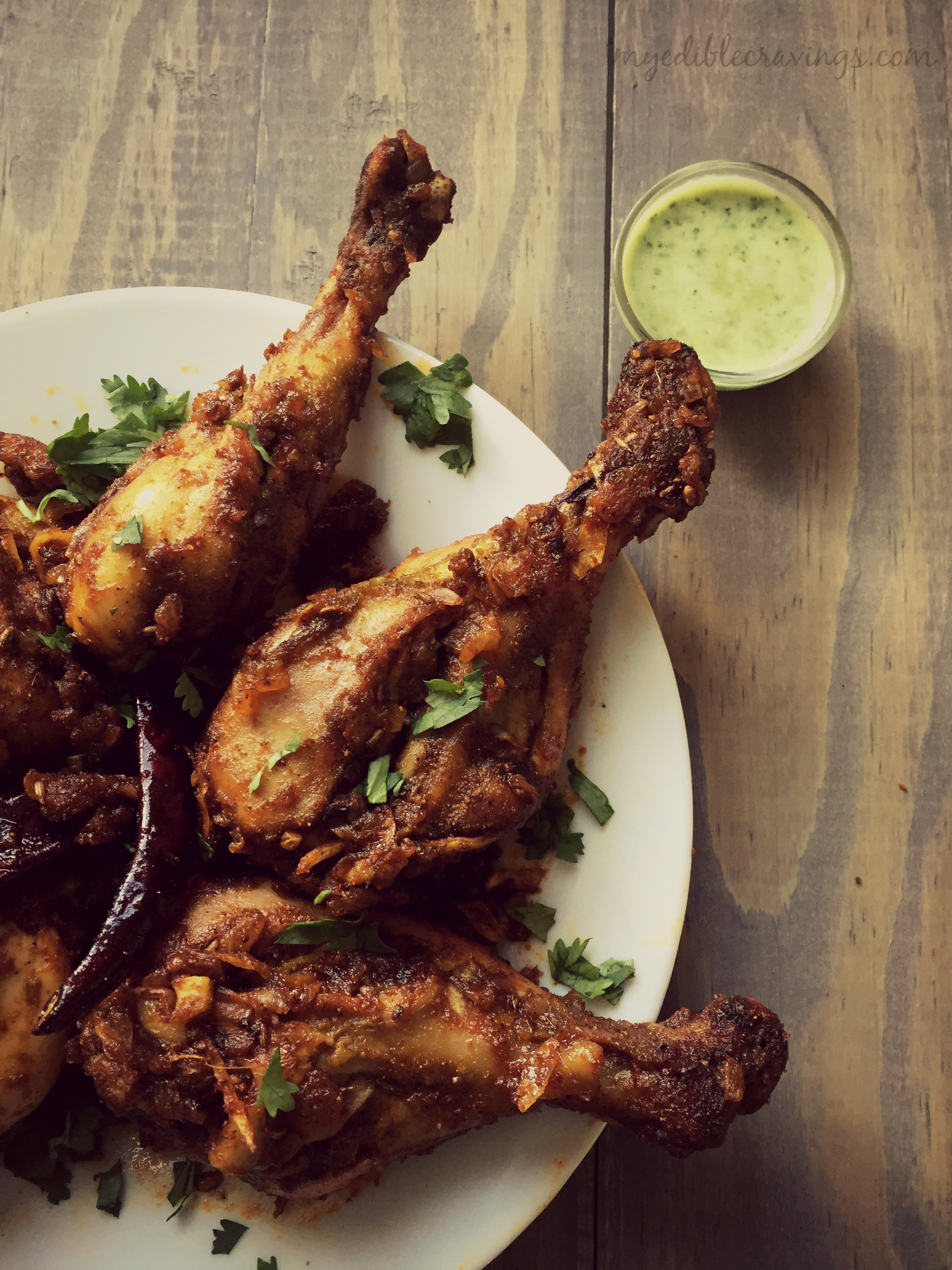 Chicken Cawla, interesting name, right? I am not sure about the origin of this dish but I am immensely grateful to whoever came up with this recipe – it is that good. I came across Chicken Cawla while watching a talk show and was hooked the moment I saw it. It is one of my HB's most favorite dishes ever (no surprises here ;))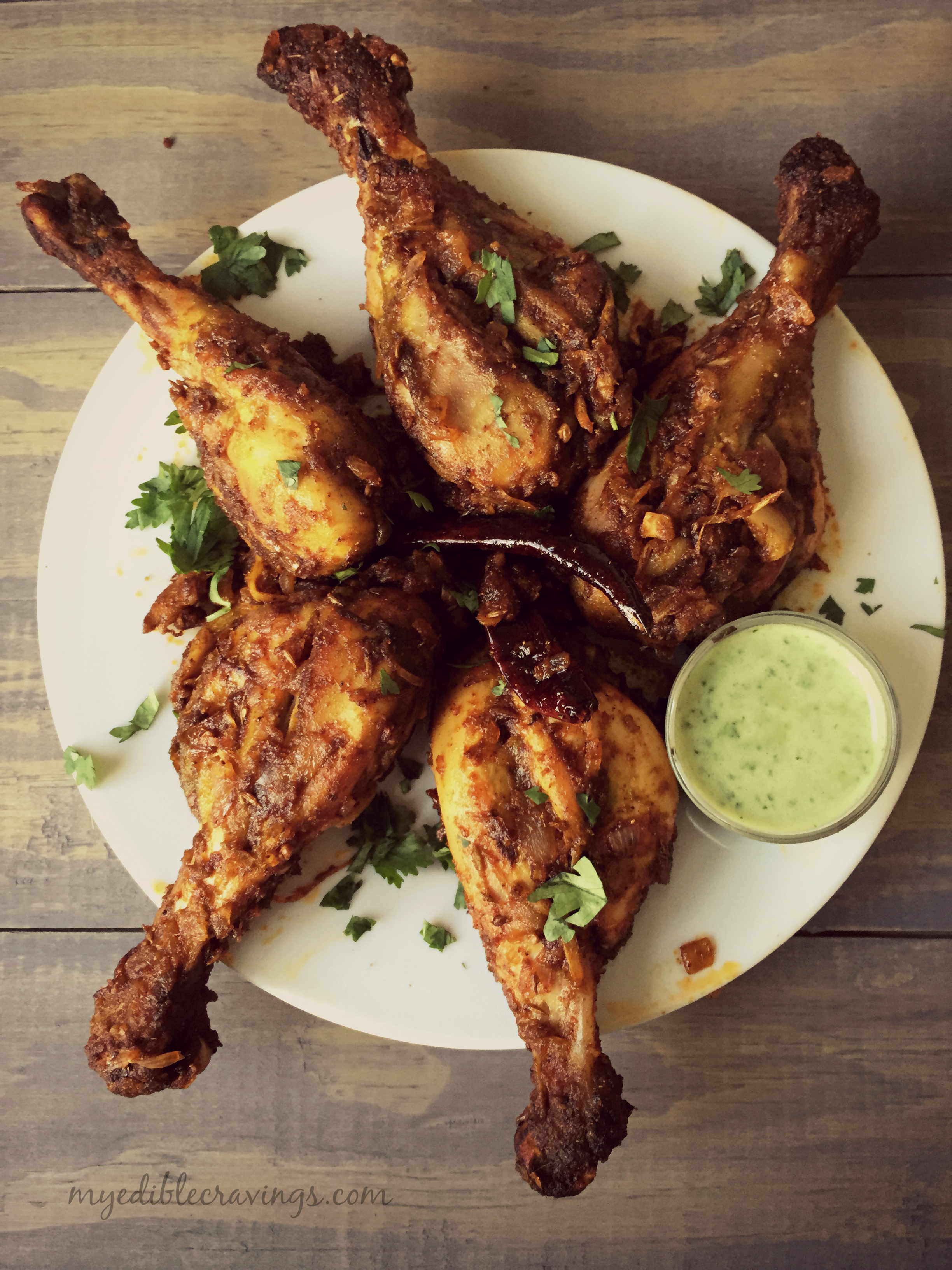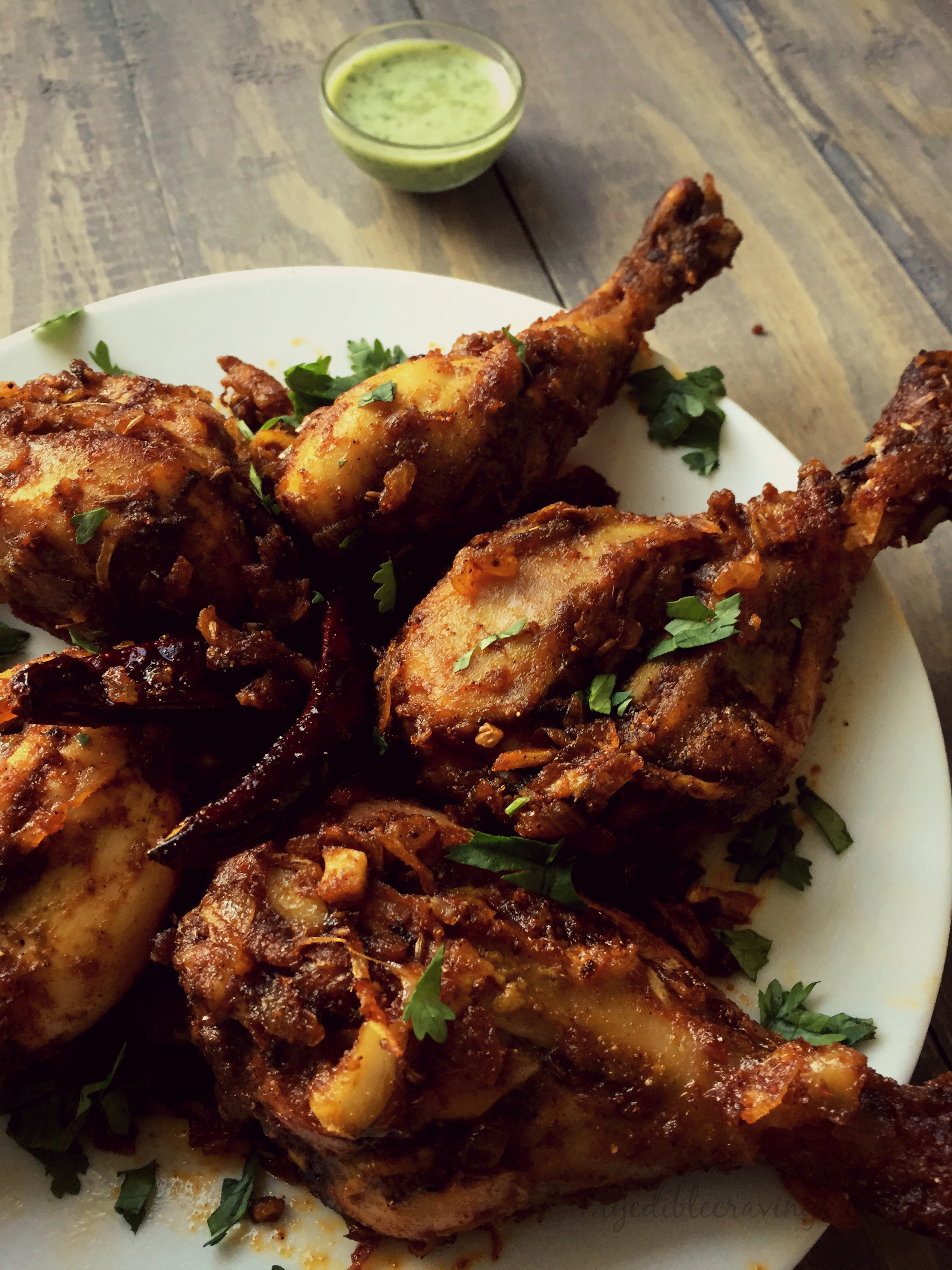 Chicken Cawla is something of a new entrant in my kitchen and right now, one of our favorite dishes. It is healthy (grilled) and tastes heavenly. The actual recipe for Chicken Cawla uses mustard oil but I used olive oil (trust me, it does tastes good!). One small trick to this wonderful recipe is to crush or grind the peppers right before adding to the chicken. This gives a fresh aroma and taste to the recipe.

Try this wonderful recipe and let me know your experience. As for me, I am off to make Chicken Cawla, yes, typing this recipe has made me hungry for it 😉

Chicken Cawla
Prep time:
Cook time:
Total time:
Ingredients
Cilantro paste:
Cilantro – ½ a bunch
Curd – ½ cup
Green chillies – 2 nos
Salt – a generous pinch
To marinate :
Lemon juice – 2 tbsp
Ginger garlic paste – 1 tsp
Cilantro paste – 1 cup
Mustard oil or olive oil – 1½ tbsp
Salt as required
Chicken thighs – 5 pieces
Other ingredients:
Mustard oil or olive oil – 1 tbsp
Cooking oil – 1½ tbsp
Cloves – 4 nos
Fenugreek seeds – ½ tsp
Cumin seeds – 1 tsp
Garlic, crushed – 4 nos
Ginger, julienned – 1 tbsp
Whole red chillies – 2 nos
Onion, finely chopped – 1 no
Red chilli powder – 1 tbsp
Cumin powder – 1 tsp
Black pepper powder – 1 ½ tsp
Salt as required
Instructions
Step 1:
Grind together cilantro, green chillies and ginger garlic paste to a fine paste and mix them with curd.
Marinate the chicken with the above given ingredients and refrigerate it overnight or at least for an hour.
Chop onions, crush garlic and julienne ginger.
Step 2:
You can either tandoor the chicken in the oven or shallow fry them.
Tandoor method:
Preheat the oven to 420 degrees F.
Place the marinated chicken on the tandoori pan, spray cooking oil on top of the chicken and cook for 20 minutes. Remove the pan, turn over the chicken and brush them with little oil on top. Cook for another 5 to 10 minutes.
Stove top method:
Heat oil in a flat pan and place the chicken pieces one by one in the pan. Cook until the chicken is done on one side. When the chicken is done on one side, turn over the chicken pieces and repeat the same. When the chicken is well done on both sides, remove from the pan, filtering all the excess oil. Add the chicken to the masala we have made.
Step 3:
Heat oil (cooking & mustard) in a flat pan and add cloves, fenugreek seeds, cumin seeds, whole red chillies, crushed garlic and julienned ginger. Sauté well and add onions. Sauté until the onions turn brown. Add chilli powder, cumin powder, black pepper powder and salt. Add the grilled or shallow fried chicken to the gravy. Sauté well until the masalas are well blended with the chicken. Switch off the flame and serve hot.
Notes
I used olive oil to make this recipe.
Try to grind fresh pepper powder just before adding to the dish, as it enhances the taste of the dish.