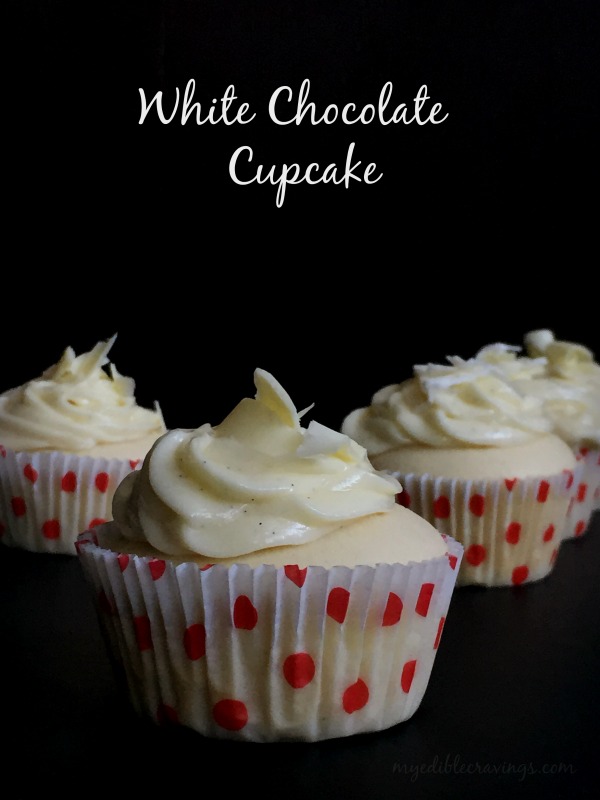 Thank you, guys for your love and support. I have received 1000+ likes for MyEdibleCravings Facebook page. It has been an amazing journey so far and I hope it continues to be so in the future as well. To celebrate this special milestone I decided to prepare something special; something that is sweet (obviously :)) and something exotic in taste. And that special recipe turned out to be that of a White Chocolate Cupcake with Truffle filling. It is a soft, fluffy cupcake with a creamy frosting and a silky smooth truffle filling which is the kicker. Don't you agree that the name itself has its own taste?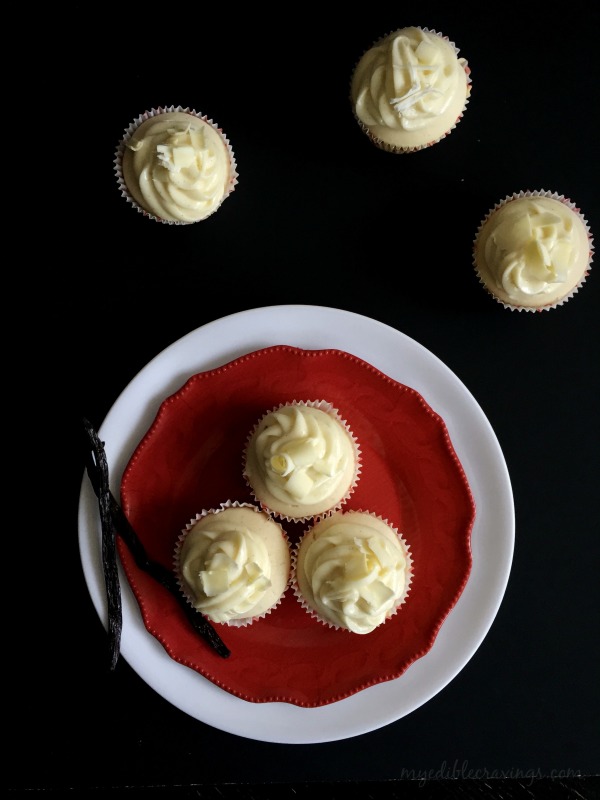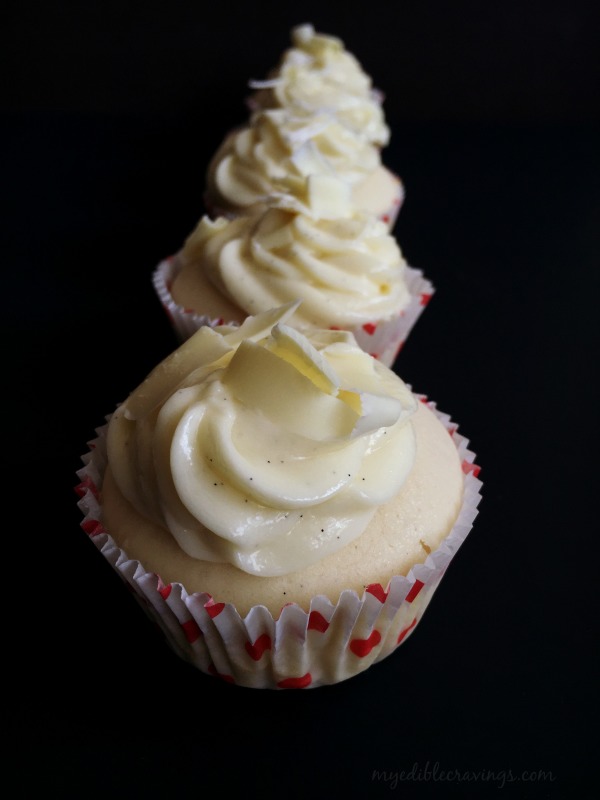 Making White Chocolate Cupcake with truffle filling is a time consuming process and patience is the key. It is a sweet treat and is an excellent dessert to serve. To mix the batter and to whisk the eggs and chocolate, having an electric mixer will be handy (I used KitchenAid hand mixer). Also, as the name suggests, white chocolate is the star ingredient here and I went with Lindt-Lindor white chocolate varieties, both for the cupcakes and the truffle filling.
White Chocolate Cupcake with truffle filling is something I came across recently. I have been waiting for the right occasion to make it because as mentioned above, it is a little bit time consuming and I wanted a worthwhile cause to justify my effort ;). And 1000+ likes is indeed a worthwhile event for me to celebrate. I wish that after seeing the recipe down below, you too would give it a try for one of your memorable occasions in life 🙂
White Chocolate Cupcake with truffle filling
Prep time:
Cook time:
Total time:
Ingredients
1¾ cups cake flour
2 tsps baking powder
⅔ cup milk, whole milk is best
½ a vanilla bean
4 egg whites, room temperature
6 tbsps butter
½ cup granulated sugar
¼ cup sour cream
12 Lindt-Lindor white chocolate truffles
For the frosting
6 Oz white chocolate for baking, chopped
1 pkg (8 oz) cream cheese, softened
¼ cup butter (1/2 stick), softened
½ a vanilla bean
2 cups powdered sugar
White chocolate shavings (optional)
Instructions
Bring the eggs, butter and cream cheese to room temperature. Preheat the oven to 325°F. Place paper liners inside the wells of a muffin pan.
Sieve flour and baking powder in a small mixing bowl. Slit the whole vanilla bean in the center and scrape just half a vanilla bean paste. Combine milk and vanilla bean paste in a measuring cup (1-cup).
In a medium mixing bowl (2 qt.), beat egg whites on high speed of electric mixer until stiff peaks form. It took me 40 minutes to reach that stage using my hand mixer. Refer notes below.
In a large mixing bowl, beat butter and granulated sugar on medium-high speed until fluffy (it would take around 3 minutes); beat in sour cream until smooth.
On medium speed, add flour mixture in three additions, alternating with milk mixture in two additions, mixing until smooth.
Whisk in one-third of the egg whites with whisk. Fold in remaining egg whites using whisk. Divide batter evenly among liners.
Bake in the middle rack for 17-20 minutes or until wooden toothpick inserted in center comes out clean. Remove pan from oven on to a cooling rack.
Immediately snip a ½-inch-deep "x" on top of each cupcake using scissors. Press one truffle into each cupcake until flush with top of cupcake.
Remove the cupcakes from pan. Allow it to cool for 30 minutes or to room temperature. (Truffles will melt into cupcakes.)
Meanwhile, for frosting, place white chocolate in a microwave safe bowl. Microwave, uncovered, on high for 1 to 1 ½ minutes or until chocolate is mostly melted, stirring every 30 seconds if needed. Let stand 3 minutes or until slightly cooled.
In the same mixing bowl, combine cream cheese, butter and vanilla; using clean beaters, beat on medium speed until well blended. Slowly add powdered sugar; beat well.
Frost cupcakes and sprinkle with white chocolate shavings.
Notes
1.If you are using a electric hand mixer like me, I would advise you to follow these steps.
• Beat sugar and butter until fluffy in a large bowl.
• In a medium mixing bowl, beat the egg whites until stiff peaks form.
• Add sour cream to the sugar and butter mixture and beat until smooth. And then proceed with step 6 above.
2.You could also use double strength vanilla essence in place of vanilla bean. Add half tsp each for the batter and frosting.
3.I would recommend cooling the frosting in the refrigerator for about 10 to 15 minutes before decorating the cake with it. That way it will get perfect frosting. I used Wilton's jumbo 2M pipe for frosting the cupcakes.